HFA Audio Setup History 13 – Media Room v2
The Media Room v1 was just finished and looked great, but I didn't feel at home in it. As I spend large amounts of time here, I felt it important to feel well while working. That's why I decided to break down the walls as can be read in the previous chapter.
The new Media Room would function as a computer area as well as a TV area, and with clever positioning, I could even watch TV from the bed which was positioned all the way at the other side of the room.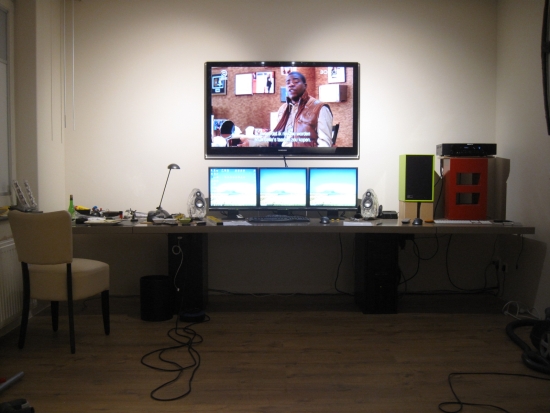 Above is how Media Room v2 started out. For a while I was struggling with the placement of the amplifier and associated equipment, until I decided that it could all be hidden away from sight in the room next door.
Westlake BBSM4 studio monitors were tried and dismissed. They sounded fabulously convincing acoustically, but were also bright and agressive, so they were changed to Genelec 8050s which have the added benefit of built in amplification.
All that needed adding was a DAC with volume control. This was going to be the Wadia 121.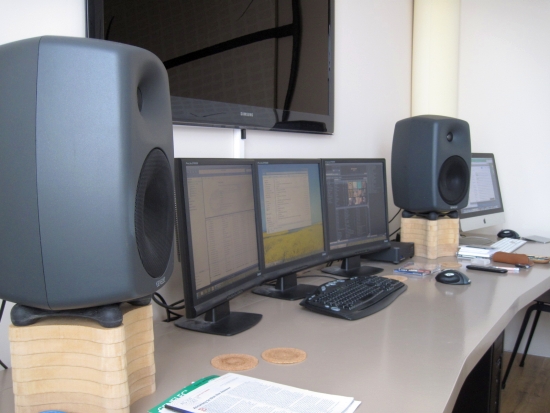 I sit more often at this desk than I do in any other area of the house… main system included! The stands under the Genelecs are made of slices of MDF which I sawed manually. This was a lot of work but sadly they were never finished because the sound when set up this way was not good enough.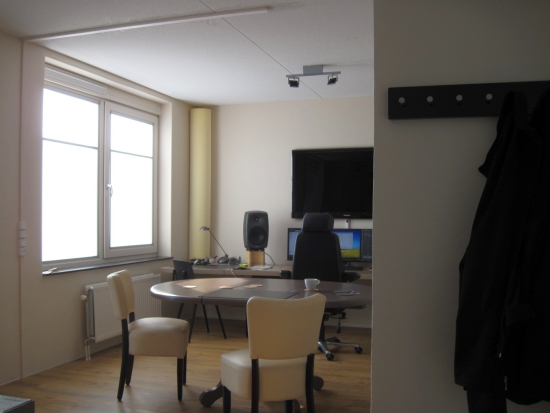 A peek around the corner where the walls used to be.
Wadia 121 DAC – used as the hub of this system: TV is connected via toslink (booo, but it doesn't have coaxial), the main computer is connected directly using USB (with proprietary Wadia Clocklink technology), the Mac is connected via a HiFace EVO USB-spdif converter and the set top box and Sonos Connect (with W4S upgrade) are both connected coaxially.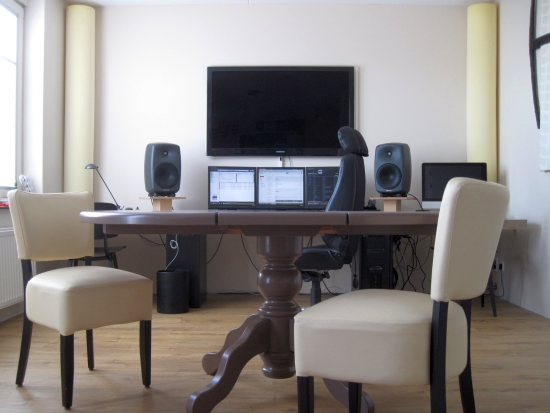 In spite of being very happy with the looks and funtionality of the new Media Room, I was unhappy with, you guessed it, yet again standing waves. The Genelecs sound very good at some distance but the room is giving me problems when listening near-field. There's a huge peak at 118hz and thus far I have not been able to fix this. I'm getting help from GiK for advise on bass traps but it seems this is a unique problem and the only solution might be to delete the round table and to pull the desk and speakers forward, which is something that I have not been prepared to do… at first.
No matter what I tried, I could not get rid of these room modes. Not even the room treatment with GIK acoustic panels, mounted to the ceiling, would entirely cure the problem. The only solution would be to pull the desk out into the room and set up the speakers freely.
Overview of all HFA Audio Setups: