HFA Audio Setup History 08 – Music Server and Rack change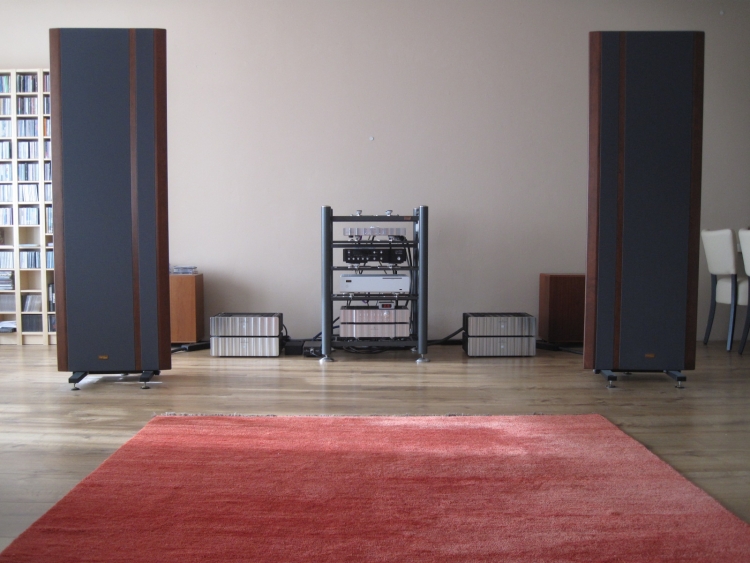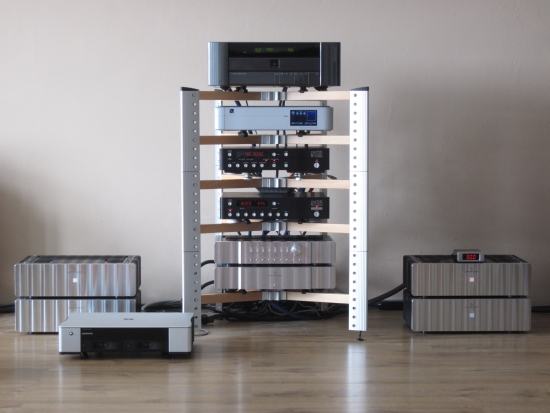 The above picture illustrates where we left off on the previous page, with no more room for the Meridian MD600. Once it seemed proven to me that integrated CD players invariably beat separate transport-DAC combos and that going by the results obtained so far, this also seems to extend to streaming (as evidenced by the Linn Klimax DS/1, PS Audio PWD MKII, Meridian 818 and Aurender S10), it was time to sell some equipment. At this time I still very much liked the PS Audio PWD MKII for offering aspects of sound that the others weren't capable of so I couldn't sell it. But there was one more DAC that was more and more sitting in the rack doing nothing. It was the Levinson 360S. This is the best DAC I have heard in my system, together with the Wadia 27ix GNSC. But 3 DACs in one system, that's overkill, even for me. Even if it sounded great, the feeling that it was the 360S that had to go was substantiated by its limitation of having only olde-worlde connectivity. No UTP and no USB.
In all fairness you can regard a Meridian MD600 (Server) as a transport and the Meridian 818 as the DAC but these devices weren't actually communicating using SPDIF. Network cable is apparently less susceptible to jitter-esque problems. Or is it?
Some equipment must go
Tests with different UTP cables between the MD600 and 818 showed that there were pretty large differences in sound to be heard. The same was true for the MD600's placement, see the extensive info article. It found its last place on the bottom of the Spider rack. Some of the more frequent readers know that I am not happy with the Spider's bottom level, or with any bottom level for that matter. Invariably the higher levels will sound better, the top one sounding most free, airy and open. Still, after the Levinson 360S was sold to someone upgrading from the 36S (BIIIIIG difference btw, in favour of my 360S*) I had a free spot in the rack. So in went the MD600. Using lots of damping and soft rubber, sweet sounding cables and some corrections elsewhere in the system I managed to make it sound ok on the bottom level but I never grew to love it.
At this stage someone payed me a visit with his self-made music server going by the name of AAZ Ultra Flow. All it took was the time needed to make a cup of coffee and returning from the kitchen and hearing the Ultra Flow play with the PWD MKII as a DAC, that I realised that there was life after Meridian Sooloos.
* the 360S was much more spacious in all dimensions and had better flow, air and smoothness. The 36S by comparison sounded gray and small.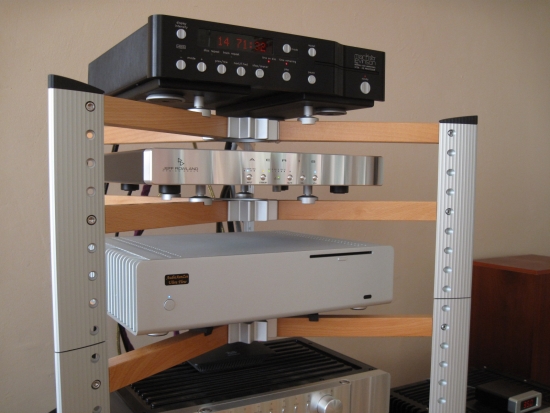 AudioAanZee Ultra Flow in, Meridian Sooloos out
Even if the PWD MKII didn't have very good treble or resolution, somehow, when combined with the AudioAanZee Ultra Flow, it sounded so very right that I was convinced that the Sooloos units had to go. I played happily with this combination for a few months and played with the idea of having Jeff Rowland's marvellous Aeris DAC in the system but with no distribution in the Netherlands, how would I realise that?
Then a friend told me that the brand had a new distributor in the Netherlands, after Nico of Fox Audio had retired and the brand had had no representation for a while. I contacted HVP, the new distributor, and explained why I wanted to review the Aeris and a few days later the unit was delivered to my front door. As I suspected, I liked the Aeris a lot: it quite simply excelled and was even better than I expected, even in areas in which Rowlands aren't usually very strong. Put short, the Aeris is the current best DAC I ever had in my system. After reviewing it I didn't want it to leave the system again and I bought the review sample. Of course now I had to really make work of selling some superfluous units, otherwise I couldn't finance the Aeris. Luckily the PWD MKII sold very quickly, then most of the Sooloos units.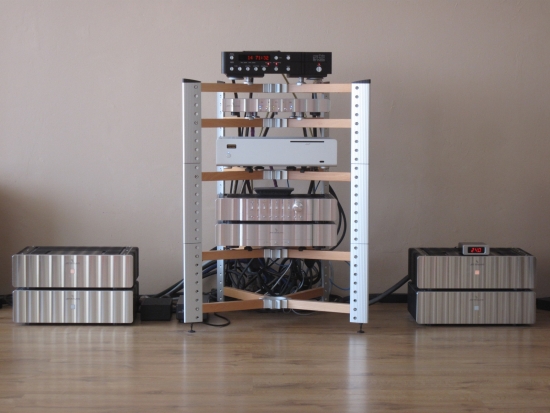 March 2013 – Time to look at the equipment support
Currently my system is pretty simple, certainly considering how elaborate it usually is. Refreshing really. But I wouldn't be myself if I were completely satisfied. Now that the system was almost entirely in silver, I found it didn't match nicely with the silver Spider rack. Trouble is: I have heard many racks and found the Spider to be the clear winner. Still: I have had Spiders for a loooong time (it could be 10 years already) and I felt stronger and stronger that it was time for a change.
But the new rack would have to be at least as good sonically and as versatile as the Spider. After all: my setup changes a lot and a rack with fixed shelves wouldn't work. Quite soon I stumbled on the world's most esoteric racks but was baffled at their prices. Particular, Harmonic Resolution Systems, Rethm and finally Artesania. The latter really took my fancy! From the front and from some distance it seems as simple as a regular rack but from the sides and upon close inspection its high-tech nature is revealed. The Artesania Esoteric rack is basically a frame suspended from the top within another frame. Theoretically this would mean that the bottom level should sound as good as the top level, or maybe, even better. What's even better is that there are no shelves but only frames with integrated feet to rest the component's belly's on, much like with Spider. But this time the levels are infinitely adjustable in height.
Even though a Spider isn't exactly cheap, I have grown accustomed to its price which I think more than justifies its quality. Sure enough the idea grew in my head that spending a lot more on a rack was not as ridiculous as it seemed to the non-audiophile. Surely it wouldn't be so out of place if it cost as much as any one component that it housed?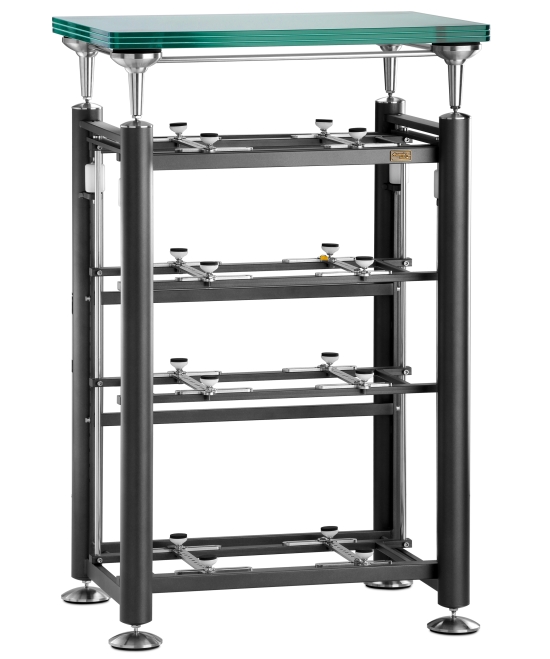 Now that I had sold the Meridians, Levinson 360S and PS Audio PWD MKII and "only" bought the Aeris in their place, there was some budget left that was burning a hole in my pocket. I couldn't of course send it back to the bank. Moreover, I played with the idea to scrape all funds together and extend my credit a little further to shell out on a super high end audiorack. Yup, that's what I was going to do.
The super high end rack in question would be the Artesania Esoteryc. The above stock picture shows the rack with optional glass turntable platter. After enquiring with the maker it turned out that Artesania were still looking for distribution in the Netherlands. I knew just the company and so it came to be that Artesania is now distributed by AudioAanZee and I have actually purchased an Esoteric rack.
Spider's out, Artesania is in. What more can I say… it is all in the review!
After leaving out the optional glass turntable platform, I eventually caved in and post-ordered it. It makes for a very nice review platform. Would you believe that this top construction alone weighs 50kg? The rack itself is around 60kg so together they weigh 110kg, without components! The Rowland Coherence II preamp weighs 50 kilograms itself and adding up the weight of the other components I think we're looking at over 200kg… I'm just glad that I have a concrete floor!
I'm making a very cautious statement here but I think that the core of my system won't change much for the foreseeable future. What I would like to try once are some of the best Apogee full range magnetostatics and ultimately I think I will want to go for the Magnepan MG20.7 if they ever come up second hand. Patience Christiaan, patience…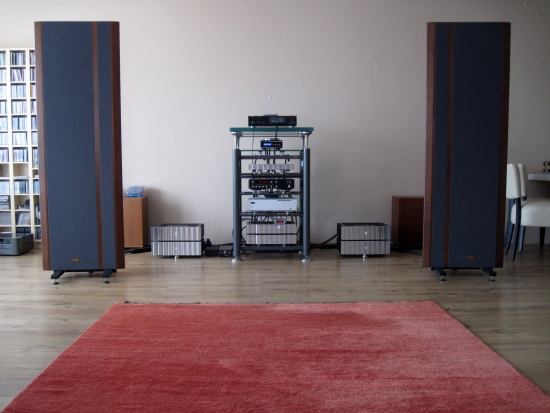 The setup as it was in 2013, right before the Apogee Listening Sessions started… which led to me being totally amazed by Apogee Duetta Signatures which eventually led to the Magnepan MG3.6R speakers to be replaced with Apogee Divas late 2013. More on that later.
Apogee came along and totally changed my perceptions. These red and black Duetta Signatures are on loan from audio buddy JW.
Overview of all HFA Audio Setups: