HFA Audio Setup History 03 – Rapid Evolution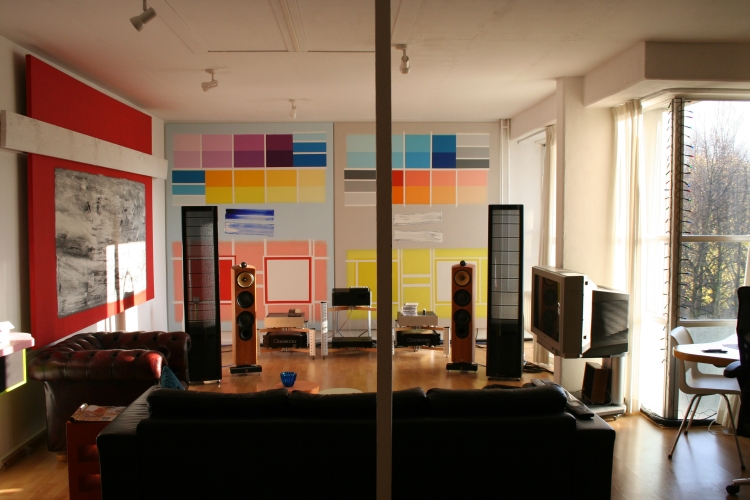 The below article slipped through when I did the translation work from my native language Dutch to English years ago. It should still be translated but for now, I prefer to work on  new articles…
(to be translated to English)
2006. Sonus faber Amator 2 luidsprekers van een vriend op bezoek. Dit merk zet steevast een zeer "live" beeld neer, met open en levendig middengebied en een goede ruimtelijkheid. Maar ze matchen helaas toch minder goed met mijn kamer en electronica.
Het middengebied is wat hard en neuzig en de bass wat aan de dreunerige kant maar dankzij een passieve radiator op de achterkant, verrassend diep. De bas is in mijn kamer helaas iets kastig, maar eveneens erg levendig en behoorlijk diep. Verbazingwekkend wat voor bas zo'n klein kastje kan weergeven…
Met de Jadis spullen waarmee ze normaal aangestuurd worden klinken ze echt een stuk lekkerder. Duidelijk voorbeeld dat zorgvuldig samenstellen van componenten essentieel is.
Ik vind SF over het algemeen meer geschikt voor akoustisch en jazz, dan voor electronische muziek. Ook nu bleek dat weer. Ik ben toch wel erg verslingerd aan de totale transparantie en luchtigheid van een electrostaat.
Verleiding: Jeff Rowland Model 6 mono eindversterkers.
Omdat de JR Synergy voorversterker mij zo goed bevalt lijkt dit een voor de hand liggende keus. Ik heb eerder een JR Model 10 gehad en dat ging toen niet goed samen met de vorige set N804's en de plaatsing in mijn ruimte. De M10 was welliswaar heel snel, gedetailleerd, gelaagd en ruimtelijk maar de transients waren soft, het was geen spannende versterker. De Brystons waren veel strakker en leverden een veel opener en echter middengebied. De JR Model 6′ zijn echter heel andere versterkers. Een vergelijk van de Brystons met de Model 6′ van een vriend heeft dit bevestigd. Geluid met de Model 6′ is hemelser, ergens minder "live" zoals Bryston dat zo goed kan maar wel immens verleidelijk.
Jeff Rowland model 6 and Martin Logans to stay
Nadat de 804's na een jaar dubbelbezetting de deur uit waren had ik de ruimte om te spelen met diverse bij-setjes zoals een Meridian 551 en later een Cyrus 6 gecombineerd met von Schweikert VR1's. Ach, je moet toch wat als onrustige audiofiel. Ook heb ik het projectievlak aangepast omdat er nu lekker veel ruimte was ontstaan tussen de speakers. Intussen heb ik de Brystons vergeleken met de Model 6 van een vriend. De beschrijving hiervan is te vinden op de vorige pagina. Ik ben ook voor de verleiding gevallen op het moment dat ik eindelijk een 2e hands setje kon kopen. Wat zijn het toch bijzondere versterkers. okee, stampen zoals de Brystons dat konden, kunnen ze niet, en die superbas hebben ze ook niet, maar verder passen ze beter bij mijn huidige smaak: verfijnd met ultraresolutie, op een natuurlijke manier gepresenteerd. beter passend bij de Logans met hun eveneens enorme oplossingsvermogen dan de Brystons, die eigenlijk meer voor het luidere werk bedoeld zijn.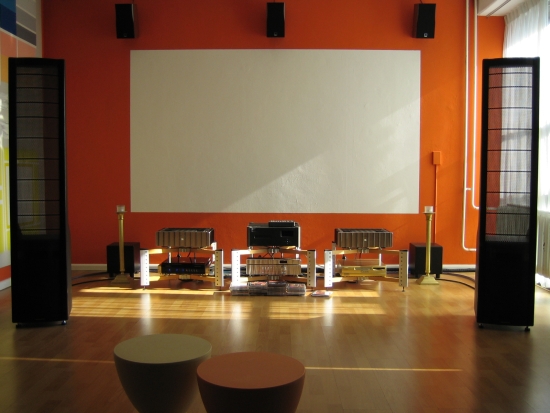 2007 – Een rivaal voor de Wadia – en een draaitafel
De droogte van de Wadia begon me meer en meer tegen te staan. Hoe goed hij ook was op de andere terreinen. Daarom heb ik op de gok een Audiomeca Dac gekocht. Deze was inderdaad veelvloeiender en opener in het hoog, en had toch nog gedeeltelijk de Wadia ruimtelijkheid. Dat laatste is iets dan de meeste andere geprobeerde dacs niet voor elkaar kregen. Mark Levinson 360 bijvoorbeeld had voortreffelijke resolutie en was heel breed maar het geluid kwam niet naar voren zoals bij de Wadia. De stemmen stonden tussen de muzikanten ipv mooi ervoor. De Audiomeca had ook niet de Wadia-bas maar toch viel ik zo enorm voor zijn andere kwaliteiten dat ik de Wadia de deur uit deed. Wat ook niet hielp was dat ik, na bij een vriend met draaitafel in extra analoge buizensetup te zijn geweest, bij thuiskomst mijn geluid maar droog en zelfs digitaal vond. Zelfs bij de andere vriend, waar voorheen de Wadia nog beter klonk dan zijn draaitafel, begon de Wadia terrein te verliezen. De draaitafel werd namelijk getweakt en verbeterd totdat hij de Wadia weer voorbij ging op alle terreinen behalve de bas. Qua ruimtelijkheid zijn ze te vergelijken. Dat is nog steeds admirabel voor een cd speler. Maar wel een Wadia 861 cd speler. Maar goed, de teerling was geworpen. Mijn digitaal moest analoger. Welk loopwerk moest er nu komen? Via vele loopwerken kwam ik toch op de Audiomeca Mephisto II uit. Dit loopwerk is echt vanaf de grond ontworpen door Pierre Lurne, dus niet ingekocht. De klank was zoals die van de dac: licht, luchtig, snel en open. Zo heb ik een flinke tijd doorgespeeld. Tot het ging jeuken. Ik moest me toch maar eens wagen aan een draaitafel… Mijn keuze viel na het lezen van alle reviews op de Michell Gyro SE met Technoarm (Rega-adapt) en later een Orbe Platter, zowel qua geluid als qua uiterlijk was het een speler naar mijn smaak. Zie deze link voor een uitgebreid review. Inderdaad bleek deze speler veel stabieler in de afbeelding, voller en steviger in de bas en kleurrijker te zijn dan de Thorens van een vriend. Maar het hoog was toch wel echt minder open en vloeiend dan dat van de Thorens met Denon DL304 MC element. Maar dat lag vast aan mijn minderwaardiger Benz MC gold element. Dacht ik. Een Benz Ace moest verbetering brengen.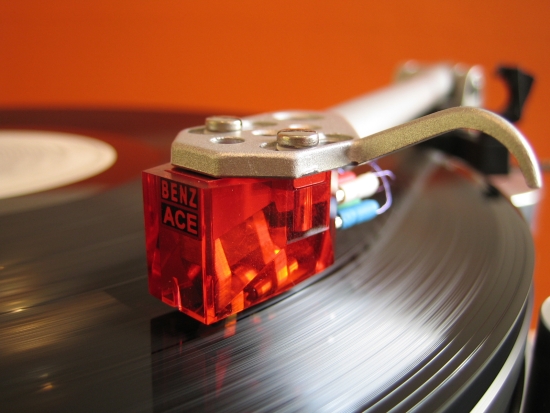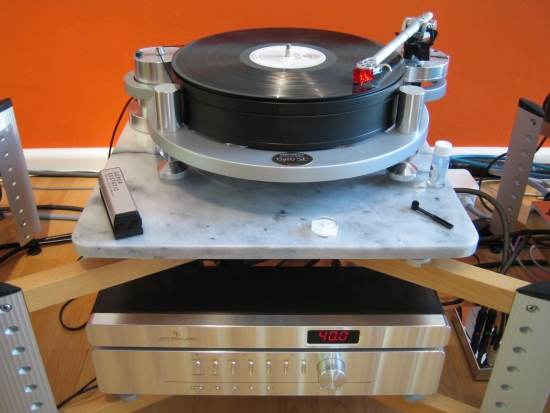 Een platenwasser moest verlossing bieden
En inderdaad: een wasser maakt de weergave schoner en kraakvrij. Maar slijtage is er niet uit te wassen. Zelfs niet met een Clearaudio Matrix! Dat is nog een heel verhaal geweest, hier is de korte versie. De Clearaudio Smart Matrix boekt prima resultaat, maar als je vocht morst moet je het meteen wegvegen, anders trekt het in het hout en dan trekt de bovenplaat scheef, en dat zorgt er weer voor dat de stofzuigerkop scheeft komt te staan. De Double Smart Matrix (tweezijdig) is een mislukking omdat de bovenkant moet overstromen, wil je de onderkant nat krijgen. De Matrix (de referentie) is een uitstekend apparaat maar ik weet niet of ik hem het geld waard vind. Een Okki Nokki heeft bijna hetzelfde resultaat maar alleen niet de luxe-feel.
Clearaudio Smart Matrix and Matrix Silent Extensive Review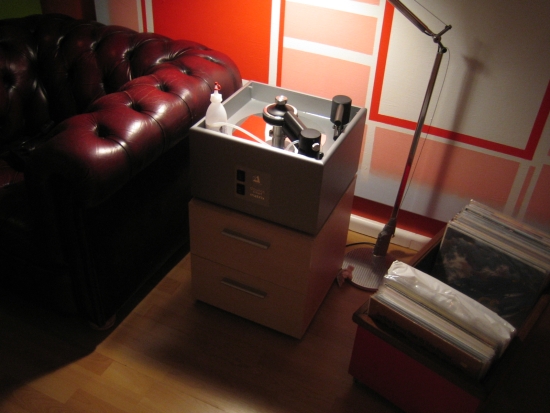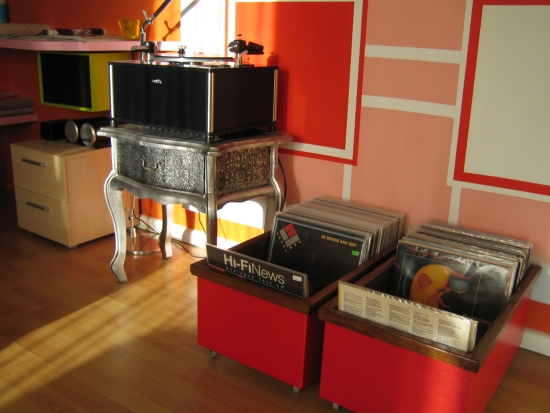 2008 – Arrival of dCS marks the end of the turntable's time with me
De draaitafel met Benz Ace element en Lukaschek preamp heeft nooit echt lekker geklonken. Toegegeven: voor een draaitafel had hij een enorm strakke, diepe en goed gearticuleerde bas. Ook ritmisch was hij erg sterk. Maar het gebied waar het me juist om ging, de vloeiendheid en souplesse, dat bleef onbevredigend. Gek genoeg deed mijn draaitafel me denken aan een digitale weergave! Later zou blijken dat een rega arm voor mijn smaak niet geschikt is, maar erger was nog dat ik voor mijn collectie op de 2ehands markt was aangewezen, en dat 75% van de platen die ik kocht versleten bleek te zijn. De hoge tonen waren rafelig of weg, en er was vaak teveel modulatievervorming.
dCS
Toen zelfs de 100 jaar oude Thorens van de vriend nog beter klonk dan de Gyro heb ik het bijltje erbij neergegooid. Draaitafels, daar was ik klaar mee. Hoewel ik slechts 1 tafel en 1 arm geprobeerd had wist ik het nu wel. Het was ook gewoon teveel gepiel, en als het geluid het dan nog goedmaakte, maar nee. Mijn CD weergave moest maar gewoon meer analoog gaan klinken.
Overview of all HFA Audio Setups: