JRDG Company Special – Consonance
1989-1994
Retail price approx 4500 euro when introduced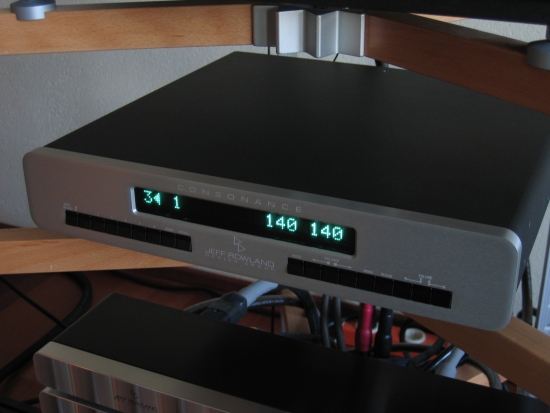 This unassuming little preamp is in fact extremely complete in its setup. All the following functions can be controlled from either the front panel of the remote control: independent channel mute, balance, dual rate volume control, separate direct select input/record output control, mono, phase, display on/off, memory and recall functions for volume level.
Soundwise this has been a long-standing favorite of mine, beating many competitors. Optionally available was a phono module that sounded great. This module is not visible from the outside but the preamp mentions "phono equipped" or "phono deleted" when starting up. If installed, the module uses input 1 meaning you give up one line-level input.
It wasn't until the Synergy 2i and Cadence came along that I considered the Consonance mostly beaten. But not in every aspect, as the Consonance still has beefier, bolder bass power and its phono stage an overall livelier presentation than the Cadence. However the Consonance and its phono stage cannot reach the dearer models' ultimate low level resolution and refinement.
The Consonance was available with a narrow display window (more recent) and a taller display window (older).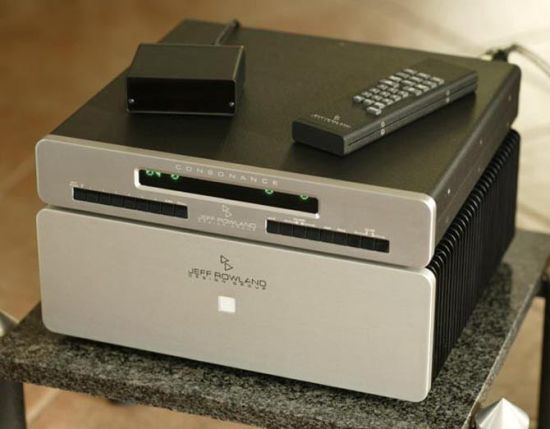 Above: Consonance on top of the Model 1 power amp. It is not very obvious from this photo but the power amp is a few mm wider than the preamp.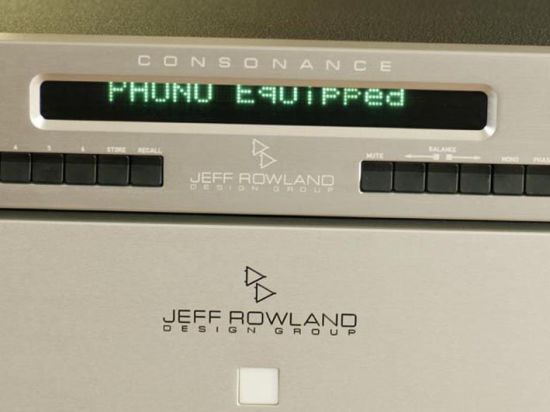 Above: an example of the more recent narrow display window (the display itself is identical). The display indicates that the phono stage is installed.
Above: line stage (right) and phono stage (left) modules both installed
Above: phono module removed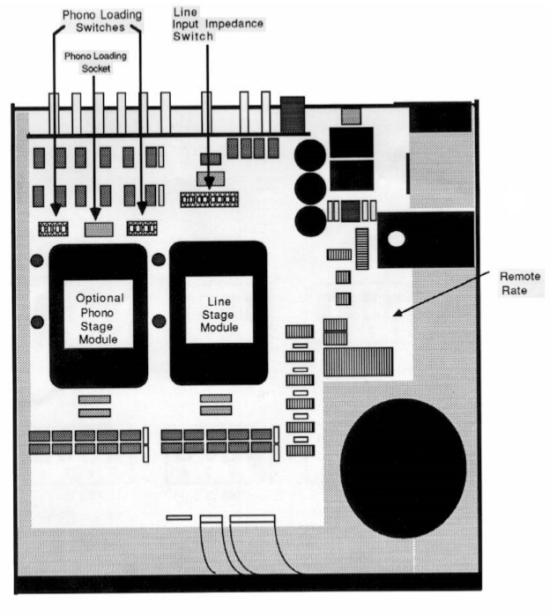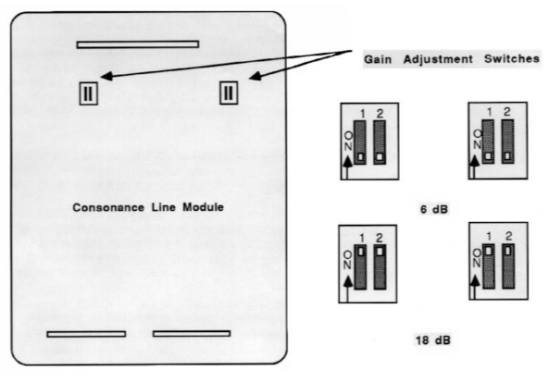 For phono stage specifications, see Consonance Phono Module
Consonance Features
Six line inputs, the first of which can be used as an optional phono input • Balanced outputs, in both RCA and XLR connector configurations • Regulated power supply with toroidal transformer • Microprocessor-controlled volume and switching
A digitally-controlled resistor matrix volume control provides 200 precise, individual steps
User-stored level settings for all six inputs allow immediate recall of a "normal" level for each source
Dual-rate attenuator adjustment controls provide efficient volume control adjustments
Fluorescent front panel display indicates operational status of the preamplifier under all ambient lighting conditions
User controlled display shut-off
Infrared remote control of all preamplifier operational functions
Separate remote receiver permits remote operation of preamplifier from a distant location
Image shift control (instead of channel balance trim) maintains overall volume level while shifting stereo image left or right
Mono and left or right channel cut functions
Main outputs are muted temporarily during initial A/C power up, power drop or power interruption
All signal amplification utilizes high-current, Class A, solid-state technology
All inputs and outputs are direct-coupled, thus eliminating the effects of capacitors in the signal path.
Independent power supply regulators are located at each stage of each amplifier channel
Mil-spec circuit board material, with oxygen-free copper traces and high- temperature mask, provides superior electrical characteristics and long term protection against adverse climatic conditions
All signal switching is accomplished with hermetically sealed, gold-clad silver contact signal relays
All critical circuitry is encapsulated in a thermally-conductive epoxy to ensure excellent thermal stability, mechanical integrity and ease of service
Ability to drive any length of interconnect cable into a balanced 600 ohm load
Adjustable input and output impedance minimizes source, load and cable interactions in any application
Consonance Specifications
Line Stage Gain
Selectable 6/16.4 dB
Phono Stage Gain
Selectable 42/60.2 dB
IHF Input Sensitivity For 500 MV Output
Phono: tape out 0.5 mV or 4.0 mV
Line: main out 75 mV or 210 mV
RIAA Accuracy
20 Hz to 50 kHz ± 0.20 dB
Frequency Response
Phono 0.15 Hz to 220 kHz, -3 dB
Line 0.08 Hz to 200 kHz, -3 dB
IHF Signal to Noise (S/N) Ratio, A Wtd., Ref. 500 MV Phono/Line
77 dB/87 dB
THD Distortion, Ref. 2.5 V RMS Phono/Line
<0.04%/<0.012%
Max Output Level Phono/Line
7.5 V RMS/7.5 V RMS
Dimensions
15 0 in. W x 13.75 in. D x 2.65 in H (38 cm W x 35 cm D x 6.7 cm H) Weight 14 lbs., 6.4 kg
More Jeff Rowland
Jeff Rowland Company Special Main Page
Jeff Rowland Company Special Preamplifiers