Upsampling explained using dCS Delius + Purcell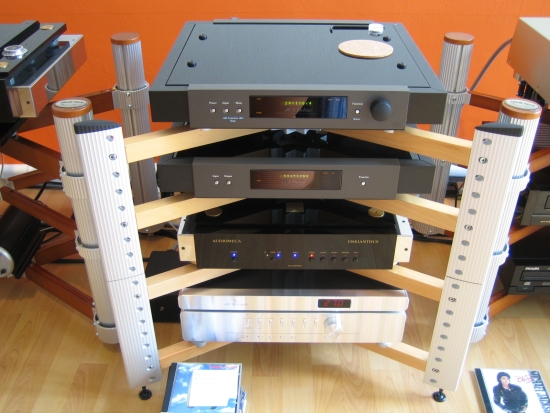 Upsampling explained by means of two reference dCS components: Delius DAC and Purcell upsampler
These days it's all the rage: hardly any brand still issues cd players or dacs without upsampling. But what is upsampling exactly, how does it differ from oversampling, and are the claimed advantages real?
This is what I tried to find out in the reference-setup by means of a DCS Purcell upsampler and Delius dac. The Purcell can upsample any incoming frequency to really high samplerates, up to 192khz and even DSD (SACD standard). But since there was no standard for DSD data transport at the time this combo was introduced, to be able to use DSD sadly you'd have to buy two expensive extensioncards. Delius can decode any samplerate and was made to work together with the Purcell.
At the time of this review these components weren't exactly new on the market. In fact, they have been superseded by newer versions. But the processing remains largely the same and they are still very much state of the art and probably will be for the foreseeable future.
In addition to the DCS Delius and Purcell there were also a Denon DA500 and Audiomeca Enkianthus upsampling dac present for comparisons. As sources we used PC audio, several cd transports from Philips and the Audiomeca Mephisto II.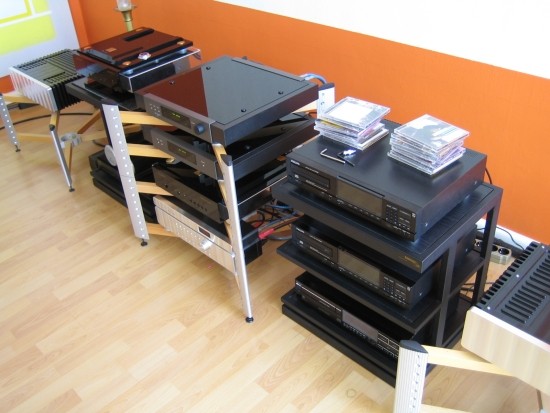 Above is the setup used for these comparisons. Amplification: Jeff Rowland: Model 6 power amps and Synergy preamp. Speakers: Martin Logan SL3 electrostatics.
I'll say it right now: upsampling really works.
How? Nobody knows. not even DCS have a conclusive explanation, but THAT it works becomes clear as soon as you've switched samplerates once.
Using any digital input source, the Purcell allows switching between "cloning" or "non-cloning". Cloning means that the output signal will be exactly like the input signal. This really works very well as a bypass. Tests have shown that there is indeed very little difference between plugging the cables into each other directly and the connection through the Purcell switched to cloning. This allowed us to easily assess the differences between upsampling and non-upsampling. Of course we also assessed the Delius dac by itself, without the Purcell. Lastly it is important to note that we used the dual AES option for all testing purposes. First, this is necessary when going higher than 92khz, second, this sounds a lot more "analog" than coax.
When switching from 44.1khz to 96khz immediately the soundfield became wider, airier and more nimble. But the typical square PCM sound remained evident. It's not as if everything is suddenly analog. But when you switch to 176.4khz (fourfold the original samplerate) something amazing happens: sound fills the room, so wide and deep that walls seem to have disappeared. It is so airy, fluid and amazingly finely detailed that you'd swear that the cd player was changed for a record player. Well, not quite, of course:-) But Voices really float as if attached to rubber strings in the room in front of you, not hammered to the floor as they are with regular cd, but at the same time they are amazingly sharply focused. Together with these amazing floating voices, comes a truly engulfing soundstage that wraps around you that makes you feel like taking a warm foamy bath. And everything just lingers in the air, long notes continuing seemingly forever instead of being cut off too soon. This is an effect I am familiar with only from playing lp's.
It also quickly becomes clear that a precise multiple of the original samplerate sounds tighter and more dynamic, more spot-on than a frequency that is not exactly dividable. For example using cd's in 44khz, 192khz sounds really spacious and fluid but has less attack and drive than 176.4khz. the same goes for 92khz as opposed to 88.2. The story shifts of course when you play 48khz sources. In that case 192khz is an exact multiple of the source frequency and there is no loss of energy.
So upsampling has no trade-offs?
Sadly yes, there is a trade-off. But to me it is a small one: the bass is somewhat less firm and has less drive. When switching back to the original samplerate it becomes obvious that the sound is tighter, has more pressure and sounds more "live". But now it also sounds grey, small, narrow and frankly boring! What's more: whereas we previously found 16/44 to be fine, now it cannot be accepted anymore for its grey boringness.
So upsampled CD matches LP playback?
If only. That would've been great but sadly it's still not the same. DCS gets you frighteningly close though. I have to say at this point that LP playback will only be better if you've got everything right: you need a high-end record playback setup and have everything calibrated just so. Then you will beat the sound of digital through DCS. I'm used to high end record playback and analog still has the edge in that in combines a relaxed fluidness with absolute transient-quickness and dynamics. It can be smooth and quick at the same time. This is still difficult for digital.
CD playback has always been plagued by its inability to combine dynamics and smoothness. Upsampling, done by DCS ameliorates these tradeoffs but cannot completely eliminate them. Even with the DCS combo you have to choose between either quick transients but also a drier balance or fluid and refined but with rounded off transients. Luckily DCS gives you lots of control, not only over samplerates but also gives you several filters to choose from, ranging from fluid/relaxed to tight and fast. All listening was done using filter 2. This setting most closely resembles what Wadia does with its Digimaster filter. This creates the most 3D stage and is also most lively.
The DCS combo combines these two extremes better than most dacs and has an almost analog-like presentation. Quite an achievement for digital.
What is the difference between upsampling and oversampling?
This is a story about mathematics and that's not my strong suit, but I can try and lay it out really broadly. Mathematical these two methods are the same, but soundwise they are very different. Why? Again (almost) nobody knows. Fact is that oversampling is always synchronous. There is always a fixed multiple by which the samplerate is multiplied. For example 4 times oversampling inserts 3 empty samples without interpolating and the bit depth remains at 16 bits. There are no new samples mad up but the task of the DA converter is easier and the necessary filtering can be done to a lesser extent which improves the phase linearity. Don't worry: it also sounds a bit abstract to me. But it makes sense as soon as you compare it to upsampling.
Upsampling is asynchronous. It gives you the possibility to convert any frequency to any other frequency. The frequency doesn't have to be a 2 or 4 times multiple and the bit depth can be interpolated to for example 24 bits. Upsampling does create new samples by means of interpolation. This is a process of calculating the differences between two existing samples. After upsampling again the DA process is simpler and less phase problems are introduced. Still this doesn't explain why upsampling should sound better. The original 16 bit data is still the limiting factor and no actual new data can be magically created. But the difference is clear when you compare the high-end digital products from the various brands that use oversampling versus those who use upsampling: upsampling almost always sounds airier and lightfooted than oversampling.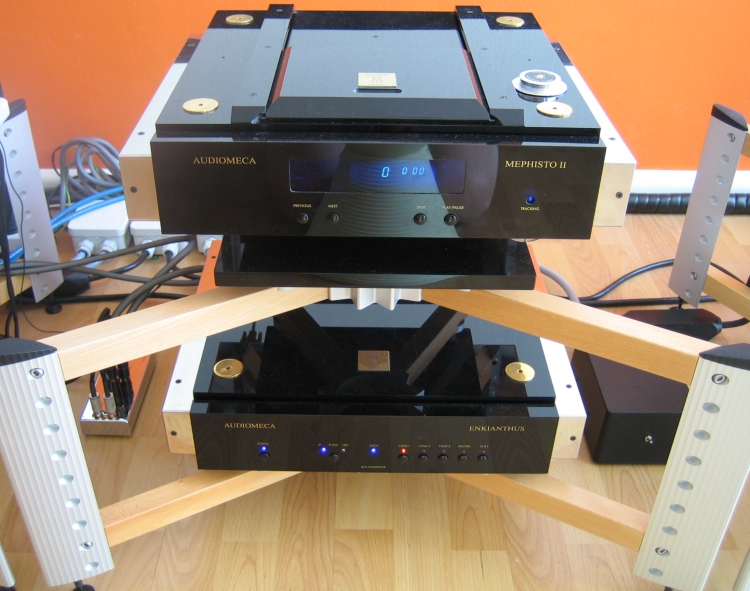 A comparison with the Audiomeca Enkianthus 192khz upsampling DAC
The Audiomeca Enkianthus offers asynchronous upsampling to 192kHz, just like the DCS. The filtering algorithms are chosen just so, that the information is best represented in time, much like Wadia do with their Digimaster algorithms. Most dacs are optimized for best frequency linearity but that has drawbacks in the time domain which mostly present themselves as a more flat soundfield and less drive. Luckily the Audiomeca use their DSP in such a fashion that the high frequency doesn't drop as much as is the case with Wadia's sound, which tends to be less airy than others. The Audiomeca sound is more open and airy and at the same time more fluid than that of the Wadia 861. But it is not as solid in the bass, nor is it as "live" as the Wadia is. But enough about Wadia, we're talking about Audiomeca versus DCS here. Let me be very clear here: the DCS combo has much higher resolution, has better focus and is more seamless than Audiomeca. But it lacks a bit of drive compared to Wadia and the same holds true compared to Audiomeca. Audiomeca can be a bit rough around the edges but it rocks better than the DCS combo.
The DCS Delius-Purcell combo is less physical in the bass and has less drive bit apart from that is better at all other aspects: It is much more subtle and delicate, has better low level detailing, is more fluid and has greater spaciousness. The Enkianthus is even a bit rough around the edges compared to the refinement of DCS.
A comparison with the Wadia 861 CD player
The Wadia 861 uses oversampling plus special filtersoftware executed in dsp. the filtering is chosen just so that the time-domain is best represented. Alas, in the case of the Wadia, this is executed at the expense of measurable and audible high frequency roll-off. There are other players that mimic the Wadia filtering and have less rolloff, but invariably they never reach Wadia's level of dynamics and live-ness. It is just so stable and bold, 3D and alive; nothing I heard can match it at that. The downside is that it's often a bit on the dry side. it can even sound grey when poorly matched. The Wadia really needs a complimentary setup before it blossoms. DCS on the other hand is much easier. Indeed it also needs to be placed carefully, preferably on an airy stand like Finite Elemente's Spider, but there's never any high frequency loss nor is it ever dry. It's much more supple, fluid, airy and lightfooted than Wadia. If anything it can tilt to the other side and become too relaxed. DCS is analytical, but not at the expense of warmth. its only downfall really is a slight lack of drive or character.
The DCS Delius-Purcell combo doesn't have Wadia's strong physicality and live-ness, but is better in most other aspects. DCS is more fluid, smooth, silky and airy.
The DCS sound
Speaking of character: What constitutes the DCS character?
It doesn't have one. Really. If ever the term neutral was appropriate, now is the time. Of course neutral is a relative term but DCS comes close to actually being it. The sound is transparent and utterly detailed. Even more so than Wadia. It can be warm and sluggish if poorly setup but it can also become studio-like neutral when setup the other way around. Bottom line: the DCS sound is neutral, erring slightly to the relaxed side of neutrality.
The sound is closer to Audiomeca than to Wadia and is more cerebral than an actual physical experience. Its presentation is very much analog-like, as long as the signal is routed through the upsampler. Because the Delius dac by itself is pretty business-like in its approach. Without the upsampler the sound is plain, flat and narrow. Its main defect compared to real LP playback is a slight restraint. LP just can be more impulsive and dynamic. Other than that: all the resolution is there, as is a total lack of grain and forever lingering decay of long notes.
A word about placement of the DCS combo
Although the DCS combo sounded slow and thick the first week after it was first connected, it was transformed after running in and after the settings were optimized. But most important was the placement of the units. They both had a separate level on top in the Spider rack. This is very important because as soon as I dropped them a level to make place for a cd transport, the sound became more sluggish and had less attack. So be sure to pay attention to placement.
Purcell upsampler settings – Tips
The menus of the DCS components offer many adjustments. We touched briefly on the subject of cloning earlier. This menu item makes the output either an exact clone or a recalculated one. When set to 'non-cloning' the sample rate converter is still active but set to the same rate and bit depth as the input. Cloning makes the sound most tight and dynamic whereas non-cloning results in a more fluid and relaxed sound. Together with the various filter and dither settings on the Delius, this creates the possibility to create just the sound that you want.
Conclusion
Wadia is more lively and dynamic, has more physical presence and can be really exciting although it really need to be in complimentary company to prevent it being too dry and dark. Audiomeca falls between Wadia and DCS and is, probably thanks to the upsampling, almost as airy and spacious as DCS but less refined, less well-focused and less detailed as well as being a little rougher around the edges. However, this gives the Audiomeca the edge in rock-ability and in that respect it more resembles the Wadia.