Recording LP's: digital or analog?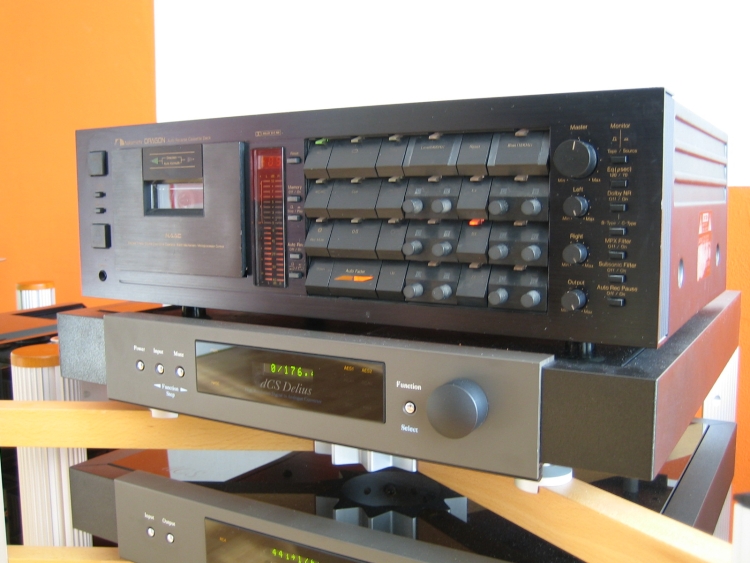 When recording LP's, what sounds better? Digitized or recorded analog?
To discover what sounds best, I made some LP recordings with various Nakamichi Cassettedecks and compared these to recordings made on a computer in 24/96 with an external firewire interface, the Apogee Duet AD converter. The same records, same cables and the same setup were used. in fact, I made recordings in various setups to get a really good idea of the results.
Of course, there are many ways to record lp's but because the computer is so popular now, I wanted to compare this method with the purest method we all used in the previous century: cassette! Many believe that by going digital you lose some of the musical information. Be that as it may, digital recordings do sound different from analog ones. To put this to the test, I used a selection of excellent Nakamichi Cassette decks. If you are unfamiliar with this brand, know that once these were considered state of the art. They were simply the best cassette decks available, at a price. They didn't come cheap. Luckily I have a friend who collects these decks and who was friendly enough to loan them to me. I also used his setup to make some recordings.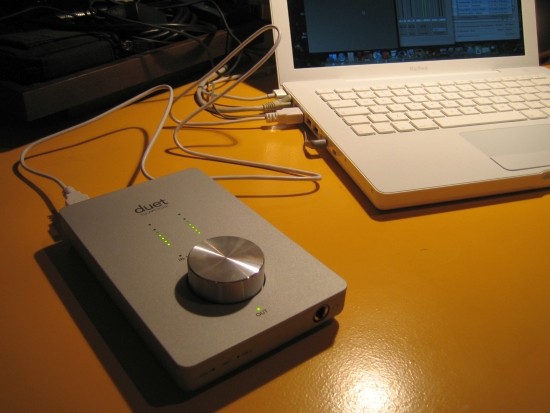 Recording on Computer
Digital recordings were made on two systems simultaneously. One is my main PC with an EMU1212M semi-pro sound card. The other is an Apple Macbook with an external Apogee Duet firewire interface that has excellent analog inputs. The Apogee Duet is a controller as well as an external AD converter. I use it set at its maximum of 24 bits 96khz settings and record the WAV files with a program called Amadeus Pro.
The Apogee Duet is a controller with a built-in AD converter that accepts balanced analog signals, transfers them to a digital stream that is transferred to the computer via Firewire.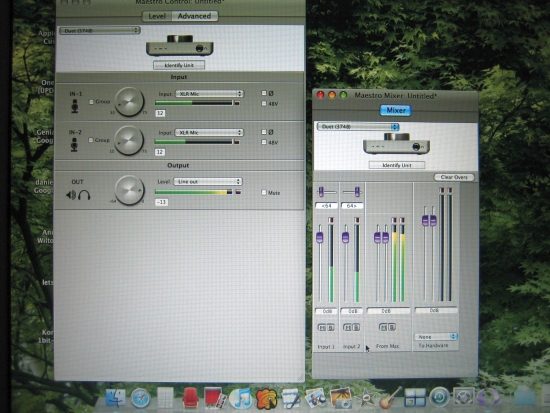 Above: a screenshot of the Apogee mix application. Here you can adjust levels and change the routing. All settings are controlled digitally but are actually made in analogue fashion inside the controller. Apart from the Apogee device and software, you also need a WAV recording program. I use Amadeus Pro.
Recording on cassette using the best Nakamichi decks
One of the recording setups with a Nakamichi 1000ZXL and ZX9 cassette deck. The 1000ZXL is considered the absolute best deck ever, not only amongst Naks, but in the world.
The record player is a rare and expensive Technics SL1000 mkII with Denon DL103D MC cartridge.
On this photo, the 1000ZXL is in use for recordings in tandem with digital ones via the Macbook. Next to the 1000ZXL, we also used the ZX9 for additional recordings and cross-referencing. For playback, I used the same machines in this setup, as well as a Nakamichi Dragon and a Nakamichi LX3 in my reference setup. Also, see below for more information.
Playback of the recordings
In my Reference setup, I used two different Nakamichi-decks for replay of the recordings I made:an LX3 and a Dragon. The decks were placed in the Spider Racks and were connected with good cables. The Macbook recordings were copied over the network to the main PC and played back from there from the EMU1212M coaxial digital output, connected via a Belden RG59 coax cable, into the DCS Delius and Purcell DA converter and upsampler as well as tried into an Audiomeca Enkianthus. In all cases, the preamp was a Jeff Rowland Synergy.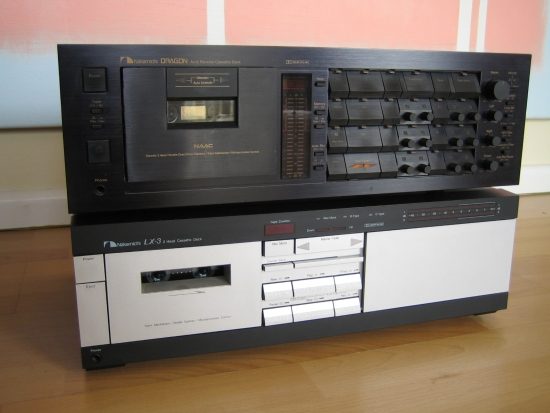 Above: Decks used for playback: on the top is the legend: the Dragon. At the bottom a simpler 2-head machine, the LX3
The Results
Analog
Now that, for the first time in years, I had a cassette in my hands again, inserting it into the Nakamichi deck and hearing the transport do its work in a silent and supple manner, I got in a state of nostalgia. How cool it was to see the music carrier behind the little window and watching the tape make its turns while the red counter and VU-LEDs put on a hypnotizing show.
This nostalgic feeling quickly made place for disappointment over technical deficiencies. For one, the speed turned out to be different for all decks we tried, second, there was some wow (speed variations) and third, all heads needed realignment. Ahhh. I remembered now why I had once abandoned the format. When the speed was adjusted to match the digital recording and the heads were adjusted for maximum treble response (actually matching the setting that was used when recording), the sound was now very enjoyable. For sure, it didn't have very open treble, detailing and focus was mediocre, center stage seemed to wander somewhat from left to right and dynamics were constrained. But there was something very RIGHT about the recordings. They were analog. Sure, the treble could be more open but it was very fluid and absolutely free from hardness or grain. The mids may not be very focused but comes across as simply very natural and voices just sound utterly real and unforced. Much like the original record. Except that the record had more dynamics, better focus and more airy highs. But what do you expect from a dictator-phone-evolved format? It is applaudable what Nakamichi has achieved here. Image if only they had access to largers tape formats… There is no misunderstanding: recording an lp on an analog format may not be technically perfect and may in fact be fiddly but it keeps the soul of the music intact.
Digital
The Mac/PC recordings were technically simply better in all accounts than the tape recordings. Mind you, technically. When I switched off the head and started listening with my heart, I clearly felt that the midrange of the tape recordings was much more natural and real. Despite the stability problems and lack of focus. When listening very closely to the treble, traditionally a difficult thing for digital (for 16-bit cd's at least), there was absolutely no sign that the recordings were digital. There was fluidity, continuousness and plenty of air. Spaciousness, detailing and focus were all very good, at least on par with regular cd recordings.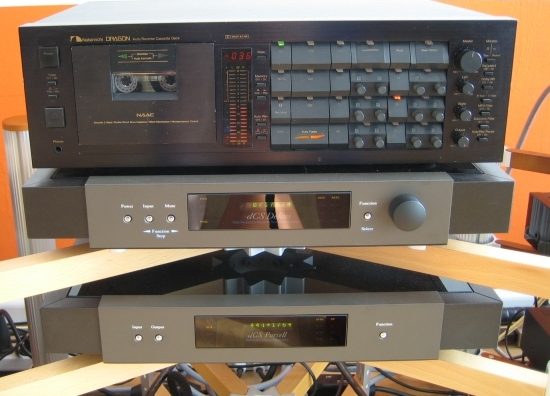 Above: The Dragon in action, looking inpressive on top of the DCS conponents.
Analog versus Digital
I could really enjoy the PC with some recordings, while tape was better with other recordings. After listening to more and more recordings a pattern started to emerge: slower, more downtempo music such as ballads were more engaging on tape, while more uptempo and electronic recordings were better in digital form. There was always a residual "digital" feeling when switching from tape to digital. This is because tape, for all its analogue rightness, also adds a lot of distortion to the recording much of which happens in the heads. Because the music signal has to travel through a coil that magnetizes a piece of metal in the head which in turn magnetizes the tape, some rounding and slowing occurs. This is called hysteresis. It is an effect that most people find very pleasant. Me too. But switching to a digital recording makes for such a clean sound that it can come across as too correct. Nevertheless, considered more closely, at least technically speaking, the sound of the digital recordings were closer to the original lp playback than the tape recordings. The latter added some euphonic extra layer to the sound.
It looks like computer recording, no matter how well done, are not able to completely hide their digital nature. The sound is definitely not sharp or edgy or anything like that, just not as fluid and free-flowing as pure analog. This effect could be minimised by using the Purcell upsampler on a high sample rate and choosing smooth sounding cables but this experience made it clear for me that digitized recordings are not a complete replacement for using analog records. Still, there are many aspects about the digital recordings that are closer to the original performance than the recordings on compact cassette. Naturally, the question arises what would happen if I used a nice reel to reel recorder, but alas such a machine is not at hand.
A word on Nakamichi decks
Nakamichi decks are amongst the best decks in the world but at the time of this test, they are certainly aging. Even though Nakamichi transports are considered the best available, they do age. Therefore, the instability that I noticed doesn't necessarily have to be an intrinsic cassette-feature. The best Naks may have been even better when they were new. That being said, I do remember having similar problems when I still actively used cassette decks and I used many: Akai, Aiwa, Yamaha and of course many Naks. The most stable deck I had was the externally auto-reverse RX-202E. This was in the basis a very simple deck, apart from its futuristic and very clever way of reversing the entire cassette as opposed to the heads. This deck played back every tape and was and never let me down. But also on this deck, you could clearly hear the tapes age every time you played them. Also, playing back tapes on another deck that that on which they were recorded is not the best way to get maximum results, even though we re-adjusted the heads' azymuth.
Conclusion
Analog still has a very alluring sound. It is potentially better at preserving the music's soul: the sound that comes off tape is so unforced and totally un-technical that it's hard not to like. It is clear that analog as a system is still not entirely beaten by digital. It's just that poor old cassette isn't entirely up to the job. It can sound very seductive though if you can put up with the technical deficiencies such as speed variations and treble response.