Cable Connections: use end sleeves or tinning?
Wire Tinning
There is no harm in soldering plugs directly to cables, even if the contact transition creates a slightly higher resistance than a tightly crimped connection would. In any case, when soldering, make sure that the soldering joint is smooth and shiny. This is an indication of a proper weld. If the resulting solder joint is frosted, this indicates a cold weld which is actually not a nice, single, connection but in fact hundreds of tiny connections and hundreds of non-connections. Use as little solder as possible and make sure that the wire you're soldering is as close to the metal tab as possible before soldering.
However, using solder at the end of cable litze in order to fit them into screw connectors is a bad idea. This might sound odd, but solder actually flows under pressure. It is a slow process but a very real one. After a few months of use, the connection gets looser and looser. This is bad for the sound and also potentially dangerous and this is why you should never use solder in this fashion, especially not for power cable connections.
Crimp Sleeves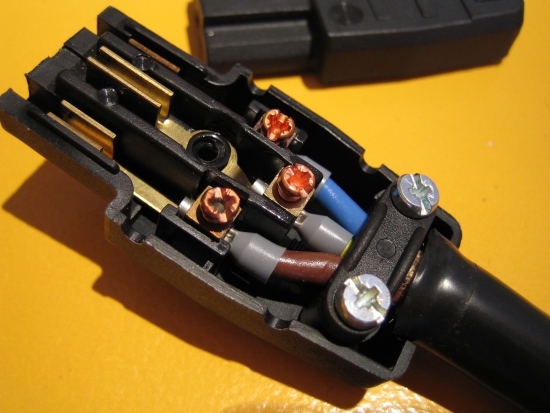 Crimp sleeves as used in the image above improve the reliability and are easy to work with, but they have a very noticeable effect on the sound
Extra layers of metal between your connection, especially metal of questionable composition, usually adds an audible "edge" to the sound. The layer can be described as a glassy hardness that's unpleasant to the ear. Especially when the metal consists of several layers of different material, or is a composite, this effect can get really obvious.
Unless you're using pure copper, you're inevitably going to add brightness, nasality and sometimes even brittleness to the sound. If you really want to use sleeves, use pure copper or gold plated ones as offered from for example WBT and HiFi Tuning. Because of their purity of metal, these impart the least artificiality to the sound. However, even "pure" copper sleeves such as those made by WBT still add a sense of extra tightness to the sound. Whether or not this is perceived as better or worse may be a matter of taste, but it is good to be aware that the sleeve has a distinct effect.
In my experience cables sound best when the naked litze is used directly in the connectors. Especially when doing this with normal screw connectors such as those in a Bals 73 schuko connector it is extremely important that the cable is well-twisted and that the screws are well-tightened to prevent dangerous situations. But it really pays off in the sound which is much more natural and relaxed without the typical tinned mixed metal sleeves.
A telling example
When I recently changed my audio setup I needed a longer extension block power cable but for convenience first just plugged a second extension block into the existing one to add some length. The resulting sound was not very good. Even though I know that power cables make a big difference, in this case, since I also changed the position of the entire setup I figured it wouldn't be the extra extension block-connection that made for this large difference all by itself. When eliminating the extra extension block however and connecting the cable directly to the wall socket (thereby bypassing the Bals plug and no-name wall outlet themselves) the sound became much more relaxed, more colorful, and most importantly: more free-flowing and seemingly more spacious, the soundstage now filling the room again. All this from bypassing an extra extension block and a schuko connector and a wall outlet.
This confirms that multiple contact transitions are best avoided. If they need to be made, then best with the fewest intermediate materials and as tightly as possible.
Read Also
Disclaimer
Officially it is at least highly recommended and perhaps even mandatory, to use sleeves for safety. In any event, when working with electricity, always be careful!