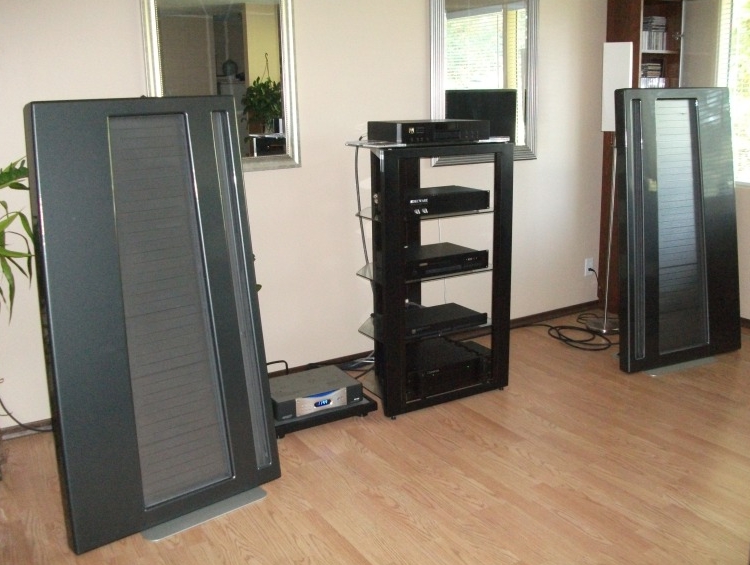 Detailed Info about the Apogee Scintilla

Above: fully refurbished Scintilla
Dismantling and rebuilding process
Above: refurbished pair from Germany
Above: originals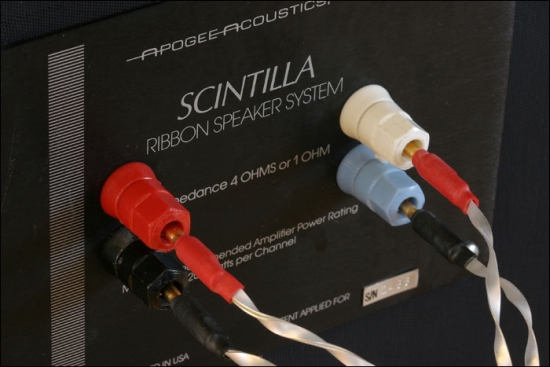 Above: the binding post plate states 4 ohms or 1 ohm, which indicates this is an early model. But this change is not something that can be set with the flick of a switch, rather this requires the removal of the back plate and rewiring the cables inside.
By altering the wires it is determined whether the woofer ribbons are wired in series or in parallel, and this changes their impedance from 4 ohms to 1-ohms. Similarly, the midrange -tweeter sections are changed from series to parallel, resulting in an impedance of 3-ohms or 1-ohm.
Later Scintilla models were 1 ohm exclusively, and this is visible from the wider spacing of the slits.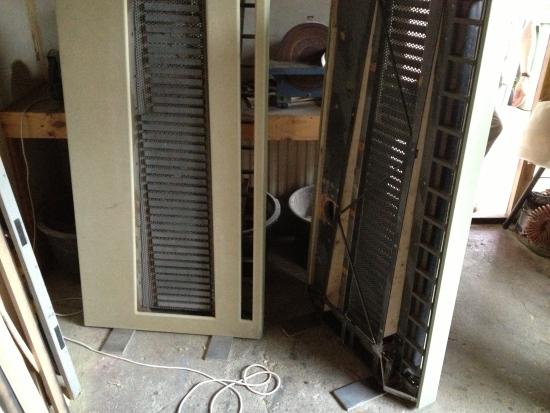 Above: Scintilla in the nude – this is a special version that is being reinforced with lots of steel bars by Dutch restorer Henk van der Hoeven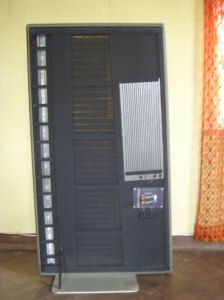 Above: on the right hand side the extra foil resistance path for the midrange can be seen.
Generic Info
Apogee's second speaker after the Full Range still is one of the hardest speakers to drive properly. The early Scintillas were were configurable for a 1 or 4ohm load, the later models were 1 ohm only (from 1987 approximately). While the 4 ohm setting on the earlier models made the Speaker considerably easier to drive, according to the reviewers in doing so it lost some of it's "magic". According to a Stereophile review, "they sounded more dynamic, liquid, and natural in timbre when they were wired for 1-ohm. At 4-ohms, they seem to parody the colorations you normally hear – and add new ones; this can be jarring".
Here's how the two models differ:
The 1 and 4ohm model has cuts in the bass panel spaced approx ¾" apart measured vertically.
The 1ohm only model has cuts spaced approx 1½" apart (double the normal cut spacing)
The 1 ohm setting has been reported to kill a Krell 250a whilst trying!
Not as big as the Full Range but still they dominate a room, especially as they require considerable 'free air' around them so as not to sound bass heavy. The speakers are unusual as they have one midrange and four tweeter elements. The tweeter elements are arranged either side, about ½" in front and behind the mid/tweeter unit.
Still considered by some to be one of the best speakers in terms of vocal reproduction with crystal clear treble and very well extended bass, reaching a true 20Hz in test.
Specifications
1985-1991
Original Retail $3500
Height 147 cm
Width 83 cm
Impedance 1 or 4 ohms (1 ohms only after July 1996)
Bass driver
Aluminium/Kapton panel (hand cut)
Midrange
Aluminium
Tweeter
Aluminium (4 x 0.5in wide)
Max Sound Level
110db in a 40sqr meter room, approx. 350sqr ft
Sensitivity @ 3m
79dB
Frequency response
20Hz (-6dB) to 25kHz
Crossover frequencies
500Hz bass to mid, 3kHz mid to tweeter
Suggested amp power
100W (Has to drive 1ohm loads on later models)
Impedance nominal
1 or 4ohms – start of production until 1996/7
1ohm only afterwards
Weight
180lbs each
Finishes available
Light grey, Anthracite, or Taupe
More Scintilla
Dismantling and Rebuilding process
More Apogee