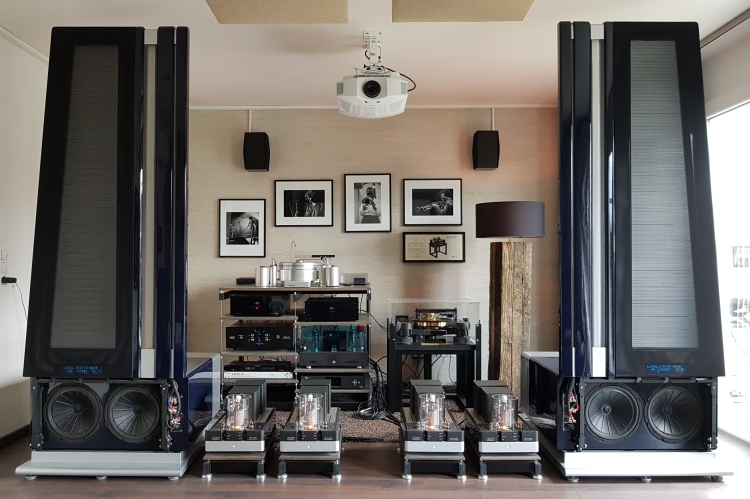 Detailed Info about the Apogee Grand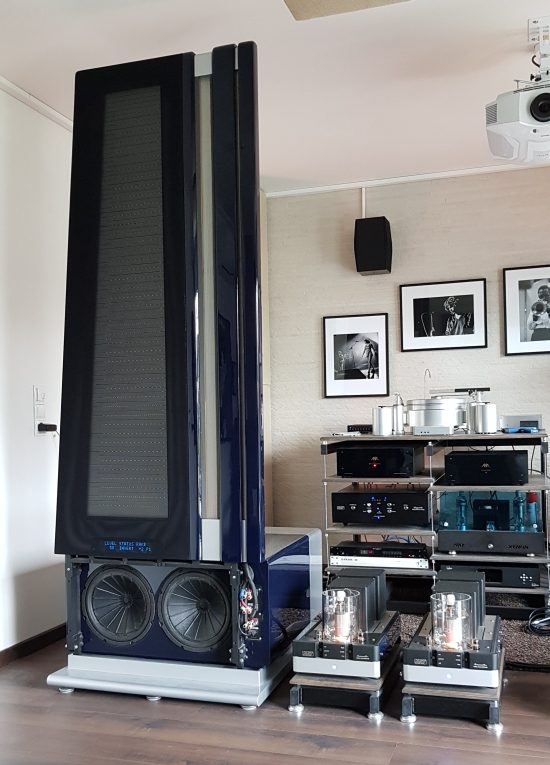 Above and below: images courtesy of Florian, owner of this magnificent pair of speakers.
The four amps between the speakers are mono Single Ended types made by NAT.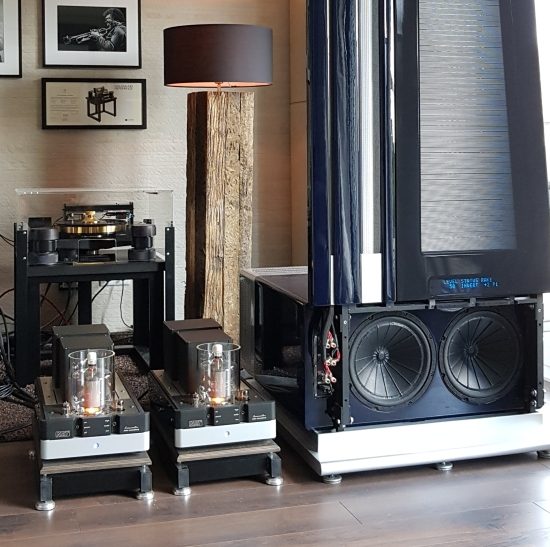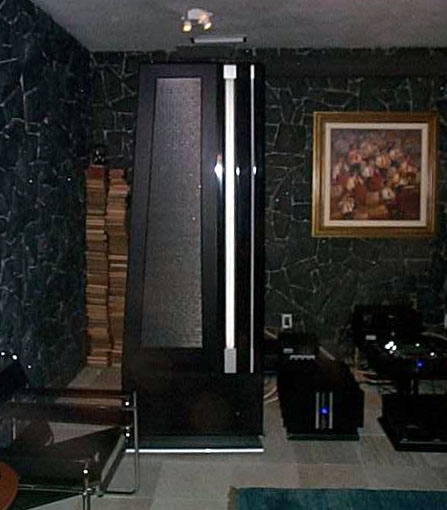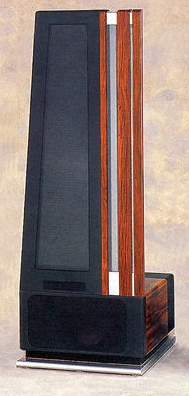 Above: bass cabinet with the woofers, crossover electronics and amplifiers.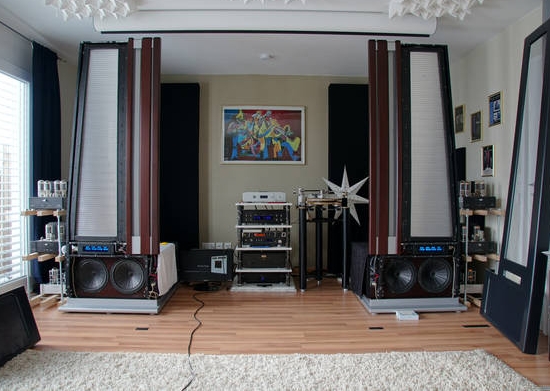 Above: with all covers removed
Official Info
The Apogee Acoustics GRAND was the company's flagship speaker and the largest, heaviest and most complex speaker system Apogee Acoustics ever designed. It was introduced at CES Chicago in June 1991 and only around 25 pairs were sold between that time and the closure of the company. This 4-way speaker is fully active and is remote controlled. You can adjust the absolute phase and volume level of each driver in 0.2db steps from -3db to +3db. The rake (frequency response tilt) can also be adjusted from -4 to +4 on each speaker. These settings can be saved and recalled via the remote control. This information is displayed via two Vacuum Fluorescent Screens in each speaker. The crossover frequencies are 70Hz for the subwoofer to the bass ribbon. 70Hz to 250Hz is covered by the bass ribbon. From 250Hz all the way up to 9000Hz is covered by the midrange ribbon. You are basically looking at a speaker were one single driver takes care of almost the entire range. From 9000Hz and up, the tweeter ribbon is used. Each driver is slot loaded and uses the front as a waveguide. The Grand is fairly easy to drive and you can choose if you want to use 4 or 6 channels of external amplification since the tweeter amplifier can be disconnected and substituted. The speaker can be driven by 100 Watt SET amplifiers! This is the only Apogee where you do not have to use large Solid State amplifiers if you so desire.
The control system consisted of 4 Intel 8051 micro-controllers connected by an RS-485 network. There was one micro in each display unit and one micro in each control section. A cable connected the two speakers together for control information. It is possible to control the speakers from a standard PC using an RS-232 interface. There was once a Windows 3.1 program that controlled the speakers.
The remote control was manufactured by Universal Electronics and used a custom code set. If you lost your remote, you may be able to find an old remote manufactured by Universal Electronics on eBay. If you find one, remove the battery cover and you will see three holes on the circuit board. There was a kit that Universal Electronics sold which was used to download the Grand code set into the remote.
The brains behind the whole project was Andy Lewis who now works at Fishman Transducers. Jim Raymond was the project technician who did the schematics, bill of materials and PCB. Mike Danielson did the analog circuit design. Todd Eichenbaum at Krell did the amplifiers.
System features
Etched multi-track ribbons with wave patterns for improved structural dynamic characteristics.
A specially designed magnet system to provide magnetic focusing for higher sensitivity and low diffraction shapes to form a smooth acoustic path for excellent imaging
Special high loss materials used throughout, and robust internal cabinet bracing to control vibrations
Dual long excursion 12-inch woofers with specially developed composite cone construction for ultra-low frequency output. The woofers operate in a sealed acoustic suspension enclosure
Sonically transparent speaker cable designed exclusively for Apogee Acoustics is used for all internal signal transmission
Four-way all active computer-driven remote controllable crossover network with volume and individual drive level adjustments, balance, rake, absolute phase, mute, programmable presets, and user diagnostic features. The crossover can also be driven via a built-in RS-232 computer port
Built-in subwoofer amplifier capable of delivering 600 watts per channel (manufactured by Krell)
Built-in 500-watt tweeter amplifier (manufactured by Krell)
Fully external power supply for both crossover and amplifier to provide the absolute cleanest, low distortion music reproduction
The system is available in a wide variety of standard and premium finishes.
An invitation from Jason Bloom, President of Apogee Acoustics
Apogee Acoustics established its reputation by introducing the world's first Full Range Ribbon Speaker System in 1981. Our philosophy is simple: High-quality musical reproduction is the result of nothing less than an absolute dedication to the most innovative designs, meticulous specifications, and superb assembly.
We are proud to introduce the 'Grand Series', the culmination of twelve years of research and development that represents a breakthrough in Apogee's patented Full Range Ribbon technology.
Our flagship, the Apogee 'Grand', started as a laboratory exercise and emerged as a product that gives new meaning to the state-of-art. With features so unique as its seven onboard computers, full function remote control, advanced ribbon array and magnetic design, several critics have hailed the Apogee 'Grand' as the highest expression of the art of music reproduction.
The 'Studio Grand' incorporates many of the features of the 'Grand' at significantly less cost. Apogee's patented sine-wave ribbons are used throughout the ribbon array and integrated with dedicated subwoofer stands that provide a seamless dynamic integration.
Also included is a two-way active crossover (DAX) between the subwoofers and the ribbon arrays. Elegant precision levelling pods allow the system to be conveniently levelled by the listener with the speaker set in its final position.
Our smallest and least expensive model in the 'Grand Series' is the 'Mini Grand'. Able to offer the utmost of musicality and dynamics in a compact package, the 'Mini Grand' consists of Apogee's highly acclaimed 'Stage' Full Range Ribbon Speakers mounted on their own dedicated stereo subwoofer stands. The 'Mini Grand' subscribes to Apogee's modular building system as the Stage and their subwoofer modules can be purchased separately. This elegant combination shares much of the advanced technology found in the 'Grand' and provides deepest bass impact yet preserves the transparency of the 'Stage' ribbon array. All of us at Apogee Acoustics invite you to audition our latest 'Grand Series' of handcrafted Full Range Ribbon Speakers. You will discover that this entire evolution of speakers retains the integrity of the music you enjoy throughout the entire audio spectrum. Provide your favorite performing artists; Apogee will provide the artistry of sound.
Specifications
1992-1998
Original Retail $85.000
Height 223.5 cm
Width 81.3 cm
Impedance 3 ohms
Subwoofer
2 x 12″ dynamic cone woofers in sealed enclosure driven by built-in 600W Krell amp
All inputs/outputs on rear of subwoofer enclosure
Ribbon Bass driver
Aluminium/Kapton panel
Ribbon Midrange
Aluminium/Kapton (etched)
driven by built-in 500W Krell amp
Max Sound Level
120dB @ 4 meters
Sensitivity
around 84dB
Frequency response
Below 18Hz to over 27kHz
Crossover frequencies
Sub to panel 70Hz / 250Hz bass panel to mid / 9000Hz mid to tweeter
Suggested amp power. 2 channels per speaker required
100W (into 8 ohms) 200W (into 4 ohms) with high current delivery
Weight
1300lbs / 591kg per system
Finishes available
Mahogany, Oak, Hi-Gloss or exotic woods
More Grand
More Apogee