Conrad Johnson CT5 tube preamp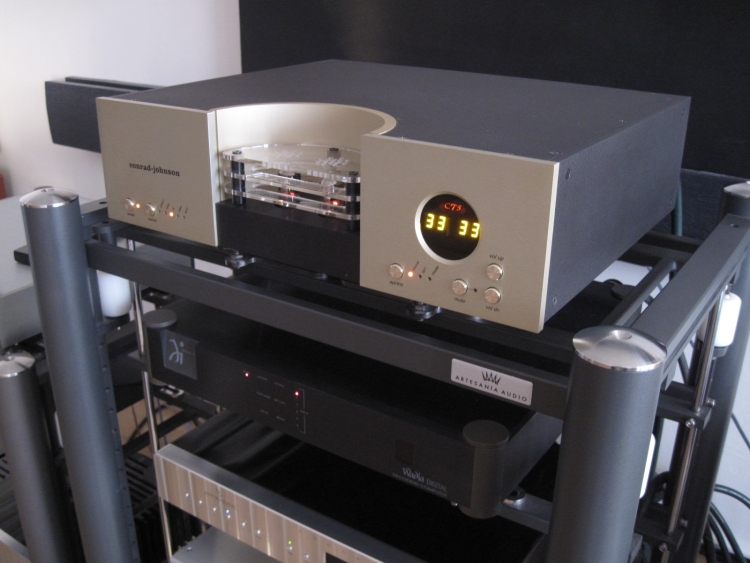 Smooth and natural sounding charmer with great dynamics
When talking about tube amplifiers, there are usually two brands that spring to mind: Conrad Johnson and Audio Research. If you read a few reviews, Conrad Johnson seems to be known for being on the smooth, relaxed side, with Audio Research placed pretty much on the other side of the spectrum. I have no personal experience with Audio Research yet, but do have a Conrad Johnson CT5 on loan and own two Jeff Rowland (transistor) preamps, the Concerto and the Coherence II, which can be used for comparison.
The CT5 uses two 6N30P tubes and these were tested as part of the purchase and found to be in excellent condition.
The preamp has an electronically controlled analog volume control, basically resistors switched via relays. Upon first using the volume control I was pleasantly reminded of the Jeff Rowland Consonance preamp that had a comparable volume control.
Various power cables were tried and the livelier ones seemed to work best. Furutech Alpha 3 was especially good in bringing out the CT5's full tonality and worked pretty well overall, but the most articulate sound was obtained by using a Belden powercable terminated with  Furutech FI15 Gold IEC and Hifi Tuning gold schuko.
It is often said of Jeff Rowland amps (especially the older types) that they combine the best virtues of tubes and transistors. Because tube amps often sound so fluid and utterly free from edgyness, I have always believed that there is truth to this statement. Judging from the tube preamps that I heard so far, I knew that tubes could indeed sound magical in the midrange, but so far it seemed that the price always had to be paid in other aspects of the audiophile spectrum.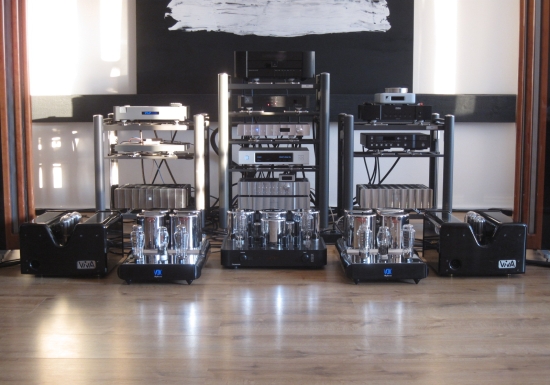 It wasn't until I heard the Ayon Crossfire III used as a preamp in my system however, that I realised how impressive a tube preamp really can sound, especially in terms of timbre and realism, but also in terms of dynamics! The latter really was a surprise for me. Like the Ayon, the Conrad Johnson was on loan from my listening buddy Jan Cramer who bought it used, in an effort to complete his AvantGarde + VAIC system. Jan was kind enough to loan out the CT5 for an extended period.
From first switch on (after presumably having been unused for an extended period) the CT5 sounded smooth and full-bodied, but not very expressive, and it needed some time to come on song. After a couple of days it started to shine, with more transparency and better detailing. Its character is definitely on the friendly side, but it is absolutely not woolly, or ill-defined. An analytical beast it also is not, but that's probably not what you get a CJ for anyway. What it does do admirably, it to focus the various elements that make up a musical event into one whole, and present this with superb tonality and excellent weight, with great dynamics to match.
Dynamic it certainly is, but don't mistake this for the preamp to sound in your face, or thunderous, it's not that. A large dynamic range means that there is a big difference between soft sounds and large sounds, as opposed to soft and loud sounding much alike, resulting in a compressed and flat sound. Well, the CT5 may not sound immediately "impressive", but it is anything but flat. It actually beats both my Jeff Rowland preamps in terms of dynamics, as well as in tonality. The Rowlands also sound quite relaxed and may well be too relaxed for some listeners, but I find that the components that stay longest in my system are the ones that strike a very careful balance.
I like a certain character in the sound, but I don't like forward or overly edgy sounding components. Jeff Rowland as a brand is never edgy or forward, but the CT5 simply sounds even less electronic and more natural than the already highly natural Rowlands. What the CT5 does not do however is sound large. Its soundstage is not particularly wide, or deep, and sounds don't come forward much either. The Rowlands counter with a more room-filling sound and more articulate and powerful bass as you'd expect, but also in transparency, micro detailing and treble extension and air. Quite remarkable for transistor amps, no?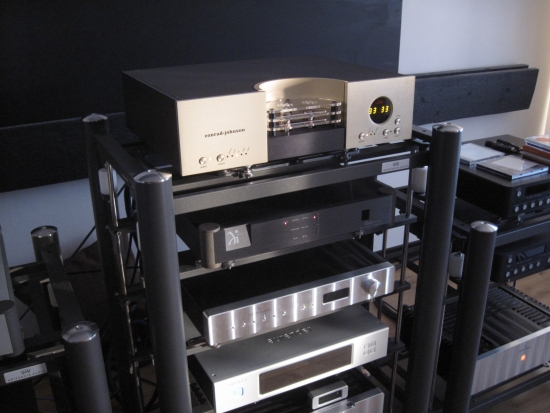 While I personally ultimately prefer the Rowlands, all things combined I can't conclude that one preamp convincingly beats the other, or even indicate which principle (tubes or transistor) is best. What I can say is that the CT-5 really delivers on its reputation, and I think that it will work very well in a wide range of setups. Musically it doesn't do anything wrong, and what it omits is purely in the domain of audiophile refinement.
Conclusion
Musical enjoyment is not only about the ticking of audiophile parameter boxes, rather it's about emotional response, and this the CT-5 delivers in spades. The trouble is, I have heard very many audio components and have gotten spoiled somewhat. I now want my cake, with frosting and a cherry on top, and eat it. Even though the CT5 outperforms the Rowlands in several important aspects, it doesn't reach their level of transparency and micro detailing, and the technical part of me wants those boxes to be ticked as well. If you are however a music lover first and not a spoilt audiophile (as I am), then you might well be friends for life with the Conrad Johnson CT5. Hey, that rhymes!