Manley Labs Jumbo Shrimp, Neo-Classic 300B and Snapper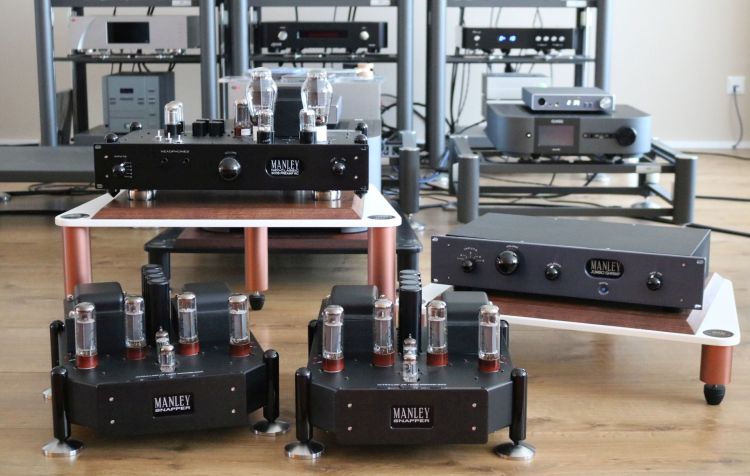 Review samples supplied by Frank Suijk of A Tube High Fidelity
Retail prices in the Netherlands, including 21% VAT:
Jumbo Shrimp preamp: 4.979 euro
Neo-Classic 300B RC preamp: 7.679 euro
Snapper Mono power amps: 9.670 euro per pair
When thinking of an American audio brand with a long history, one might expect a stereotypical big and ballsy "American" sound. In the transistor realm this would be maybe something in line with the classic Krell- or perhaps McIntosh sound and when talking about tubes, in general, a warm, rich and juicy-liquid and relaxed sound. But the Manley products that I have on visit for review do not really fit in this category. Or, at least, not all of them. So, what do these components sound like? Read on to find out!
There are tube amps with an almost transistor-like sound. For instance the Audio Research Ref75 and, to a lesser extent, certain Ayon amplifiers. The Spirit III integrated amp, for instance, has more powerful and robust bass than many transistor amplifiers in its price class. Then, there are transistor amps with an almost tube-like sound, such as certain classic Jeff Rowlands that can be more refined and fluid than many tube amps and, when focusing on current products, the Monrio mp11's, that are smoother and lusher than the Ayon. Of course, if you want the maximum possible in each category then there is no substitute for pure transistor or pure tube and many would argue that it is best to stick to one, or the other. While some hybrid designs work out beautifully, overall, I tend to agree.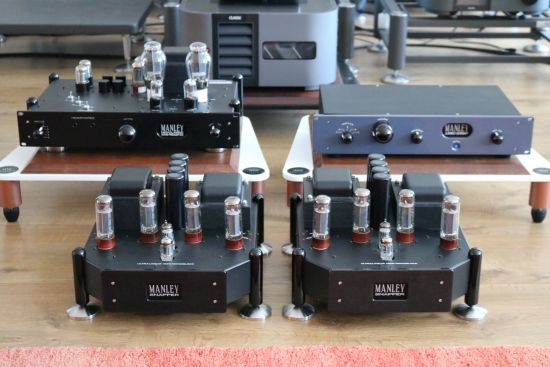 Reviewed here are two preamps, the Jumbo Shrimp and the Neo-Classic 300B, along with the Snapper Mono power amplifiers. These four Manley components are all pure tube designs.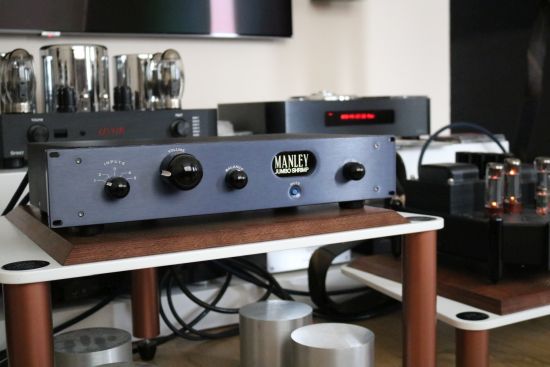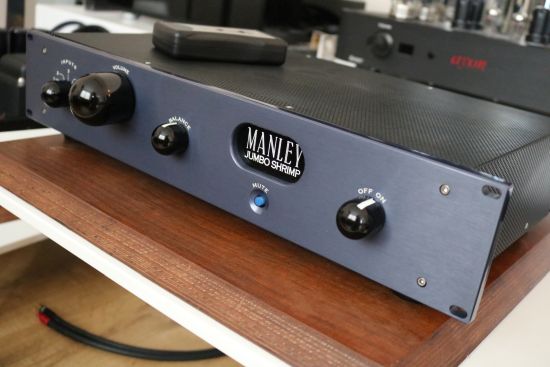 Jumbo Shrimp preamp
The Jumbo Shrimp is an all-tube, all triode preamplifier with 2 x Electro-Harmonix 12AT7 input, 2 x GE 5670 driver, and 2 x JAN 7044 NOS output tubes. The preamp has 5 line-level RCA inputs and 2 (a double set) RCA outputs. The original version of this preamp, called simply Shrimp, had no remote control. Manley added the RF (Radio Frequency) Remora Remote and changed the preamp name to Jumbo Shrimp , after which the original remote-less design was discontinued.
At 250 kOhm, the input impedance is very high, meaning that all conceivable sources should have no issue driving this preamp's inputs. In turn, at 50 Ohms, the output impedance is very low and thus the preamp should be able to drive long cables and lower input impedances without problems.
Neo-Classic 300B preamp
The Neo-Classic 300B preamp combines the famous 300B tube (Electro Harmonix) with large octal based Sovtek 6SL7GT for the input stage with all triodes running in pure Class A operation. In addition, there is Ruby 5AR4C tube rectification and Raytheon JAN OD3 tube regulation in the power supply as well as a ripple rejection circuit to filter out power supply noise.
At 100 kOhm, the input impedance is not as high as the Jumbo Shrimp but in absolute terms still very high, meaning that the unit should work with any source. Likewise, at 100 Ohms, the output impedance is higher than that of the Jumbo Shrimp but still plenty low enough to be of no concern at all.  I've seen solid-state preamps with output impedances that are multiples of this, which should put this nicely into perspective.
In addition to a line-level preamp, the Neo-Classic 300B is also a headphone amp. As I am not into headphones myself I will not investigate this aspect of the preamp but, allegedly, the headphone section is exceptional. Given that it is driven by the same pair of 300B's, I have no reason to doubt this. Interestingly, there are two headphone jack inputs and the option of a 30-400 Ohms or a 300-4000 Ohms headphone impedance output using a toggle switch on top of the unit.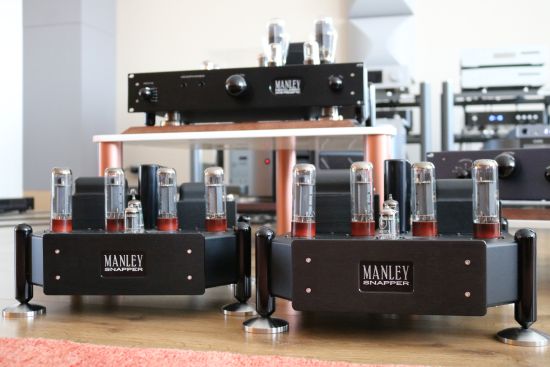 Snapper Mono power amplifiers
The Snapper features a quartet of Tung-Sol EL34B's (or 6CA7's) in a fully-differential circuit topology, including the input and driver stages. The Snapper can be driven fully-balanced throughout when using the XLR inputs. Fortunately, the unbalanced RCA inputs can be used in this topology, according to the manufacturer, with equally impressive results.
Biasing is done manually via easily accessible measurement points and trim pots on the top surface. After allowing them to properly warm-up, I adjusted all the tubes to 300mV. When measuring them again after 2 weeks, I found that the adjusted bias settings were retained to within 0.01 mV for all 8 tubes!
The output is optimized for 5 Ohms and rated at 100 Watts and the documentation states that the amplifiers will output this amount of power with a 10Hz input signal on continuous duty and up to 110 Watts between 15Hz and 40kHz without any problems.