Above: Wadia 2000 DAC
Original (Classic) Wadia
Wadia Digital was founded in 1988 and is one of the first companies dedicated to the advancement of high performance digital audio reproduction. Wadia was formed by a team of engineers from the St. Paul, MN-based 3M Corporation (formerly Minnesota Mining and Manufacturing) who shared many years of experience in advanced digital telecommunications research and development. In the early 1980's, these engineers became intrigued by the emerging compact disc technology.
They were disappointed with the sound quality of early CD players, and found the workings and designs of these early components to be unsophisticated in comparison with other technologies of digital design. In response, they founded Wadia Digital – a company based on the philosophy of applying advanced technology to improve the performance of digital audio components.
Wadia's first product, the Wadia 2000 Decoding Computer, was an absolute breakthrough in digital audio. For many discerning listeners, it was the first product to demonstrate that digital audio was a musically responsive, evolving, and engaging format. Wadia continues to build on a tradition of excellence, developing innovative technology: refining, listening, engineering, and improving along the way.
Since the Wadia 2000, new generations of industry-leading designs have been introduced and embraced by listeners around the world. Each step of the way, Wadia has consistently raised the standard for performance of digital audio playback.
Above: Wadia WT2000 CD Transport
Fine Sounds acquires Wadia in 2011
The Fine Sounds Group project took shape in 2007, when the asset management company Quadrivio SGR – main shareholder of the group – acquired the brand Sonus faber. In 2009 Mauro Grange joined the group as CEO of Sonus faber.
The "buy and build" strategy carried on by Quadrivio resulted in the acquisition of Audio Research in 2009, Sumiko in 2010, Wadia in 2011 and McIntosh Laboratories in 2012, which constitute the holdings of Fine Sounds Group. Through the acquisition of these brands, Fine Sounds Group became a relevant holding company in the sector of high-end audio, with € 50 million sales in 2011. The holding company took part in an official event as one unique family for the first time in 2013, with the participation in the Munich High End Show.
On the 9th of May 2014 Mauro Grange and Charlie Randall, president of McIntosh Laboratory, Inc., announced their plans for a management buyout of Fine Sounds Group in partnership with LBO France and Yarpa.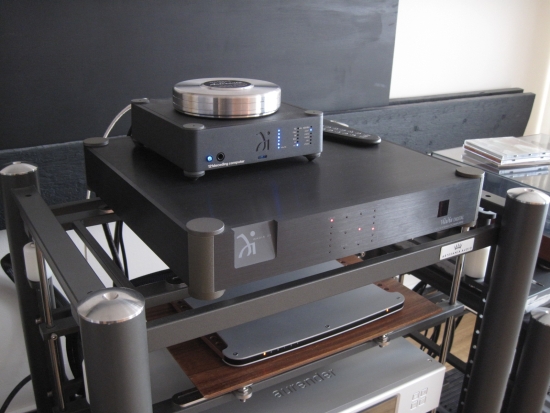 Above: Wadia 25 and Wadia 121
Above: Wadia 27ix and Wadia 171i
Official press release in 2011
MILAN, ITALY/SALINE, MI, December 28, 2010 – Fine Sounds Spa, owner of Sonus Faber Spa and Audio Research Corporation, announced today it has completed the acquisition of 100% of True Wave d/b/a/ Wadia Digital, the Saline, MI based leading manufacturer and marketer of High-End Digital Audio components.
The acquisition of Wadia Digital, part of Fine Sounds' strategy of becoming a leading multi brand player in the Two Channel High-End Audio sector, brings to Fine Sounds one of the most appreciated High-End Audio Digital brands while offering product extension opportunities in the Digital Lifestyle category.
Wadia Digital will extend its reference position in the high end digital sources and Digital to Analog Conversion segment. Through the resources provided by Fine Sounds, Wadia Digital will develop and expand the Series 1 "premium lifestyle" line with a complete product offering. John Schaffer will join the Board of Directors of Fine Sounds and will continue managing the Wadia brand with the full support of Fine Sounds' team.
Fine Sounds and Wadia Digital believe the transaction will deliver important benefits to Wadia's customers, partners and employees by providing opportunities for building on Fine Sounds Group's product development capabilities and financial resources. John Schaffer, President and CEO of Wadia Digital, said: "Wadia is proud to join with the great brands of Fine Sounds. It's their appreciation of legacy and strong leadership that gives us confidence in a bright future."
Fine Sounds is managed by Galeazzo Scarampi, Chairman (25 years of Private Equity experience in Italy, Asia and USA) and Mauro Grange, CEO (CEO of Sonus Faber). Mauro Grange said: "With the acquisition of Wadia Digital, Fine Sounds acquires the digital know-how needed to face the challenges of the future. I look forward working together with John Schaffer and the rest of the team to build Wadia into an even stronger global brand".
Above: Wadia 322
About Fine Sounds
Fine Sounds Spa, fully owned by Milan, Italy based private equity fund Quadrivio, is the holding Company controlling Sonus Faber, the Vicenza, Italy based leading manufacturer and marketer of High-End Two-Channel loudspeakers, and Audio Research Corporation, the Minneapolis, MN based leading manufacturer and marketer of High-End Vacuum-Tube and Solid-State electronic audio components. Annual revenues of the Fine Sounds group proforma for the recent transactions are in excess of US$ 30 million, with 120 employees worldwide. Fine Sounds is managed by Galeazzo Scarampi, Chairman (25 years of Private Equity experience in Italy, Asia and USA) and Mauro Grange, CEO (CEO of Sonus Faber). For more information please contact Giovanni Menato at +39 0444 288788 or at giovanni@sonusfaber.com, or visit the website at www.sonusfaber.com.
About Quadrivio
Quadrivio SGR is a leading Italian Private Equity firm, currently managing a family of funds with a total of equity under management in excess of US$ 300 million. For more information please visit the website at www.quadriviosgr.it.
McIntosh / Exogal
McIntosh is now tasked with the manufacturing/assembly and billing, and although the design is officially still done by Wadia engineers, the manufacturers appear to work closely together. The Wadia 321 and 322 DACs for example are on the inside virtually indistinguishable from the McIntosh D100 albeit using different versions of ESS Saber chips and different digital filters, alledgedly resulting in different sound.
Some of the old Wadia engineers have now started a new company called Exogal.
How Wadia repeatedly almost went out of business, but survived every time
Written by Alan Taffel for The Absolute Sound, February 2007
Mistakes and misfortune can befall even the most decorated of people—or companies. Consider the tumultuous history of Wadia. Twenty years ago, the company was a founding member of a movement to transform the nascent, sonically unpalatable compact-disc format into something the high end could embrace. Along with its main rival, Theta Digital, Wadia advanced a raft of innovations that made CD's transformation possible: outboard digital-to-analog convertors, glass-fiber connectivity, proprietary clocking schemes and mechanical isolation to minimize jitter, and software-based upsampling filters that blew away the crude chipsets then available.
Wadia's first products were intended merely as proofs of these concepts—test beds for technology destined to be licensed to others. But the components were so favorably received, the company was obliged to manufacture them in earnest. By the early 1990s, Wadia had become a firmly established builder of statement digital products. Its first stumble occurred shortly thereafter. In an effort to build on its initial success—and to deliver some profit to its venture capital investors— Wadia undertook an aggressive expansion of product lines and research initiatives. Hindsight now makes clear that these efforts were premature. The new thrusts strained limited financial resources and nuked the balance sheet. Likewise, the modest development team was forced to divert its attention away from core products, causing a slowdown in new releases. But these setbacks proved temporary. The company's recovery began when, in the mid-90s, the frustrated but dogged investors opted to let Wadia's founder and President, Don Moses, dedicate himself to technology development. In came a new management team led by entrepreneur Steven Jeffries. This division of labor ushered in Wadia's second golden age. Jeffries and crew upgraded the firm's core digital technologies, streamlined its organizational structure, simplified the product portfolio, modernized manufacturing facilities, and invested in sales and marketing. Wadia's output, reputation, revenues, and profits flourished. Even today, products from this era trade for robust premiums within high-end used equipment circles.
Buoyed by success, Wadia was once again anxious to expand. This time, rather than overtaxing internal growth, it embarked on an acquisition binge. To scale up manufacturing capacity and to broaden the product line, Wadia in 1999 purchased UltraAnalog. The highly regarded maker of digital chipsets also built high-quality CD players that were sold under a variety of high-end brand names. At the same time, Wadia applied resources to launching its PowerDAC product. And a year later, following in the footsteps of companies like Meridian and Goldmund that had transitioned from source-component to full-system providers, Wadia completed its lineup by purchasing a speaker maker, Hales Design Group. But integrating the newly acquired businesses proved just as arduous and expensive as had organic growth. Management, development resources, and money all became too thin-spread to handle the dispersed facilities, multiple product initiatives, and disparate business models. Given time, the skilled management team may well have righted the situation. Unfortunately, the Asian stock market chose this moment to crash, casting into a depression the region that accounted for nearly 50% of Wadia's revenue. Once more Wadia tumbled—this time, harder and farther. By 2000, all but one of Wadia's remaining investors had lost faith in the company and bailed out. The sole holdout, Shared Ventures, took control of the company and moved it to Ann Arbor, Michigan. There resided Digital Imaging, whose research paralleled that of Wadia, but on the video side. The idea was to create a technology partnership between the firms, one that would allow Wadia to re-emerge in accordance with its original business plan as a licensor of advanced technology to other manufacturers. This plan attracted both potential customers and new interest from the venture community. But just as it about to launch, the events of 9/11 sent financial markets cowering, and the plan unraveled for lack of funding.
For the next five years, a stripped-down Wadia—still oriented toward licensing technology—focused on R&D. Money for marketing and new product development was non-existent, but a recuperating Asia bought enough existing models to maintain a pulse. From a U.S. perspective, Wadia simply disappeared. Competitors, of course, eagerly stepped into the breach. Finally, in 2005, the last investor wanted out. Yet what could have been Wadia's death knell proved instead to be its resurrection. A small group of the company's executives and employees decided that they themselves would take ownership. In January of 2006, the buyout was completed. John Schaffer, who had been the firm's Vice President of Sales and Marketing, became President. Having witnessed past problems firsthand, Schaffer decided to play strictly to Wadia's strengths of sophisticated digital processing and high-end products incorporating that technology.
Schaffer and his team have their work cut out for them; the digital landscape has altered significantly during the company's half-decade of limbo. But Wadia is taking bold steps to re-establish its eminence. They have introduced a flagship $40,000 digital front end, the 270se transport and Series 9 DAC/digital preamplifier (see review). Meanwhile, the just-released 581 CD/SACD player leverages much of the Series 9's technology within a more form-and-price-friendly package. Both units encompass significant upgrades over Wadia's past products, vividly illustrating that even while the company was silent running, its commitment and creativity never abated.
The high end is a decidedly crowded place. But it will always accommodate firms with a passion to explore the limits of audio technology and which bring the fruits of those labors to products both extreme and moderate. Wadia began as a pioneer, and despite nearly unfathomable setbacks, it never lost its pioneering spirit. Let us, therefore, be grateful for Wadia's return to the fold, and hopeful that this resurgence proves permanent.
Alan Taffel (AT), The Absolute Sound, february 2007
More Wadia Company Special
Also Read
Wadia CD transport Masterpieces