JRDG Company Special – Corus
2010-present
Retail price in 2015 in BeNeLux – 19.750 euro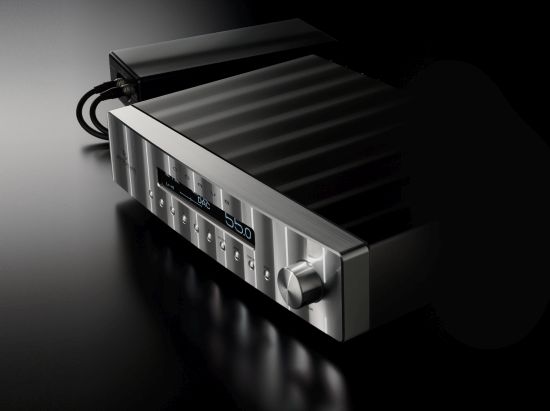 The Corus could be regarded as a Criterion-lite, having most of its circuitry (if not all of its circuitry) exchanging the Battery Power Supply for an external switched power supply. Rowland's latest products now feature a slightly curved frontpanel and are less wide (now 39,4 cm instead of 44,5 cm).

Above: Corus with 725 and Aeris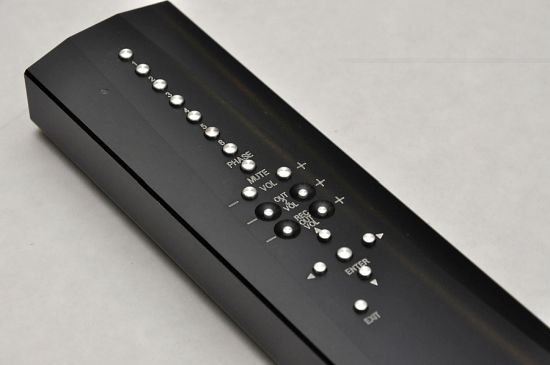 Above: the IR remote control is the same for Corus and Criterion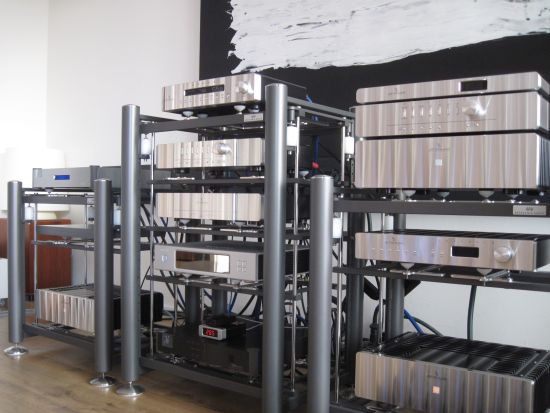 Above: I compared the Corus with the Coherence II, Concerto and Synergy IIi, the latter also with the optional BPS-2. An extensive review of this comparison will appear soon.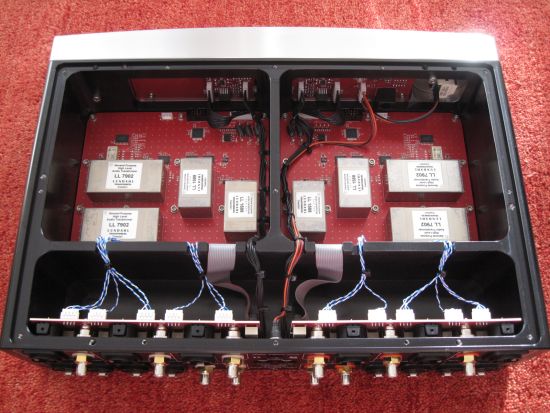 Above: Corus top down with its bottom plate removed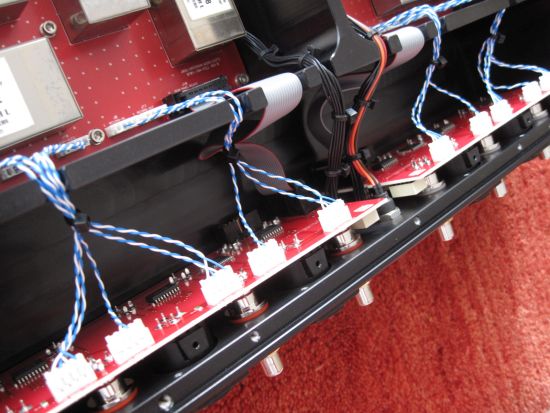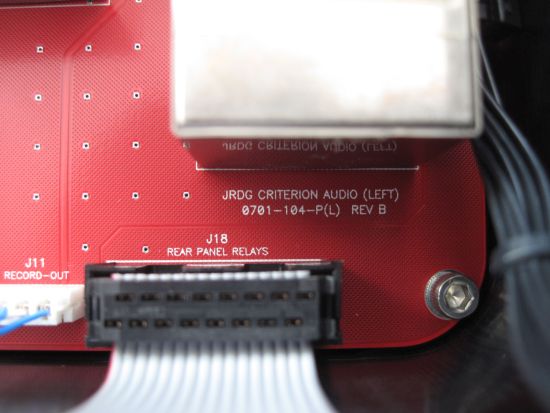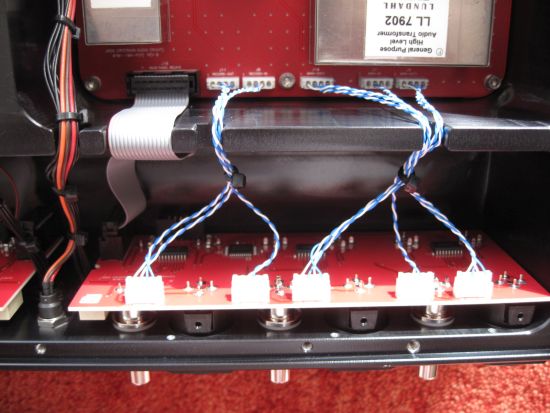 Input and output transformers
Above: rear part of the display. Below: rear part of the optical encoder for volume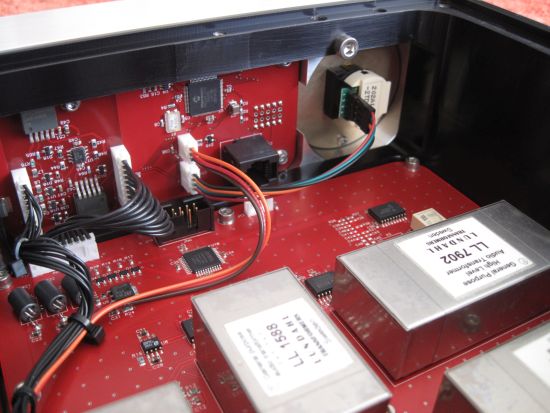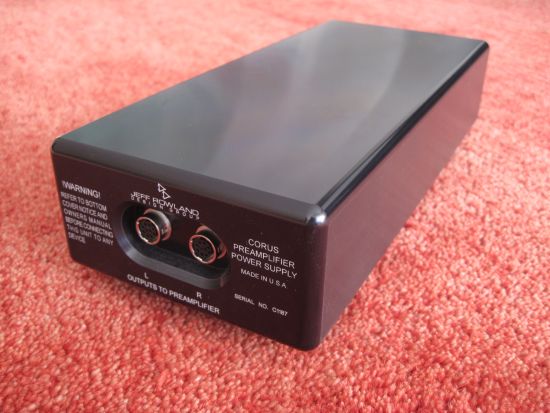 Separate switched power supply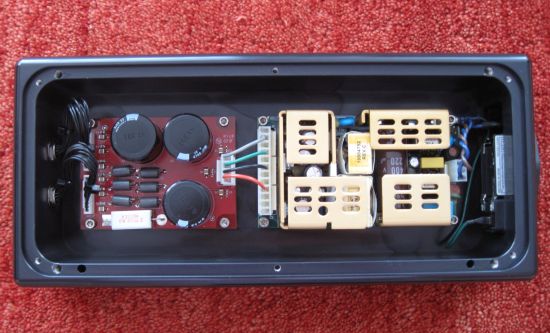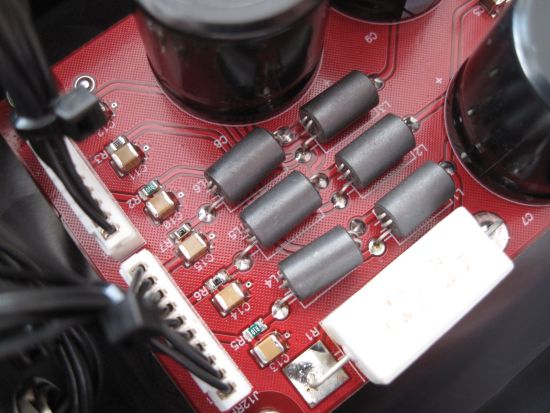 Above: the voltage provided by the switched power supply is filtered before it enters the Corus.
Above: inside the IR receiver
---
Update 2015
The Criterion is indeed discontinued and the Corus is the successor. With the addition of the upcoming PSU the Corus is supposed to even surpass the Criterion. The PSU was expected was Q3 of 2013 but has been delayed, and finally appeared late 2016.
---
Features
Machined Aluminum Chassis
Preamplifier circuitry housed inside a single ultra-low resonance, structurally rigid chassis, precision-machined from a solid block of aircraft grade 6061-T6 aluminum, completely sealed for maximum electrical/EMI/RFI isolation.
Functional Isolation
Power supply is confined inside an external machined aluminum chassis. Sensitive audio circuits isolated from power supply in main preamplifier chassis. Left and right channel circuits are further isolated into individual milled aluminum pockets in a true dual mono design for ultimate EMI/RMI shielding.
Ceramic Circuit Boards
All audio circuits are implemented on military-grade, multilayer, low dielectric constant, Rogers™ ultra-rigid ceramic circuit board substrate for extremely low energy retention and absorption. Large low impedance ground plane areas for extended internal star-grounding.
Ceramic Capacitors
Newly developed ceramic capacitors replace conventional electrolytics, resulting in power supply noise decoupling improvements by an order of magnitude (10X), especially at higher frequencies.
Dual-zone Preamplification
Separate 2nd gain stage for record outputs offers same circuitry as the primary signal path with independent volume control.
Transformer-Coupled
All inputs and outputs routed through professional grade Lundahl transformers for maximum common noise rejection, EMI immunity, and cross-component compatibility. Transformer coupling to all circuits ensures identical gain for both balanced and unbalanced inputs and outputs.
Flexible Connectivity
6 inputs (4 XLR balanced, 2 RCA unbalanced); 4 main outputs (2 XLR balanced, 2 RCA unbalanced); 2 record outputs (1 XLR balanced, 1 RCA unbalanced); per channel.
Output Offset
High-resolution programmable gain offset on main unbalanced output 2 with 0.5dB resolution adjustable relative to main output 1.
Unity Gain Inputs
Any main input can be configured as a unity gain bypass for compatibility with theater processors.
Channel Balance
High-resolution (1.0dB) panning of stereophonic image (channel balance) for a maximum +/-20dB shift.
VFD
Long life 32×320 pixel custom graphic vacuum fluorescent display (VFD) offers maximum resolution of display data for status indication.
Handheld Remote Transmitter
Highly ergonomic, custom handheld remote transmitter milled from aluminum billet supports complete system control and duplicates front panel operations.
Remote Sensor
Wired remote sensor milled from aluminum billet enables handheld remote transmitter operation while housing preamplifier in closed cabinet enclosures.
Quiet power-up
No turn-on or turn-off transients during intermittent power interruptions.
Technical Specifications
Overall Gain Maximum 7 dB , +/- 20 dB independently programmable on each input
Gain Range 99.5 dB, 199 Equal Increments
Gain Resolution 0.5 dB, +/- 0.03 dB Over Entire Range
Frequency Response 10 Hz – 300 kHz, -3 dB @ 8 ohms
Maximum Input Level 13.5 volts (RMS) @ 0 dB Gain
Maximum Output Level 13.5 volts (RMS)
THD + Noise < .003% @ 2 volt (RMS) Output, 50 Hz – 20 kHz
Common Mode Rejection Ratio > 90 dB, 20 Hz – 20 kHz
Channel Separation > 93 dB, 20 Hz – 20 kHz
Input Impedance 40k ohms Balanced or Unbalanced
Output Impedance 60 ohms Balanced or Unbalanced
Inputs 4 pair Balanced (XLR), 2 pair Unbalanced (RCA)
Outputs 2 pair Balanced (XLR), 2 pair Unbalanced (RCA) for Main
Power Consumption 15 watts
Power Supply Universal Voltage Input Power Factor Corrected Power Supply
Display 320 x 32 dot Vacuum Fluorescent Display (VFD)
Preamplifier Weight 22 lbs. / 10 kg
Power Supply Weight 6 lbs / 2.7 kg
Preamplifier Dimensions (h/w/d) 3.9" x 15.5" x 12.3" (99mm x 394mm x 312mm)
Power Supply Dimensions (h/w/d) 2.9" x 4.7" x 11" (73mm x 119mm x 279mm)
More Corus
Corus Extensive Review
Corus + PSU Extensive Review
Compared to Coherence II, Synergy IIi and Concerto
More Jeff Rowland
Jeff Rowland Company Special Main Page
Jeff Rowland Company Special Preamplifiers