JRDG Company Special – Coherence
1984-1992
Retail price unknown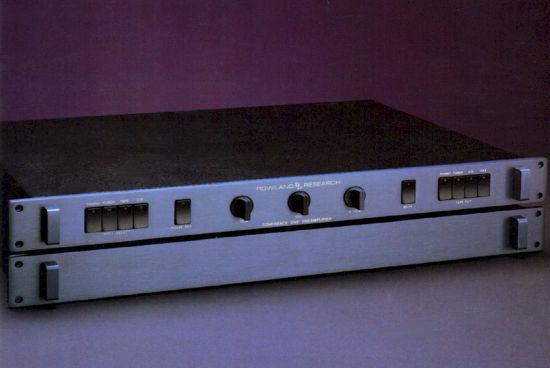 I don't know much about the original Coherence and haven't listened to it but apparently it made quite a stir when it was introduced. The combo consists of a power supply section and a preamp section. It has very high grade potentiometers, single ended inputs and balanced outputs, albeit on inverted and non-inverted cinch only, not XLR. Above it is shown with 19 inch mounting holes.
Above: no mounting holes

Above: with JRDG name on the power supply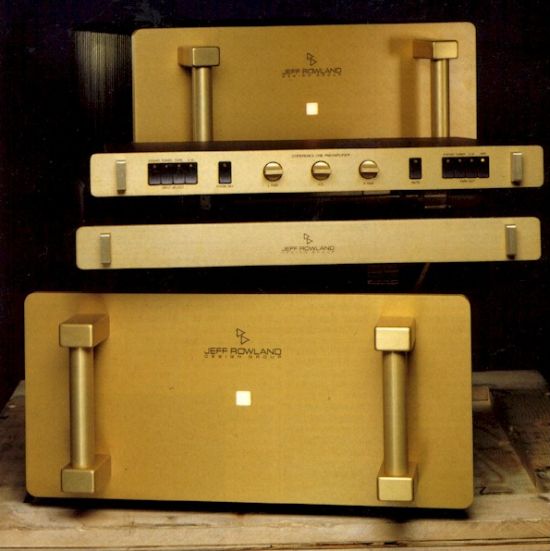 Above: in champage along with the Model 7 power amps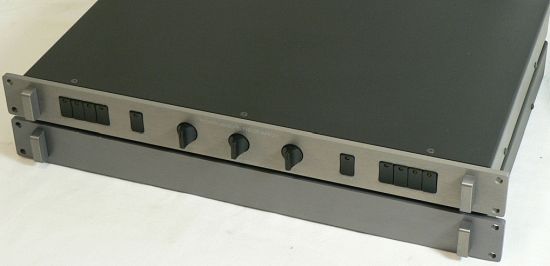 Above: inside the preamp (no shielding on the modules)
Above: inside the preamp (shielded modules)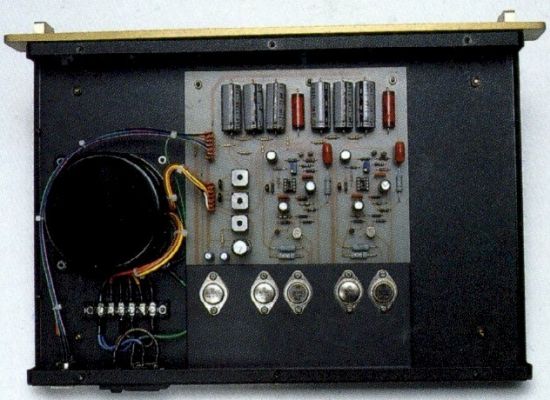 Above: inside the power supply
PLEASE NOTE: THE COHERENCE ONE SERIES II IS IN NO WAY COMPATIBLE WITH EARLIER COHERENCE ONE PREAMPS. DO NOT INTERCHANGE OLD AND NEW POWER SUPPLIES FOR ANY REASON!
Coherence 1 series 2 Features
The preamplifier is designed to rest on top of its power supply so the user-friendly pair can be handled easily. Special shielding techniques allow for this configuration, and "hum field" contamination has been eliminated.
Lighted, feather-touch mode switches electronically control signal. The front panel switches do not alter sonic integrity, since signal switching is accomplished at the preamplifier input stage. Absolute phase reversal and full muting are other essential front panel control functions.
A selectable tape output section allows simultaneous recording from one source while listening to another. "Record Out: Off" position disconnects tape recorder inputs from tape out jacks, eliminating loading problems when tape recorder is not in use.
Volume controls are chosen for their sonic neutrality. Separate right and left trim potentiometers provide 6 dB adjustment for full rotation, permitting precise channel balance.
Input and output jacks are gold-plated, ground-fault protected connectors, which provide tight, corrosionfree connections. Simultaneous normal and inverting outputs allow for balanced cable operation.
Extremely low-noise phono sections eliminate the need for extra circuitry when using low output moving coil cartridges. The phono modules of the Coherence One Series II have been optimized for use with moving coil cartridges; for moving magnet cartridges, a module exchange can be easily accomplished by the user. Please contact Jeff Rowland Design Group from more details.
All main outputs are muted temporarily during initial power application, power drop or disruption. DC potential across outputs, regardless of source, will also cause a muted condition.
All signal amplification utilizes high-voltage, high-current, Class A field effect transistor technology.
All inputs and outputs are direct-coupled, thus eliminating the deleterious effects of capacitors in the signal path. • Precise RIAA equalization is the result of a split-passive network in the phono section.
Incorporation of two-stage power supply regulation: A separate outboard power supply provides tight regulation regardless of power company extremes. Additionally, this discrete component design is optimized for excellent transient behavior, thus providing very low output impedance beyond 100 kHz.
DC power is routed, via a power cable with a locking connector, to the main preamplifier circuit board. Compensating for power cable and circuit board inductance effects, sixteen (16) feedback-free discrete regulators adjacent to each module complete DC power distribution. This total system, in addition to separate channel balance controls, provides dual mono operation and precise regulation at each stage throughout.
Time-related distortion, particularly in low-level phono stages, is eliminated by a totally feedback-free design.
Mil-spec circuit board material, with oxygen-free copper traces and high-temperature mask provides superior electrical characteristics. • All signal switching is accomplished with hermetically sealed, gold- contact signal relays.
AC power line filter offers excellent line noise rejection.
All critical circuitry is encapsulated in a thermally-conductive epoxy to ensure excellent thermal stability, mechanical integrity and to facilitate ease of service.
Coherence 1 series 2 Technical Specifications
Phono Stage:
Gain
60 dB
RIAA Accuracy
20 Hz to 20 kHz ± 0.15 dB; +0, -3 dB, 200 kHz
Input Impedance
User selectable:
0-200 ohms adjustable, 47 k ohm fixed or any value.
THD and Noise
< 0.025% @ 1 kHz, 0.7 V RMS output
Max Output Level
18 V RMS
Line Stage:
Gain
19 dB
Response
2 to 250 kHz, +0, -3 dB
Input Impedance
10 k ohms
Output Impedance
300 ohms (single-ended output)
600 ohms (balanced output)
THD and Noise
< 0.010% @ 1 kHz, 3 V
RMS output
Max Output Level
> 9V RMS
More Jeff Rowland
Jeff Rowland Company Special Main Page
Jeff Rowland Company Special Preamplifiers