JRDG Company Special – Capri
Capri
2006-2013
Retail price in 2015 in the Netherlands – 3098 euro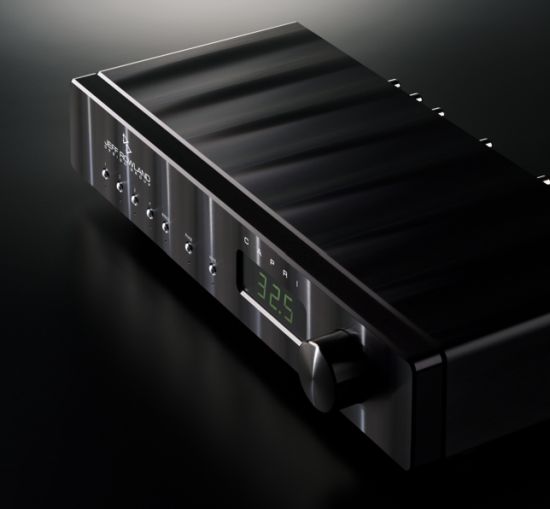 The Capri is not derived from the Synergy nor really replaced it. It is a more compact "budget" preamp in a new smaller width, with switch-mode power supply and less features, although it does offer a theater bypass on cinch. According to friends, the Capri sounds more accute and less full/fluid than earlier more elaborate designs, which makes sense as it has a switched power supply and omits the line signal input- and output transformers. The Concerto preamp is also simpler than the Synergy but better spec'd than the Capri in that it has more inputs, input transformers and a beefy linear power supply, along with a higher price tag, which places it between Capri and Criterion/Corus.
Do note that the new DAC board that was introduced along with the Capri s2 is not compatible with the original Capri.
Above: Capri on top of model 102 stereo power amp. Although often shown in black, both components were also available with silver front panels.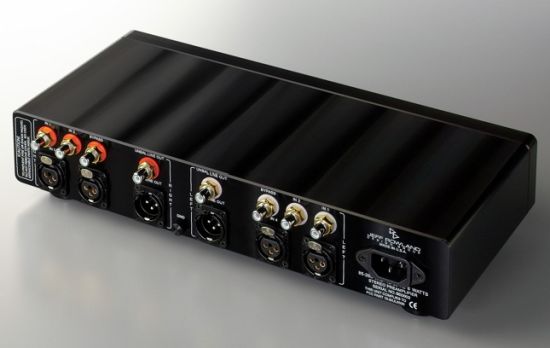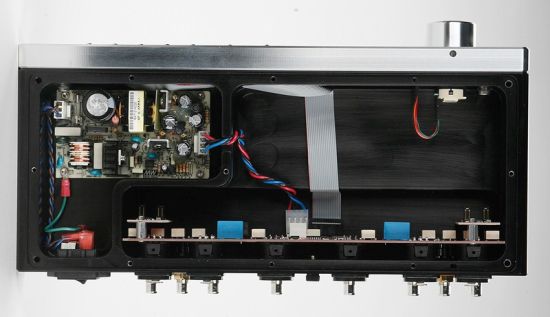 Inside the Capri preamp: switching power supply and preamp circuitry have their own departments in the solid aluminum housing. Seen here is the rear side of the unit with this single circuit board housing the actual preamp section, as well as the input section. The two small cascaded boards left and right are phono boards. As with almost all Rowland products, the Capri has also been machined out of a solid block of aluminium.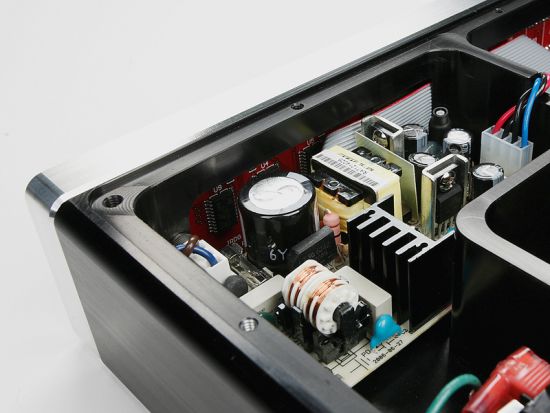 Shown above is the rear panel circuit board holding two optionally available phono cards. The DAC boards that became available at the same time that the Capri S2 appeared are not compatible with the original Capri.
Capri Features
Two pairs XLR input connectors for balanced system configurations.
Two pairs RCA input connectors for unbalanced system configurations.
One pair high-current, balanced line level outputs plus one pair RCA unbalanced outputs to allow for driving of multiple amplifiers for bi-amplification, subwoofers, etc.
Fully-balanced inputs provide universal compatibility with other components and eliminate ground loop noise and EMI.
Fully-balanced topology implemented in both input and output circuitry.
Bypass function allows for transparent use in combination audio/home theater systems.
Low noise, high-current, switchmode power supply provides highest performance at any world-wide mains operating voltage.
Low power consumption permits constant power-up operation to eliminate warm-up time.
Optical encoder type volume control maintains quiet, trouble-free performance and accuracy over the entire lifetime of the product.
Dual range volume control allows large volume level changes when knob is rotated abruptly, yet allows small, precise volume level changes when knob is rotated slowly.
Six function, hand-held infrared remote transmitter.
Ultra-low resonance, structurally rigid chassis, precision-machined from a solid block of aircraft grade 6061-T6 aluminum.
Optional plug-in phono cards (installed internally) convert Line Input 1 to high performance phono inputs. Three gain and loading options can accommodate moving magnet (MM), moving coil (MC) cartridge types and high output moving coil cartridge types.
Capri Specifications
Overall Gain
14 dB
Gain Range
99.5 dB, 199 Equal Increments
Gain Resolution
0.5 dB, +/-0.03 dB Over Entire Range
Frequency Response
10 Hz – 350 kHz, -3 dB
Maximum Input Level
7 volts RMS at 0 dB Gain
Maximum Output Level
7 volts RMS
THD + Noise
Less than 0.001% , 7 volt output, 20-20kHz.
Signal-to-Noise Ratio
Greater than 100 dB
Output Noise Level
10 Microvolts, Unweighted, 20 Hz to 20 kHz Bandwidth, 0 dB Gain
Common Mode Rejection Ratio
>85dB, 20 Hz 20 kHz
Input Impedance
48K Ohms Balanced or Unbalanced
Channel Separation
>105 dB, 20 Hz to 20 kHz
Inputs
2 x Pair Balanced XLR
1 x Pair Unbalanced (RCA)
Unity Gain (Bypass)
2 x Pair Unbalanced RCA
Outputs
1 x Pair Balanced Line Level
1 x Pair Unbalanced Line Level
Power Consumption
6 Watts
Weight
9.5 lbs / 4.26 kg
Dimensions
2.6"(H) x 13.7" (W) x 6.2" (D) / 6.7 cm (H)x 35 cm (W) x 15.7 cm (D)