JRDG Company Special – Model 8
The Model 8 was available in various versions:
Model 8 (1992-approx 1998)
Model 8T (approx 1998-approx 2000)
Model 8Ti (approx 2000-approx 2002)
Model 8Ti HC (approx 2000-approx 2002)
A BPS was also available.
Retail price of the Model 8T in 1998 in the Netherlands 17.833 euro
I've always thought of this amp as a beefier stereo version of the model 6 and while this may be true for the initial Model 8, successive incarnations of this model are quite different animals that look to have more in common with the model 9. An owner of both told me that the 8 and 9 sound a lot alike. I'm just not sure if he was referring to the initial versions of both, so FWIW…
There was a T, Ti and HC upgrade. The Latest & Greatest Model 8 available was the Model 8TiHC. This is a high current version of the Model 8Ti; it has twice the number of output devices, therefore doubling available output current on demand. From what I can tell, the Model 8T and 8Ti versions used integrated circuits as amplification devicesfavorvour of the bipolar transistors of the initial Model 8.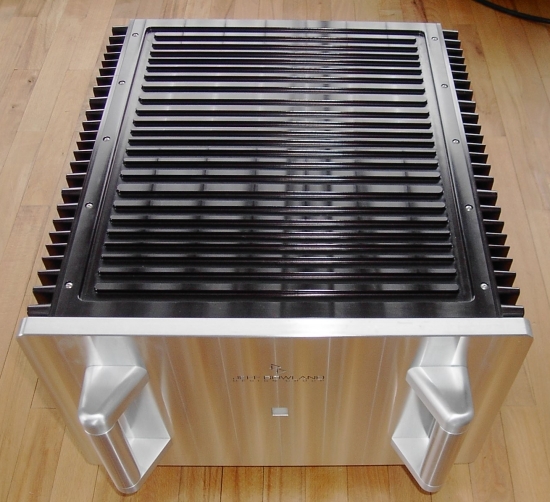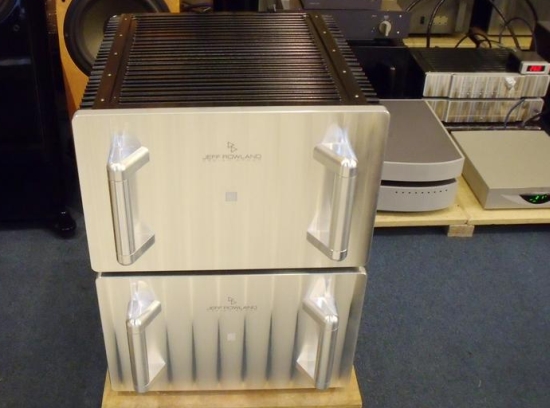 Above: model 8 below with model 6 (so cute) on top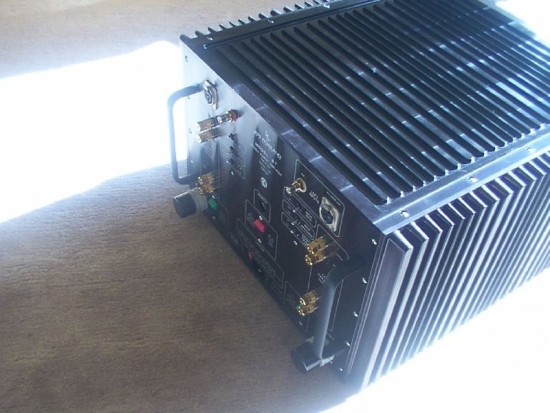 Above: Model 8Ti backside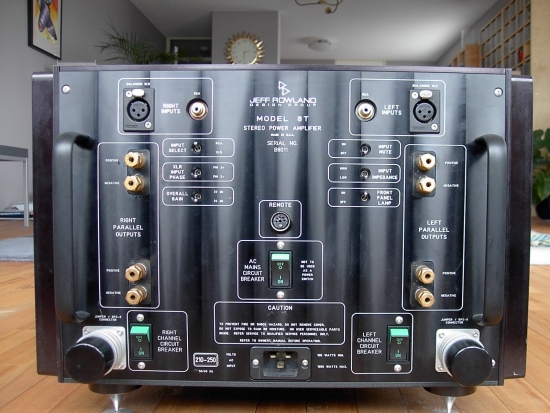 Above: Model 8T backside
Model 8 Updates
All Model 8 amplifiers are eligible for updating. This process involves two steps, as described below:
Update Stage 1:
Model 8 amplifiers between serial numbers A80001 and A80102 may need additional work involving the replacement of power supply components before the unit can be eligible for the Stage 2 update. These units were originally designed with a single "choke-input" power supply which simultaneously powered both right and left channels. The Stage 1 update provides a "dual mono" power supply which consists of totally isolated right and left channel power supplies which allow completion of the Stage 2 update. Since many of the original Model 8 amplifiers (serial numbers A80001-A80102) have already been modified to this stage, it may be necessary to inspect the internal layout of the amplifier in question. Original, unmodified units can be identified by two large black capacitors placed longitudinally from the front to the rear of the amplifier. All modified units can be identified by four large black capacitors placed transversely and clamped between two gold-colored brackets which span the entire length of the amplifier.
Update Stage 2:
An update is available to all amplifiers from serial number A80001 through B80055. This update can be performed independently from any other update, i.e. A80234 does not require the rear panel with battery power supply connections to be eligible for the Stage 2 update; however, unless the amplifier has connections for use with the battery power supply, the unit will not be able to be used with the BPS-8 battery power supply at a future date. This update involves minor modifications to each right and left channel main circuit boards and the replacement of each right and left channel plug-in modules. It provides the greatest sonic performance improvement possible without utilizing the BPS-8 option.
Model 8 Inside Pictures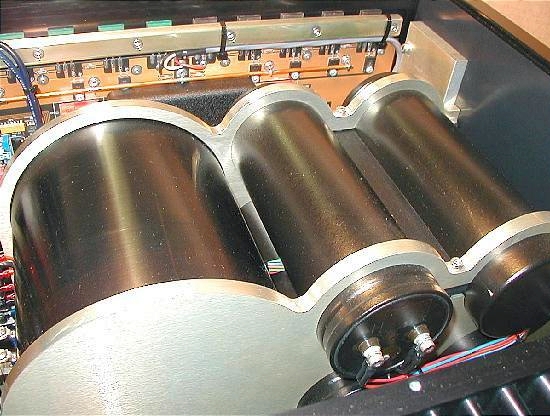 Above: original Model 8 (not Ti), which you can tell from the brown circuit boards and regular bipolar transistors.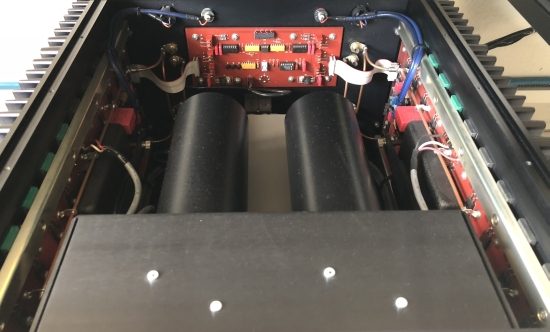 Above: Model 8 with Choke Power Supply (thanks to Torsten Schiemenz for supplying the picture)
Above and below: Model 8T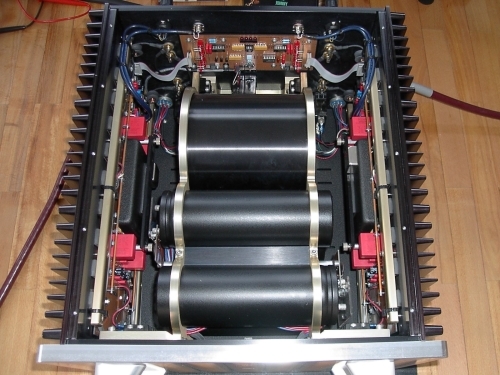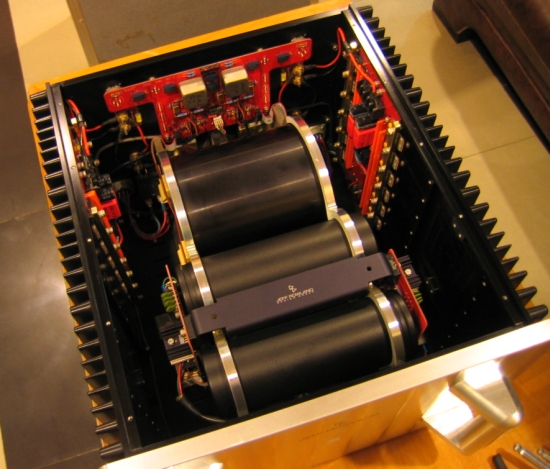 Above: Model 8Ti (distinguished by the red circuit boards)
Model 8 Features
XLR Balanced Input jacks for balanced (Differential Mode™) system configurations
RCA Input jacks for unbalanced (single-ended) system configurations
Two parallel connected speaker output connectors for both right and left channels
User-selectable overall gain of 26 or 32 dB
User-selectable input impedance of 36k or 600 ohms for both balanced and unbalanced inputs.
User-selectable absolute phase on balanced input
User-selectable input muting
User-selectable switching between balanced and unbalanced inputs
Front panel standby/power button illumination can be turned off during listening
Optional remote (wired or wireless) power ON/OFF switching
Automatic temperature stabilizing circuitry maintains constant operating temperature
Standby power condition reduces warm-up time
Fail-safe operation provided by user-resettable AC and DC magnetic circuit breakers located on rear panel
Quiet, transient-free operation during power and function mode switching
Automatic input muting under anomalous input or output operating conditions
Balanced Differential Mode™ circuit topology implemented from input to output
Plug-in modules, containing critical electronic circuitry, enhance thermal stability, mechanical integrity, and serviceability
Low-resonance, structurally integrated chassis of precision machined aluminum alloy components
Model 8 Technical Specifications
Output Power Continuous RMS watts
@ 8 ohms 250 watts
@ 4 ohms 400 watts
Power Bandwidth
0.1 Hz to 160 kHz, -3 dB
Slew Rate
30 volts per microsecond
THD and Noise
Less than 0.1% at rated power
Damping Factor
Greater than 100, 20 Hz to 20 kHz, 8 ohms
Output Current
50 amps continuous, 100 amps peak
Overall Gain & Sensitivity
User selectable on rear panel (1 watt, 8 ohms)26 dB or 32 dB; 141 mV or 71 mV
Input Impedance
User selectable on rear panel Unbalanced36k or 600 ohms Balanced36k or 600 ohms
Common Mode Rejection Ratio
Greater than 60 dB, 20 Hz to 20 kHz
Absolute Phase
User selectable on rear panel Unbalanced input Normal Balanced (input Normal or Phase-inverted)
Input Mute
User selectable on rear panel
Power Consumption
100 watts standby; 300 watts operating, idle; 1200 watts maximum
Inputs
User selectable on rear panel Unbalanced2 RCA connector Balanced2 XLR connector
Outputs
2 pair binding posts per channel
Dimensions
17.5 in. (W) x 22 in. (D) x 11.4 in. (H) 44.5 cm (W) x 56 cm (D) x 28.5 cm (H)
Shipping Dimensions
18.0 in. (W) x 24.0 in. (D) x 28.0 in. (H) 45.7 cm (W) x 61 cm (D) x 71.1 cm (H)
Weight
124 lbs. (56 kg)
Shipping Weight
164 lbs. (75 kg)
More Jeff Rowland
Jeff Rowland Company Special Main Page
Jeff Rowland Company Special Power Amplifiers