JRDG Company Special – PSU
2016 – present
Retail price in 2016 in the Netherlands 10.800 euro
First heard of in 2012, the PSU has been in (further) development until late 2016. The PSU can be seen as a successor of the BPS battery power supplies, but it instead of batteries, it uses Super Capacitors, offering the advantages of battery power (clean power), without the drawbacks (high internal resistance). It feeds DC to the Corus pre amplifier and Aeris DAC simultaneously. These capacitors are capable of very quick power surges, while NiMH batteries are not. The PSU has massive capacity but not enough current to be used with power amps. It is also not compatible with the Criterion or Capri any other older Rowland preamplifier.
Wikipedia describes supercapacitors as follows: 
Supercapacitors have the highest capacitance values per unit volume and have the greatest energy density of all capacitors. Supercapacitors are manufactured with capacitance values up to 12,000 F/1.2 V, having specific capacitance values up to 10,000 times that of electrolytic capacitors.
With this high capacitance values supercapacitors are bridging the gap between capacitors and batteries. In terms of specific energy as well as in terms of specific power this gap covers several orders of magnitude. However, this high capacitance will in comparison with batteries only be about 10% of the capacity of batteries. While existing supercapacitors have energy densities that are approximately 10% of a conventional battery, their power density is generally 10 to 100 times as great. Power density combines the energy density with the speed at which the energy can be delivered to the load.
Unlike batteries, in the faradaic redox reactions of the pseudocapacitance property of a supercapacitor, the ions simply cling to the atomic structure of an electrode, and no or negligibly small chemical modifications are involved. This energy storage with fast charge-transfer makes charging and discharging of supercapacitors much faster than batteries. Additionally, supercapacitors will tolerate large numbers of rapid charge and discharge cycles. This makes them well-suited for parallel connection with batteries, and may improve battery performance in terms of power density,
In these electrochemical capacitors, the electrolyte is the conductive connection between the two electrodes. This distinguishes them from electrolytic capacitors, in which the electrolyte is the cathode, and thus forms the second electrode. Supercapacitors are polarized components, which may only be operated with the correct polarity. The polarity is controlled by design with asymmetric electrodes, or, for those with symmetric electrodes, by a voltage applied during manufacture.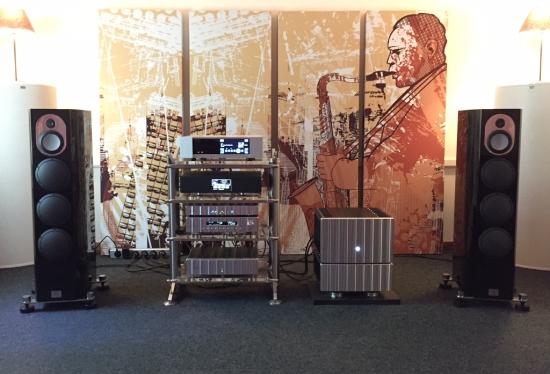 First time I saw and heard the PSU in real life, during the VAD show in Veldhoven, the Netherlands in 2016
To the right of the rack is the model 825 power amp.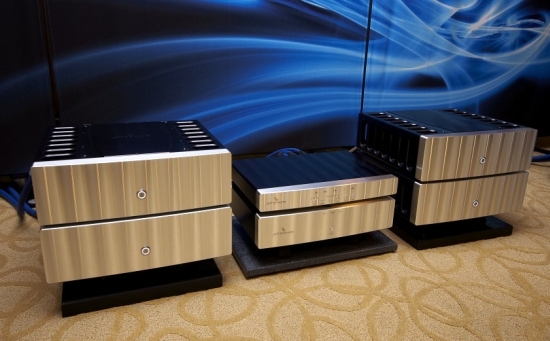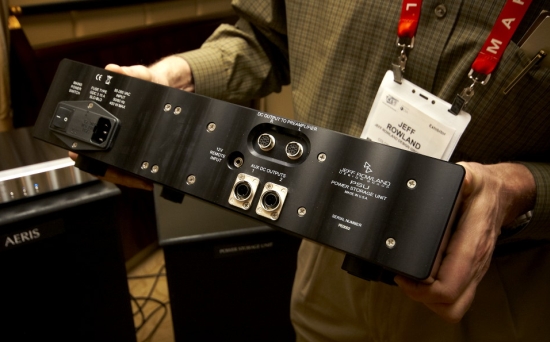 Above: Jeff himself, holding the PSU
PSU Technical Specifications
Energy Capacity
233 farads (233,000,000 microfarad)
Input
85-264v
Outputs
1 pair DC outputs for Corus Preamp + 2 single auxiliary DC outputs
Weight
27lb / 15.9KG
Dimensions (H/W/D)
3.3″ x 15.5″ x 11″ / 84mm x 394mm x 279mm
More PSU
More Jeff Rowland
Jeff Rowland Company Special Main Page
Jeff Rowland Company Special BPS
Corus Preamplifier
Aeris DAC