Detailed Info about the Apogee Stage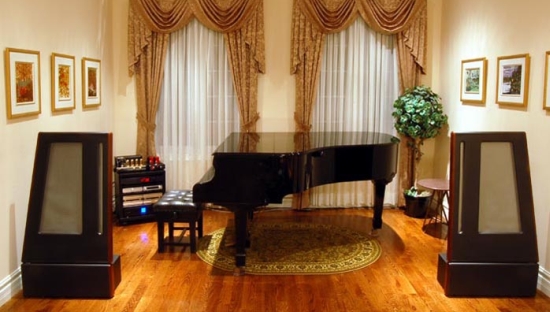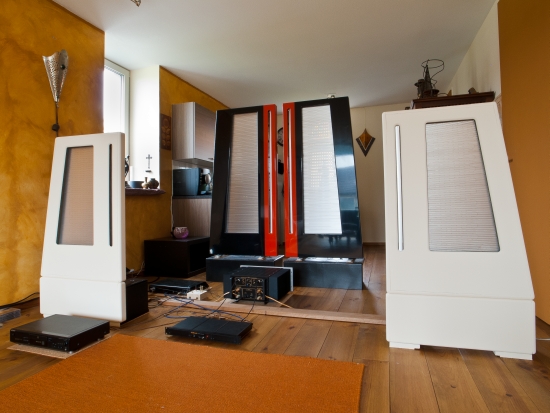 Above: at Toines place along with the red and black Duetta Signatures that still linger around in my quarters.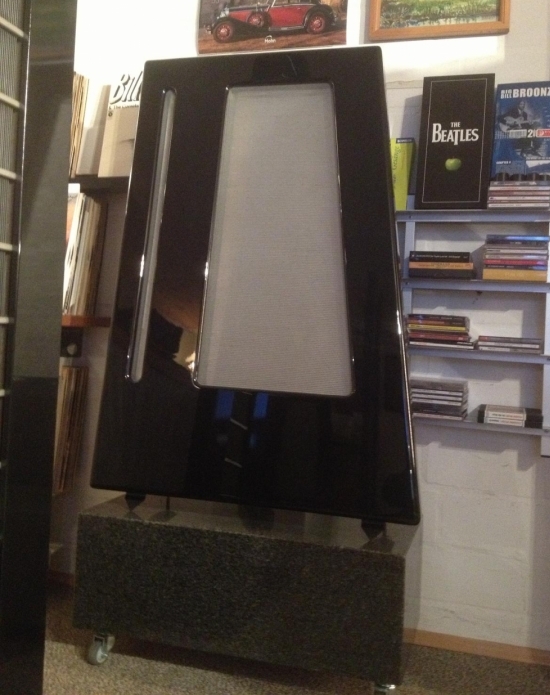 Classy high gloss black – my favorite look for these speakers
Wood trim option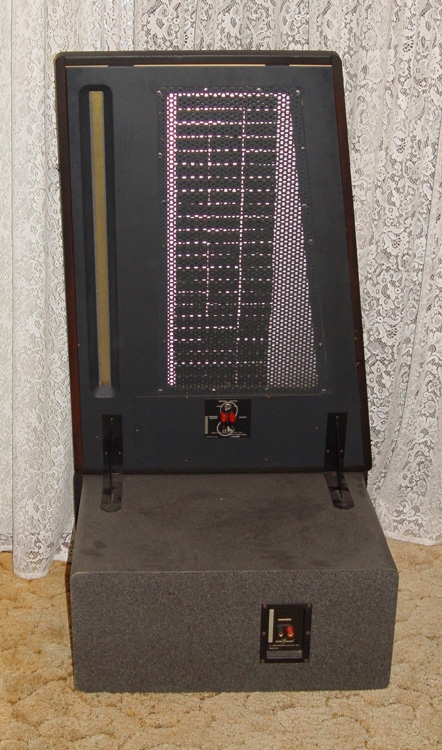 Stage on top of the optional subwoofer to combine into a Mini Grand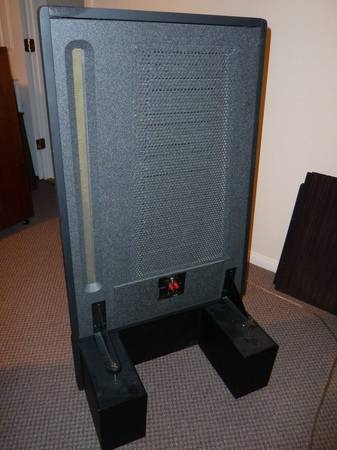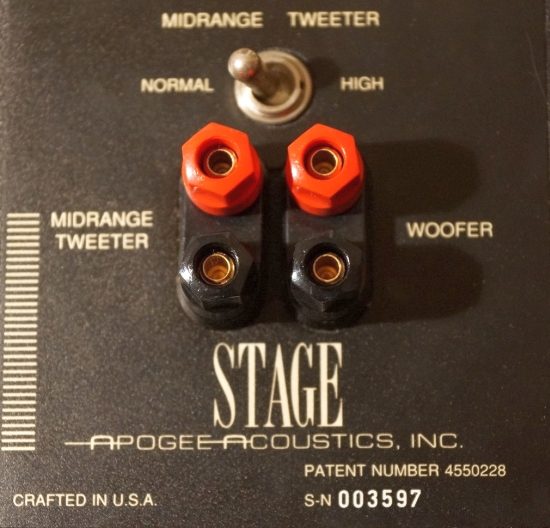 ---
Interesting homemade Stands
Stage with homemade stands in the same wood as the trim on the speakers. The floor plate is metal with SoundCare superspikes – very classy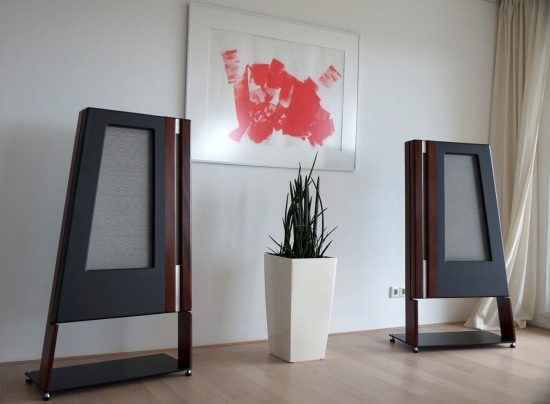 Info
The Stage was the smallest and cheapest Apogee speaker when it appeared in the middle of 1990.
The drive units on the Stage used Mylar as the backing material, as opposed to Kapton. The woofer's mylar foil deviates from all other Apogees by having aluminum conductors on both sides of the foil. These dual sandwich etched ribbons yielded a much-improved sensitivity. Impedance was still relatively low at 3 ohms but also in part thanks to more powerful magnets for the woofer driver, the Stage was considerably easier to drive than any previous Apogees.
The original ribbon tweeter was a double laminate of aluminum and Mylar, with 3 segments on the front and 3 on the back. This was later changed to a single-sided, 6-element etched Kapton ribbon around 1991, which seems to be exactly the same ribbon as used for the Centaurus.
According to someone who used to work at Apogee, the tweeter was redesigned from double laminate to single as heat problems over time could cause a front to back short. The failure rate was small, presumably, it would only be caused by playing at very high levels for a considerable time.
The Centaurs are the same height as the Stage + Pedestal. One could ask why include the Pedestal? Why not simply make the speakers' baffle a little longer? I thought it might be to aid WAF when leaving out the pedestals, but due to the way that the speaker's feet are constructed, they can only be used with the pedestals.
The Stage is a very small speaker (in Apogee terms) and due to the way that its feet are designed, it must be used with its dedicated pedestal. It also formed the basis for the Mini Grand system with the addition of a subwoofer unit and an active crossover.
Construction
When trying to set them up straight on the floor, the speaker is tilted backward so much that it barely stays put and easily falls over, making the use of its pedestal mandatory unless one comes up with an after-market solution.
The front side of the speaker is supported by a metal bar that ends in a pointy triangle which stands right on the MDF pedestal.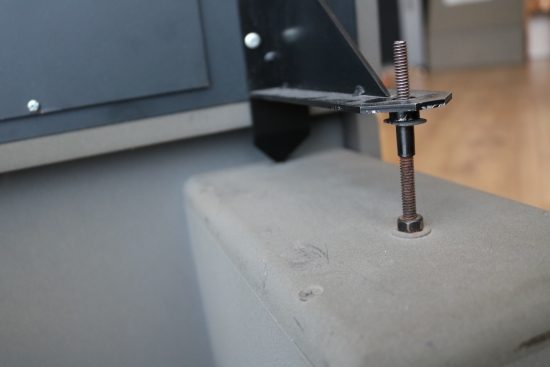 The height can be adjusted to change the speaker's tilt, then fixed with a nut on top (not shown here)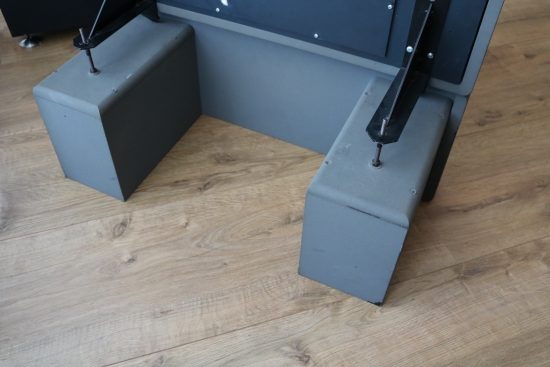 Above: the MDF pedestals are filled with an unspecified very heavy material.
Listening – February 2018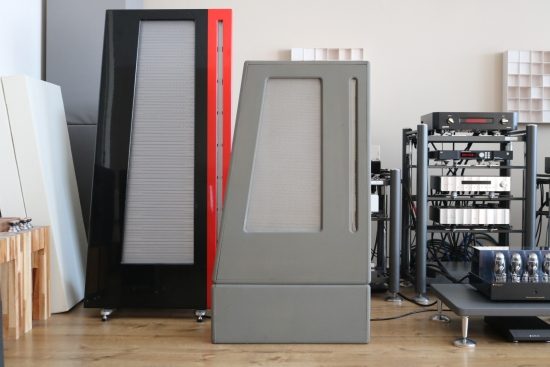 The other day audio buddy JC (aka Meneer Buis) called to say that once again he had some "Doors" in the trunk of his car. He explained that he wanted to buy a pair of Stages and when arriving to get them the owner told him that he also had a pair of original Duetta Signatures as well as a pair of DIS-refurbished ones. Needless to say, JC took all three pairs with him. Because audio buddy JW's Centaurs were also still at my place, I could now directly compare Duettas to Centaurs and Stages. See the earlier in-depth comparison of original and Graz-refurbished Duettas.
All speakers were used with the same amount of tilting and with their treble switches set to Normal. When having the Stages in the same positions as the Duettas they sounded shut in but moving them 30 cm forward mostly cured this.
I will explain the differences between "official" Graz-refurbished Duettas and DIS-refurbished Duettas elsewhere. For now taking the various Duetta Signature's overall sound as one and the Centaurs as another, when driven with a PrimaLuna Dialogue Premium with KT150's, the Stages really do sit somewhere in-between. They have all the linearity and cleanness of the Centaurs with Duetta-like bass quality. They don't quite go as deep of course, nor does the bass sound as powerful but, likely due to their small size and the double aluminum conductors it is both authoritative as well as very articulate and fast, more immediate than the Duettas and quite a bit like the Centaur's bass in that respect.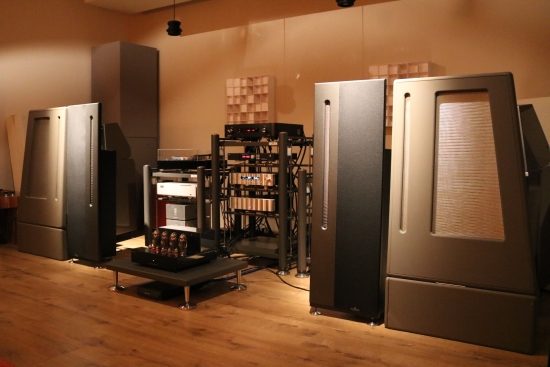 Above and below: naturally this wall-of-Apogee is not how the speakers were listened to, it's just for show:-)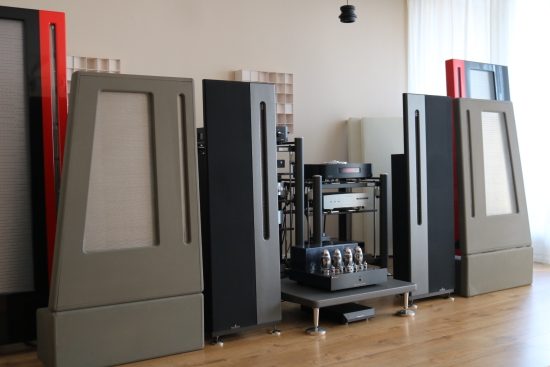 However, although they are absolutely marvelous speakers when compared to virtually any other set of speakers that can be obtained for 900 euro second hand, despite their pedestals, the Stages sound quite a bit smaller than Duettas and they don't fill the room with sound quite as effortlessly. Also, the Centaurs sound more open and pronounced, with more treble air yet they are not at all sharper or more forward. While you can hear that the same tweeter is employed, the implementation is clearly different, and ultimately I prefer the Centaur's treble and midrange and definitely prefer the Duetta Signature over the Stage.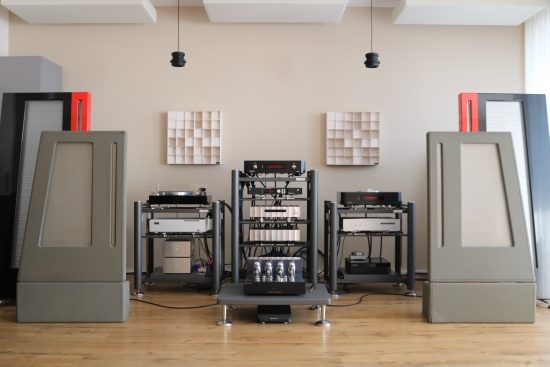 Room considerations
I must note that my listening room is quite large which really aids any speaker and certainly the Centaurs. My audio buddy JW has always had an annoyingly thumpy and boomy bass with the Centaurs yet when set up in my room their bass was really quite surprising and no matter where I placed them, never boomy. In this context, and knowing that dipoles tend to work better in difficult rooms, the Stage might well sound incomparably better than the Centaur if placed in a very narrow room.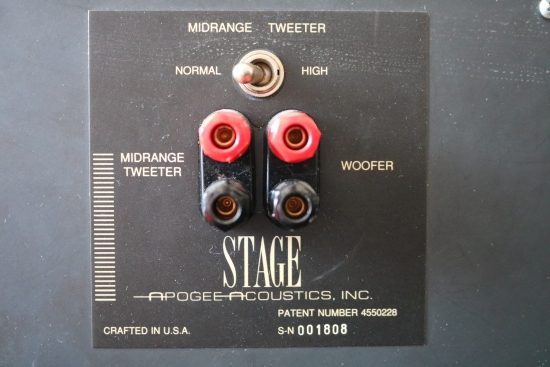 Serial number of pair reviewed: 001808
Specifications
1990-1998
Original Retail $1995
Height 98 cm
Width 67 cm
Impedance 3 ohms
Subs were optional at extra cost
Bass driver
Dual sandwich Aluminium/Mylar (etched)
Midrange/tweeter
26″ ribbon – 3 segment Aluminium/Mylar (double-sided) on first model
Later changed to 6 element etched Kapton in around 1991
Max Sound Level
107 dB peak @ 4 meters using a 50 W amplifier in a 5.5 x 7.6 meter room.
Sensitivity @ 3m
~86dB
Frequency response
40Hz (-3dB) to 20kHz
Crossover frequency
600-700Hz
Suggested amp power
75W (into 8 ohms) 150W (into 4 ohms)
Weight
25kg each
Finishes available
Anthracite with Mahogany side cheeks or White piano lacquer with silver cheeks (additional charge)
More Stage
More Apogee