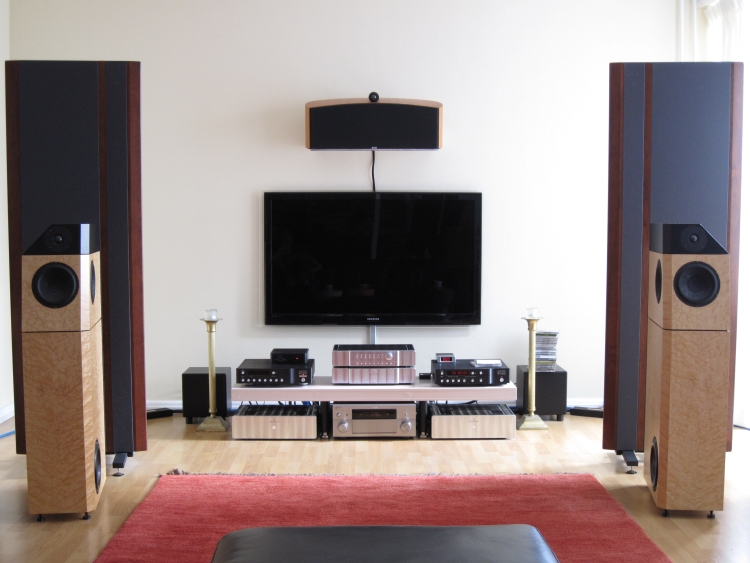 The Caldera's belong to my friend Jeroen who has them set up in quite a small room and he long wondered what they would sound like in a bigger room
So, finally, it was decided to disassemble the speakers into their six pieces, pack them up into their four boxes and move the lot to my listening room. There, they could be compared to the Magnepan MG3.6R's and B&W Nautilus 804's.
Setup
The Caldera's come apart in 3 segments per speaker. There's the bass cabinet, then a layer of very soft and compliant rubber, just like what's between B&W's Nautilus tweeters and cabinet and also just like the round feet that come with Jeff Rowland equipment. But here it is a layer covering the eintire cabinet. On top of that is the mid cabinet. On the top of that cabinet are holes in which you insert 4 round rubber feet of the same material on which you then mount the treble cabinet.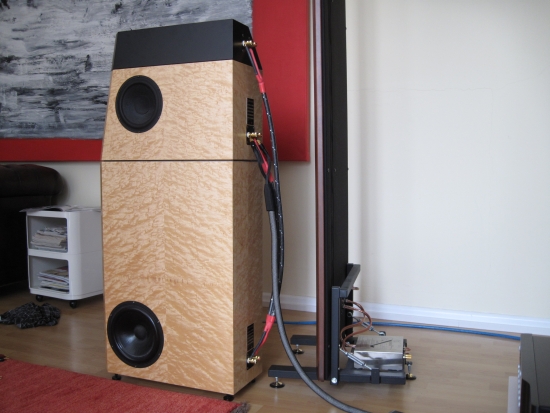 Above: the three cabinets are connected via an oversized Wireworld "jumper". This opens up many connection possibilities, to which I'll come back later.
The listening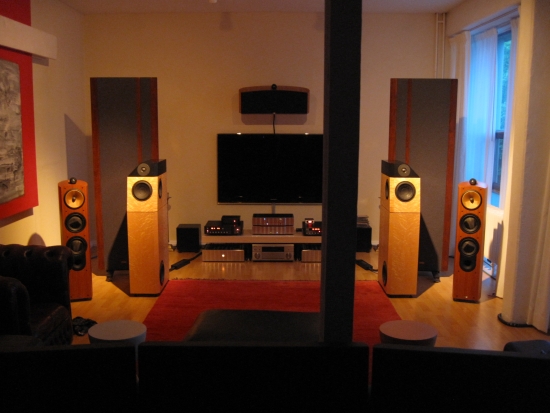 When the sun set and I switched on the spots on the ceiling I noticed just how beautiful the bird's eye veneer was made. It doesn't quite show on the picture buy they really ooze class.
Listening with the Yamaha Z7
I listened to the Caldera's with two different amplifiers. Just to see what would happen, I connected them to my Yamaha Z7 first, using Cardas Quadlink speaker cables. The Yamaha is a very good amplifier, actually, in surround circles it is considered one of the best. But in highend terms it is not that special. Nevertheless, this combination really made music. I used my Levinson no 390s cd player as a transport, going digital to the Z7. What we heard was an engaging, colourful sound that clearly lacked some resolution but what otherwise really enjoyable. I was surprised because the Caldera's aren't easy to drive. Also what surprised me was the absence of grain and harshness that I had heard before when they were still set up in the owner's room. The sound was warm and inviting. It made you want to turn the colume knob just to see what happens. Of course we did and what happens is that it just gets better. The Caldera's really produce a life-like, no make that live-like sound. They communicate in a very direct manner, speaking straight to the soul, not so much the brain.
Switching to the Full Rowland Setup
Considering the great results achieved with the Yamaha we quickly switched to the complete Rowland setup, connecting the Caldera's with Transparent Reference speakercable instead of the Cardas Quadlink. Imagine my surprise when the sound was totally… soulless. For sure, there was more openness, more air, more definition and resolution etcetera but the sould had gone. Our feet were no longer tapping. How could this be?
When I heard the Caldera's in the owners' setup it was already evident that these were no high resolution speakers. Nor did they have the most open or airy treble. What's more, the treble and upper mid can be slightly hard. But they compensate for this with a big and lively sound. But what I heard in my own setup sounded like a complete mismatch. The speakers weren't carefully positioned, only more or less moved into the expected proper position. But still in combination with the Yamaha they had sounded fine. So what went wrong here?
Rowland and Caldera are no match made in heaven
First I need to tell you that the Yamaha sound of late is completely different from that of the old 90's Yamahas. Where they used to be bold, lively and a bit aggressive, they are now much more warm and smooth, even to the point of being over polite. The big bass is still there: my old Yamaha DSPA1000 always had hige bite and balls, even compared to the Bryston 7BST beasts. The Z7 is not much different in that respect. It has got balls. So there's that. What's more, the Caldera's seem to have been tuned for communicative skills over precision. They rather be enthusiastic and lively than restrained and refined. There are more speakers with this kind of signature. Such as my friend Mark Paul's Sonus Faber Minima Amators. In his setup the Sonus Fabers sound very good – in my setup they sound liveless and gray. I even took a Model 2 (a stereo model 6) to him and again the sound was lacking emotion. The difference is the amplification. Mark Paul uses Jadis tube amps that sound quite warm and round. The Rowland sixes are actually not warm sounding at all-they are fast and lean. But always fluid and airy, without any grain or harshness. In this respect the sixes differ from many other Rowlands. Knowing this, I am tempted to compare the Sonus Fabers to the Calderas. I think that both speakers are tuned for a lively and communicative sound and that pairing them with the fast and open Rowlands is just too much of a good thing. Combining the Rowlands with my B&W Nautilus 804's makes for an entirely different presentation-warm, fluid, even romantic. I have to conclude that this is to do with the cabinet and electronics inside the speaker. The B&W is almost overdamped and is chock-full of filter components. The Sonus Fabers are damped only minimally and have a minimalistic approach to dilter design. I'm guessing that it is the same for the Calderas.
Try, try, try again
So we've established that it is no match made in heaven. But still we persevered and we tried to get the best from this combination. So we started moving the speakers. They have been in every square centimeter of the fromt part of the room and ultimately, we found a better working spot. It turned out that they sounded a whole lot better when they were more separated even though with the Yamaha, and in the owner's system they could be quite close to each other. When they were more apart, the sound loosened up became more friendly and more relaxed. Then we started experimenting with the speaker cable position on the rear.
The promise of good sound
As I hinted at in the intro, the 3 cabinets are connected via a huge jumper and you're free to connect the speaker cable at any of the three terminals. Logic dictates to use the bottom one but we quickly found out that it makes A LOT of difference where you connect it. As it turned out, connecting the cable in the middle made for the best sound. I guess that the Wireworld cable is a bit aggressive sounding and that therefore bypassing it for the mid frequencies makes the mids much more agreeable. Now we finally had a sound that, while not as luxurious as with the N804's nor as transparent or airy as with the Magnepans, was nevertheless truly enjoyable. The only thing that remained was the bass, which was slightly too lean and too tight. But this was just a case of the Rowlands not being the ideal match for the Calderas. But what bass there was was very tuneful, tight, fast, dynamic and rhythmic. It was also completely uncoloured. This goes for the entire speaker really, it has no obvious cabinet-sound. It does have slightly forward mids, an ever so slightly grainy treble and a distinct lack of HF air, compared to both the Magnepans and B&W's.
The Caldera's had a clear preference for uncomplicated music. It was with the soulful sounds from Erykah Badu that we completely enjoyed their sound. Especially when standing in the back of the room, with the volume turned way up they really brought across a feeling of you-are-there. Playing more complicated music such as the Rippingtons, made clear that the speakers ultimately lacked resolution. But what was always there was a huge soundstage. These speakers succeed in the tricky combination of throwing a huge soundstage while retaining excellent focus. Voices were clearly portaryed between the speakers while you felt surrounded by a large soundfield. It was this aspect in which they even challenged the B&W N804's.
Conclusion
Firstly and probably most importantly, the Caldera's are speakers for the music lover, not for persons who want to hear every little detail. Second, while they are very commucnicative and lively, they are also slightly aggressive and can be hard in the upper mid/lower treble. They also lack some HF extension. The speakers certainly have no boxyness whatsoever; in fact they sound very neutral and imaging is very much outside of the box. If you want to hear the Caldera's at their best, be sure to use powerful but very musical and rich-sounding amplification and cabling. My Rowlands usually work very well with a wide range of speakers but sometimes they are a mismatch, like in this case. The Caldera's work very well with a Pass Labs X250.5 poweramp while Jeff Rowland as preamplification is perfect for them. They like big rooms and the listener should be seated further away than with a lot of other speakers of this size.
I had them set up for almost two weeks and did a lot of listening. Over time I grew to like them for certain types of music but overall I prefered the admittedly less direct and lively but ultimately more refined, airy and sweeter sound of the B&W Nautilus 804. So, it may not be a speaker for me, but there is a lot to like.
Update June 2016
When Jeroen moved house he decided to sell the majority of the components in his system and the Pass amp was sold prior to the speakers. In order to be able to demonstrate the Caldera's to the new owner, we took along the Devialet 200, and expected it to probably sound ok. Imagine our surprise when we were presented with by far the best sound that we have heard the Caldera's produce! There was excellent control top to bottom, superb dynamics and treble more refined than we had heard it before. For the first time, the Caldera's had both finesse and power, a combination that is not easily achieved with these speakers.
Read Also
Caldera wiring possibilities – Transparent and Synergistic Research