Stillpoints Ultra 5, Ultra SS, Ultra Mini and Ultra Base – part 1
Stainless Steel Stunners
Retail prices:
– Ultra Mini set of 3 – 399 euro
– Ultra SS set of 3 – 750 euro
– Ultra 5 set of 3 – 2100 euro
– Ultra Base set of 3 – 195 euro
Review sample supplied directly by manufacturer highfidelitycables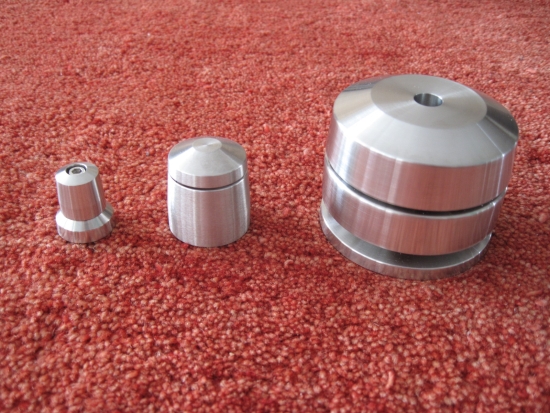 Above: Left to right: Stillpoints Ultra Mini, Ultra SS and Ultra 5 with Ultra Base
Technology
Stillpoints share a similar technology as Finite Elemente Ceraballs: they are both hard-coupling component feet that use a ceramic ball as the coupling material. But where Finite uses a rubber damper ring, Stillpoints allow some small movement without any damping. The caps ("Hats" in Stillpoint speak) are restricted in movement from their bases by a factory-set and not user changeable amount however, so they won't accidentally fall off. While Ceraballs are made from either aluminium or stainless steel depending on model, all Stillpoints are made from stainless steel and are machined to very tight tolerances.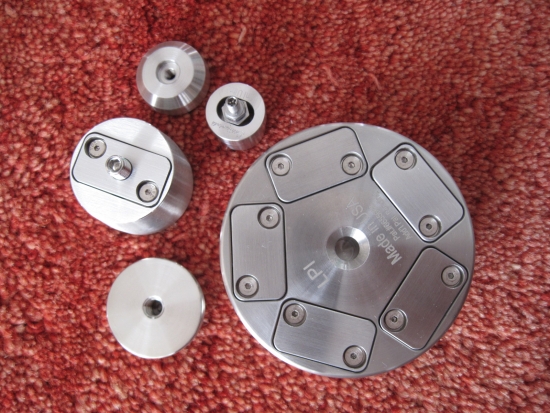 Above: the square plates are factory-heat-tightened and cannot be unscrewed. This ensures perfect tolerances. The big unit on the right is the Ultra LP1, a turntable platter weight. I included it on the picture because its technology is akin to that used in the Ultra 5 and it makes for a clearer illustration than peeking in between the two layers of the Ultra 5.
It must be said that Stillpoints look a heck of a lot more impressive than any model Ceraball. But it isn't just looks. The idea is that vertical vibration is transferred to horizontal motion, converting the resultant vibration energy to heat. That's alll good and well, but the one question on my mind is: what can they do for the sound and how do they differ from Ceraballs sonically?
Comparisons
I will compare all models to each other and cross reference to two different Finite Elemente footers: Universal Ceraball and the bigger Cerapuc.
Meridian 818 on Ceraball Universal
The Meridian 818 is used in normal DAC mode and is chosen because of its high sensitivity to placement. When it was still used in combination with the Spider rack, I always preferred Ceraballs instead of the standard Spider Rubber Couplers. With the Artesania Exoteryc audio rack this is no different. If I am to judge the Stillpoints on their own merit alone, the rack's built-in suspension system would have to be circumvented. So I placed a HDF wood board across the rack's side bars so that a super-solid testbed was created.
The 818 when set up on its own soft rubber feet sounds a little too smooth and since I use the Rowland Aeris DAC, I feel that there's a lack of acoustic reality. Wood could sound more wooden if you know what I mean. But I know from experience that this can be offset with a little tweaking. So, in came the Finite Elemente Ceraballs. Yup, lots better: much more lively, more dynamic and upbeat but also a little dry in the treble. That's the thing with tuning devices like these: if the bass becomes more articulate, so does the treble, and that's not always a good thing. But this is something that could potentially be balanced out by carefully altering other parameters in the setup. My first method is always changing powercables or their positions in the extensionblock.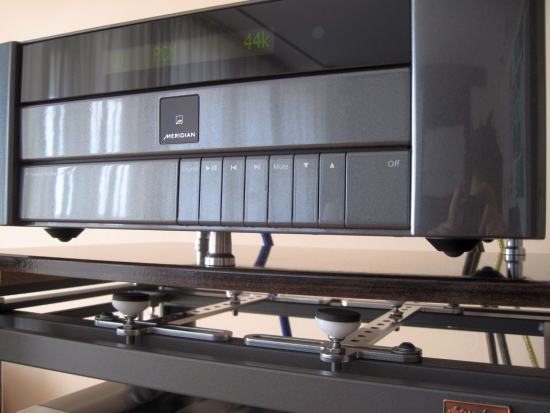 Meridian 818 on Stillpoints Ultra Mini
The Stillpoints Ultra Minis use only one Ceramic ball, but boy are they effective. Switching the Universal Ceraballs for Stillpoints Minis made for a much greater change than expected: resolution increased immensely, bas tightened up and amazingly the treble was smoother and seemed more open. But what really wasn't expected was the change in soundstage as its entire perspective changed from laidback to upfront. Spaciously placed sounds and Q-sound effects were now much more pronounced than when using Ceraballs. Quite amazing.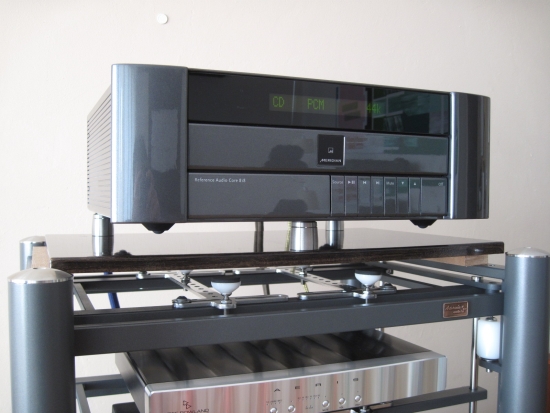 Meridian 818 on Stillpoints Ultra SS
The bigger Stillpoints Ultra SS use a 4-layered system using 10 Ceramic balls and this seems to have its effect on the sound as once again there was a major leap in sound quality. Compared to the Ultra Minis, the Ultra SS make the 818 sound bigger and bolder. There's more authority. Bigger bass, too, but just as articulate. Treble is still open and smooth but the biggest difference is in the midrange which is a lot more forward. Impressive though this is, it can also be a little too much for systems that are already carefully balanced. Still, when switching back to the Ultra Minis, I can't help but miss the SS's beefier and livelier sound.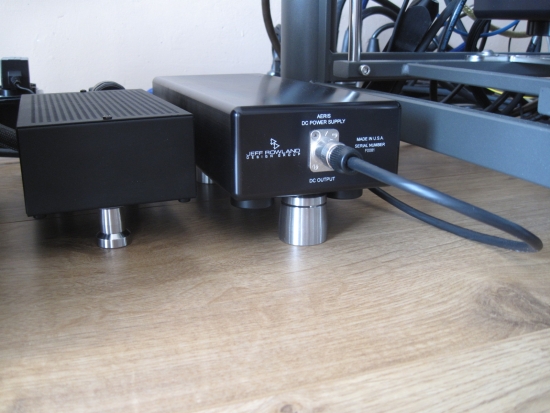 Stillpoints and lightweight components
I also tried the Ultra Minis and Ultra SSses under the power supplies of the Rowland Aeris and AudioAanZee Ultra Flow Music Server. Here their effect was a little too large, the midrange becoming somewhat too forward and too bright. Adding a weight on top of the power supplies helped but in the end I didn't really think it was a good match. If I had to choose the best Stillpoints for the power supplies, surprisingly it would be the cheaper Ultra Minis because they seem to be more balanced and have an overall gentler effect. This is not to say that the Minis are better than the SSses, but rather that matching is everything.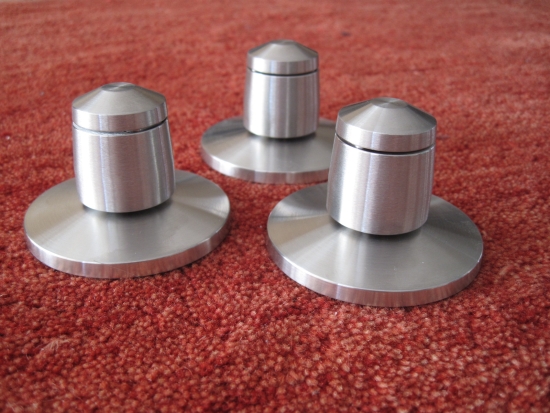 Adding the Ultra Base to the Ultra SS
The Ultra Base is a separately available stainless steell platter that can be used in combination with the Ultra 5 and Ultra SS. For the latter it can be mounted on either side, but I chose to mount it on the bottom, so as to make a super-solid and spectacular-looking footer.
Meridian 818 on Stillpoints SS with Ultra Base
This combination certainly looks the part but I was less impressed with the resultant sound. Compared to the standard Ultra SS, the SS+Ultra Base made for an even more solid bass, which was nice. But the rest of the frequency spectrum also beefed up, making everything a little too solid. Treble was now too dry and resolution seemed lessened, as did treble air. Based on my experiments, I don't think that the Ultra Base and the Ultra SS make a good combination. The SS is already pretty extreme and the disk adds just a little too much to that. For my system at least, this was too much.
Back to Ceraballs
Just to confirm my conclusions thus far, I switched back to the Ceraballs. Gone was the added resolution from the Stillpoints, in its place a chunkier, fuller sound with a more acoustical signature, especially in the bass, but less agile and with darker, drier treble. I guess you could say that Ceraballs somewhat mimic the typical Wadia house sound. With some CD's I preferred the Ceraballs for their more forgiving sound but on others I really missed the Stillpoints and their superb refinement and resolution.
Ceraballs or Stillpoints
For most CD's, overall, I preferred the Stillpoints SS over the universal Ceraballs. I am in doubt however as to which In prefer in terms of bass only. While the Stillpoints (both Minis and SS) have superb agility and articulation, sometimes I felt that a large contrabass sounded like a normal bassguitar. But on most CD's the added resolve was not only welcome but also addictive. Your mileage may vary. All this is of course tied in with my Magnepans and system as a whole. But the Stillpoints SS' extreme effectiveness in practice just means that the system will have to be toned down a little somewhere else, because sometimes the sound was just too forward, resultiong in screetchy saxophones and overly thin voices. Still, going back to the Ceraballs for the problematic CD's somehow wasn't satisfying either. I guess I'm spoiled.
Meridian 506.24 CD player
Just because I wanted to be certain of my conclusions, I installed another Meridian product: the oldie but goodie 506.24 CD player. I tried the whole range of feet again and while the differences among the products were consistent with the 818 tests, for the 506.24 it was evident that the Stillpoints were a much better match than the Ceraballs, the latter making the player too dark and too laid back. Both the Minis and SSses sounded a lot more lively than the Ceraballs and made the player sound much more resolving than I knew it was. Clearly the Stillpoints were the better choice. I am torn between the Minis and the SS however. The minis improve the overall spectrum evenly. The SSses are much more impressive but once again can be a little too forward in the midrange, even with the smooth-sounding Meridian 506.
Part 1 – Part 2