These unassuming panels are way more effective than you would think!
Retail prices in Germany:
Natural wood 64,90 euro
Cream, Brown or black 89,90 euro
Faced with an overly echoey sounding room after removing two 2x3m artworks from the walls (thick acrylic paint on canvas), and encouraged by the good results with the GiK bass traps in the other room, I looked to audiophile solutions for tackling this. First thing I decided was that I did not want to use bass traps as this would reduce the liveliness of the sound. I should note that the speakers in my main setup are large Apogee Diva dipoles. These speakers throw almost as much sound backward as they do forward, and by this create their signature room-filling sound. Covering the walls with absorptive materials would be smothering the free-flowing soundstaging that these speakers are so good at.
Above: big painting prior to its removal from the wall. On the left wall was a second equally large painting. With these works in place, the in-room sound was very well balanced.
After eliminating absorptive products, all that remains to tackle room modes or reverb are diffusors and tube traps. The latter are also a form of bass traps, but instead of working like the bass traps that are filled with a rockwool-like substance, Tube Traps use an inverse helmholz principle to reduce boom without taking away any liveliness. Or at least this is how they are advertised and I can indeed confirm that tube traps influence the sound differently than do the GiK basstraps. Or at least, this is confirmed in my secondary setup in which I use Genelec 8050 speakers. The Apogee dipoles however turn out to respond quite differently. I'll cover the Tube Traps in another article and will now focus on the Hofa Diffusors.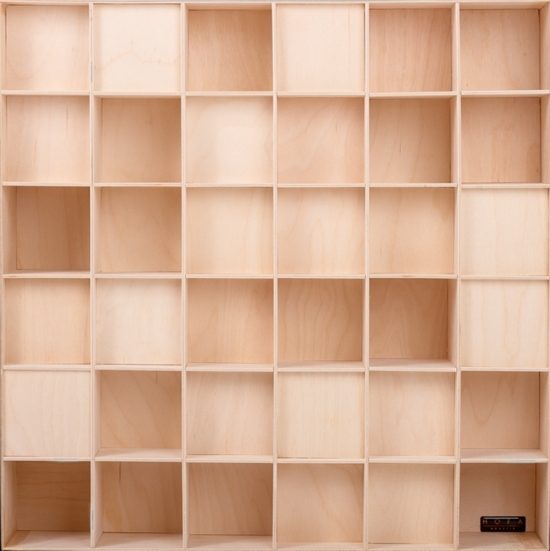 The Hofa panels are available in a range of colours, as well as in natural wood. The latter will probably change colour quite noticeably under the influence of sun and dust, so I opted for the cream version which is reminiscent of whitewash. Construction quality is good considering their cost (these are actually the cheapest QRD panels that I could find), but it seems that costs were cut by using very thin 3mm material, and glueing only the rear sides. Because of this, the front flaps are flexible (which mught explain the panels'  rather large damping effect) and some of the panels had some warped sections. From a distance however, this is not at all obvious.
Because the paintings covered a very large portion of the walls I ordered 8 Hofa Diffusors rightaway with the idea of combining them into a 2 meter by 1 meter area above the audio system. I should also note that the sound of the Divas, perhaps due to their dipole nature, even without any treatment, is very good. At the listening position there is no peakyness in the bass, nor any evidence of room modes. However, when standing in the room talking, especially when near the system, with the bare walls there is a peak in the midrange where the sound lingers on just too long and voices sound somewhat hollow. Some would refer to this as echo, but it is actually more like reverb. It is this hollowness that I aimed to address with these panels and it was my hope that the overall performance of sound via the Divas might also improve in the process.
Because my intention was to substitute the removed paintings, I proceeded with attaching the panels to the wall in two rows of four, in the same place where one of the paintings was. For attachment I used wood blocks screwed to the wall, that fit inside the holes on the back of the Diffusor panels. This way the panels can be easily removed or repositioned.
When all 8 panels were on the wall, their effect was immediately noticable. The room sounded quieter and more damped, without sounding overly damped. When conversing with someone else, our voices were still loud and clear, but definitely less reverberant.
Sure looks nice, doesn't it? It's almost an artwork! In fact, there's a work in the Amsterdam Stedelijk Museum by Jan Schoonhoven that is quite reminiscent of the way that these panels look when combined into a bigger whole.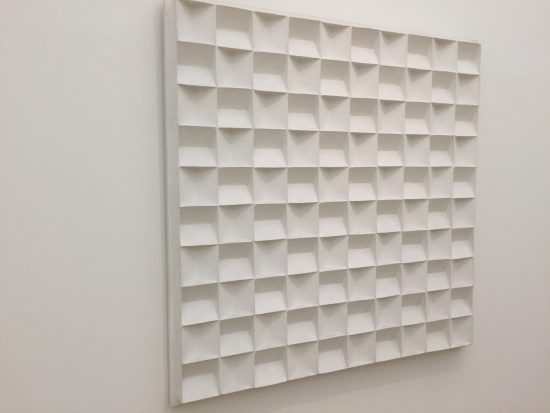 See? I'd sure love to have this painting on the wall, but that would be rather more expensive;-)
Anyway, let's move away from the aesthetics and re-focus on the sound. Simultaneously while attaching these panels I was reviewing a pair of recently restored Apogee Duetta Signatures. Below is the only photo I have of the composition where all the panels are on the wall, hence its inclusion. The listening tests however were performed with my own Apogee Divas, with the Duettas out of the way.
During the listening session I noticed how the sound was nicely controlled in the bass and indeed never boomy, but also quite dark. Compared to what I knew my system sounded like, recorded voices now sounded further away and more recessed in the mix and the transient sharpness and overall dynamics seemed to be reduced.
Removing all the panels confirmed my suspisions, the sound now being very noticeably brighter and livelier, with a more forward propulsion in vocals, which I much preferred. However, without the panels it was also quite evident that the bass quality suffered, and vocals, while nicely lively, were less clearly focused. Clearly the panels were also doing something very beneficial. This realisation started a process of trial and error during which I tried the panels in nearly every location on the wall.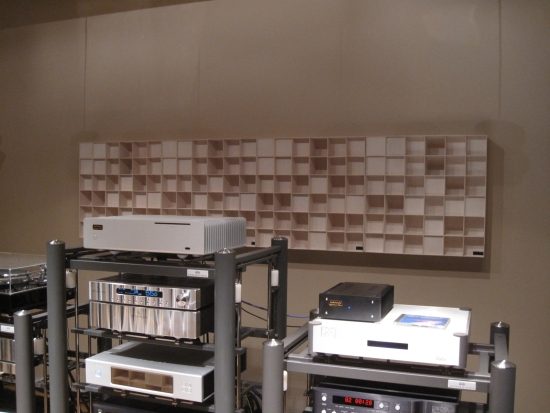 Removing the top 4 panels resulted in more perceived treble energy, but a still quite reticent sound, not coming into the room much and vocals lacking some of the sparkle and presence that I was used to hearing in this system.
An alternative I tried was with 4 panels shaped in a square in the middle of the wall. This resulted in a more lively sound with more in-room energy left and right, but a distinct dulling of vocal presence.
I also tried them stacked left and right between speakers and racks, as well as behind the speakers. Although vocals now had more presence, this arrangement was no success, because the overall dynamics and transient attack were greatly reduced, darkening and dulling the sound too much for this system.
By now a pattern had emerged: where ever in the soundstage the panels physically were placed, the sound would appear to be damped.
All panels on the wall was too much for this setup, but no panels at all was also not the answer. The trick was to find out how many panels to use and where to place them. From the empirical tests above it was clear that the panels could not be behind the speakers, nor smack in the middle. So the next step was to remove the middle two panels and leave a vertical stack of two left and right.
Well I'll be… this seemed to be the answer! Away from the speakers the panels did not influence transient attack or dynamics and with no panels in the middle, vocals were nice and dynamic. What's more: now I noticed that the panels in this arrangement made for a clearer focus of center images such as vocals. The soundstaging now seemed deeper, and the layering more clearly pronounced than I had ever heard it before in this setup. Treble was still a bit duller than I like however, so some more experiments were conducted with the precise vertical and horizontal location, but it did not take long to realise that the horizontal positions were spot on for the maximum effect that I wanted. Ultimately the holy grail was found by removing the top two panels, leaving only one panel above each of the two outside racks.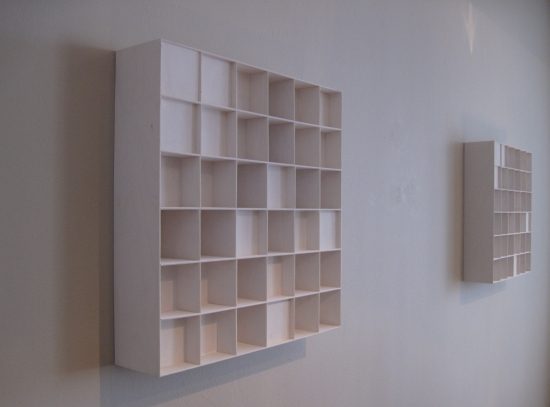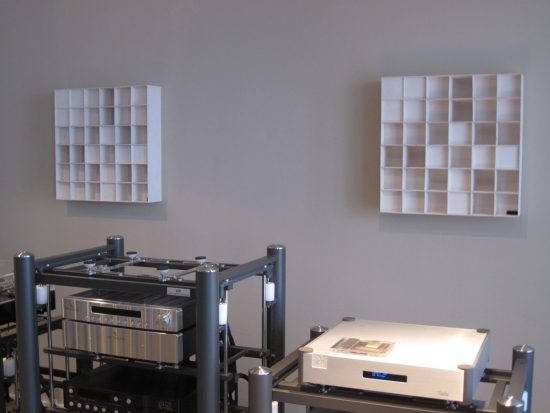 Visually a little bit less spectacular than two rows of four, but soundwise this arrangement is exactly what my setup requires. It seems unbelievable that two 50cm by 50cm panels are capable of influencing the sound this much but repeated tests with removing/reinstating them confirmed that the two panels definitely made the system produce tighter bass with better definition along with clearer defined center images and more distinct soundstage layering.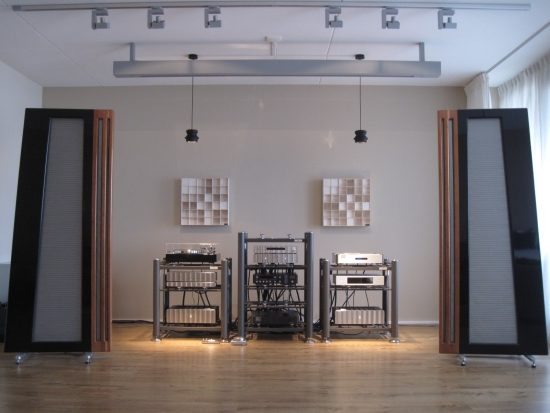 I want to note once more that these speakers are quite sensitive of their environment and also have a tendency to sound dynamically restrained unless the circumstances are just right. My experience her thus needs not be typical for other situations with other speakers. It is also important to note that dipoles in generic (speakers that radiate on both sides) behave quite differently to room acoustics than more regular speakers. This was later reinforced by further experiments with the Tube Traps, but that is for another review.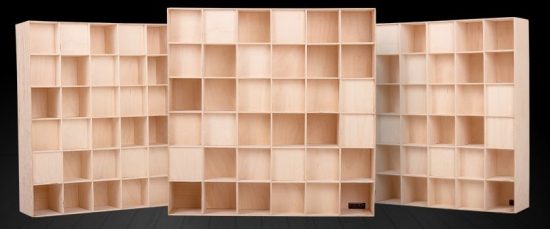 Conclusion
Potentially strong medicine, these Diffusor Panels, so use with caution! I also have a feeling that they are more absorptive than they should be given their principle, but there is no denying that these panels deliver a lot for very reasonable money. 88 euro each may still sound expensive but would you believe me if I said that competitors ask up to 5 times as much? These more expensive panels are usually made from thicker material and probably sound more neutral and potentially also have less of a dampening effect. I may experiment with some more upscale panels at a later stage but for now I am happy with the obtained results, especially since Thoman, the company where I purchased them, was kind enough to take back the panels that I did not need. If your setup requires some diffusing as well as some midrange frequency damping then these panels could be a one stop solution.