Finite Elemente Spider and E&T Spider
Virtually indistinguishable on most photos you see on the net but quite different in real life, and surprisingly, also quite different in sound!
The middle rack on the picture above is a genuine Finite Elemente Spider rack. The smaller left and right racks are Chinese imitations by E&T. On these photo's you can't tell the difference, but up close it is easy to spot the differences. At this time I had already bought and sold several Spider racks as my system changed through time. When I learned of the E&T imitations, naturally I was curious to find out how they would compare. I figured that their sound might be very close, considering that they are made from the same materials.
The added bonus was that the E&T aluminium pillars are of one piece over their entire 60cm height, unlike the original Spider's 30cm pieces, which would allow me to have them stand over the Rowland poweramps, without the amps actually having to be in the rack.
Below is a collection of pictures, comparing several aspects of the Finite Spider with the E&T Spider followed by my conclusion.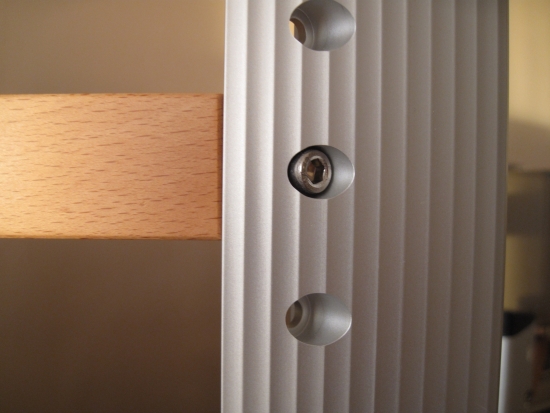 Above: Finite Elemente Spider – nice smooth aluminium with a soft glow and deeply sunk in screws.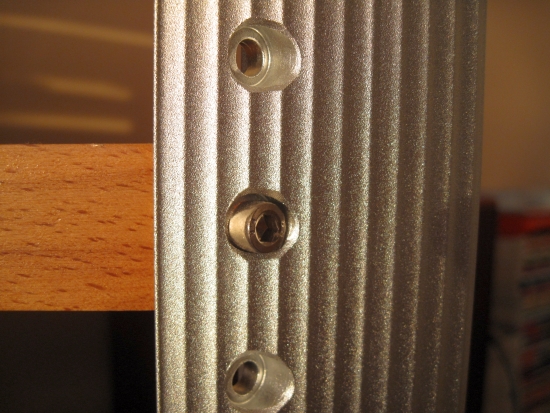 Above: imitation E&T Spider – rough aluminium with plasticky shine and screws that stick out. Also if you knock it, it sounds hollow and resonant, unlike the real Spider.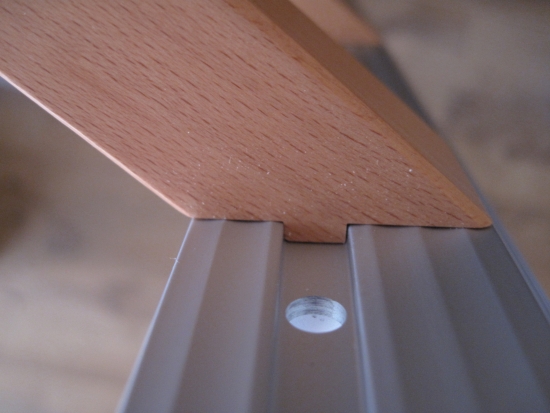 Above: Finite Elemente Spider – tight-fitting wooden struts that are themselves also smoothly finished, with a very evenly spread transparent laquering.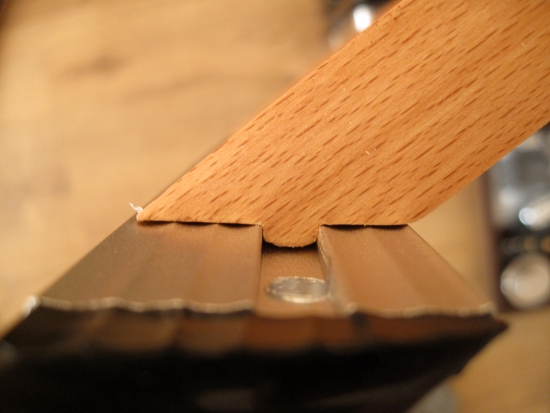 Above: Imitation E&T Spider – Badly fitting wooden struts that are also cut inaccurately, making the 4 pillars tilt in all kinds of directions. By carefully mixing and matching all available struts and sticking pieces of carton between them, the stars and pillars, eventually I managed to make the racks appear more or less level and straight. But still they are much more wobbly and springy than the original ones.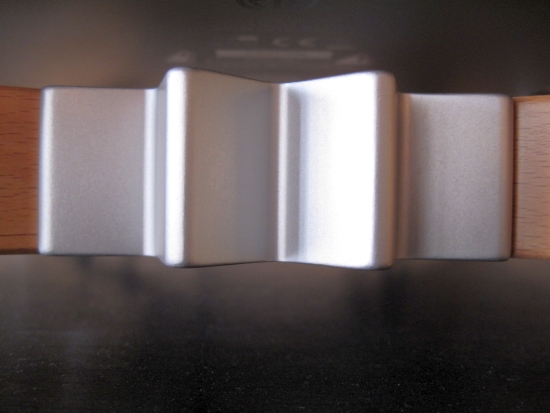 Above: Finite Elemente Spider – Smoothly finished star element with soft edges.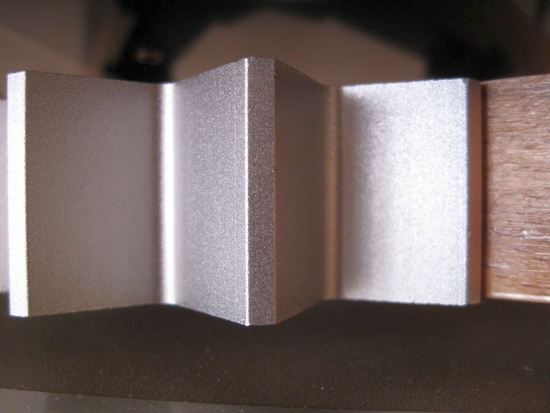 Above: imitation E&T Spider – rough aluminium with plasticky shine and sharp edges
Above: Finite Elemente Spider – Nicely fitting, durable plastic endcaps.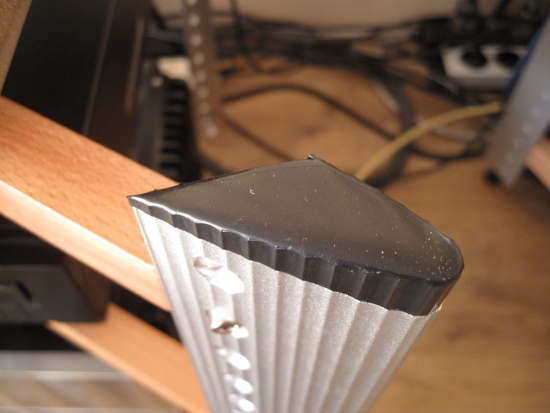 Above: E&T Spider – soft, ill-defined, bad-fitting plastic endcaps that are not compatible with the real Finite Elemente ones for size or engravement, preventing a swap. These caps make the racks look really cheap up close.
Above: Finite Elemente Spider – Sturdy spike and heavy metal disk.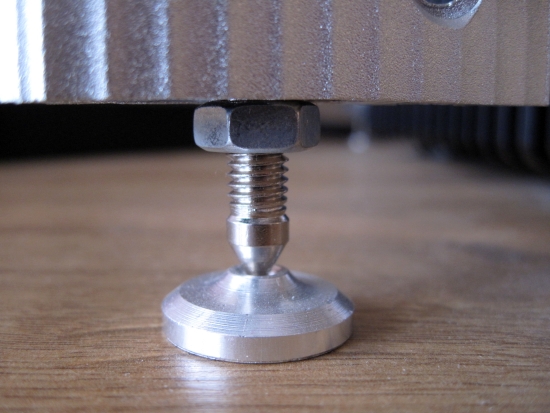 Above: E&T Spider – light steel spike and super-lightweight aluminium disk.
Sound
By now the visual differences should be clear, but if that was all, then still they would have been an incredible bargain at around 150 euro, compared to 770 euro for a similar size Finite Elemente Spider rack. But soundwise they also differ: real Spiders make the sound faster, lighter, more articulate and more airy, without adding harshness or colouration. The imitation racks apply what sounds like some sort of loudness effect to the sound: sinking the midrange and dynamics, leaving only bass and treble. The resultant sound is not unpleasant but can also not be considered to be high end.
Replacing the imitation rack's spikes and disks for the real Finite ones already makes for a faster, more dynamic sound, but still the E&T and Finite racks sound nothing alike.
I'm glad to have tried this because the information I have now was not available on the internet and it is my nature to carry out comparisons anyway. However, I must stress that no matter how cheap these racks appear, cosmetically it is clear that one gets what one pays for.
My advice is to stay away from these imitation racks. I agree that the real Finite Elemente racks are pricey but there's always the second-hand market. If you buy the imitations, you won't be doing yourself a favor: the wooden struts have been cut so inaccurately that it takes a lot of effort to get them even to stand level and straight. The fit and finish are really lacking compared to the real Finite Elemente rack. Lastly: don't expect them to sound the same – they don't. If you have an upscale audio set and are serious about sound then you will not be doing yourself a favor by buying the E&T racks. If you can afford them, go for the originals.
Read Also
Finite Elemente Pagode and Spider
Finite Elemente Spider compared to Solid Tech Rack Of Silence