JRDG Company Special – Model 201
Model 201 (2002-2012)
Retail price in 2007 in Germany 3.298 euro per amp
The Model 201 was Rowland's first offering with ICE-power. Inside is (as far as I know) little more than a standard 250ASP ICE power module and a Rowland-made transformer-coupled input circuit. Still these amps took the world by surprise. How could something so tiny be so powerful and yet delicate?
Sound
After my Model 10 had repeated problems with its power supply, I explored alternatives and the Model 201's were amongst them. I compared them directly with the Model 10 and was both impressed and disappointed at the same time. Impressed because the 201's had even tighter bass and more focus that the Model 10 and disappointed because in other departments they were clearluy inferior. Comparing the 201's to just about any other amp they probably would have made good impressions exclusively but the Model 10 is no ordinairy amp. The 10 had more air, better soundstage layering and width as well as more fluidity and a hint of warmth through the midrange that the 201's lacked. Not that they sounded cold per se but eventually a subliminal feeling of artificiality emerged that I couldn't let go of.
Sound – 2015 comparisons
After reviewing the Class D model 525 power amp, I arranged a get together with 2 Rowland owners, making for a nice collection of 4 amplifiers spanning almost 2 decades of Rowland technology. Read the review below.
Class AB vs Class D – Model 525 compared to Model 201, Model 10 and Model 6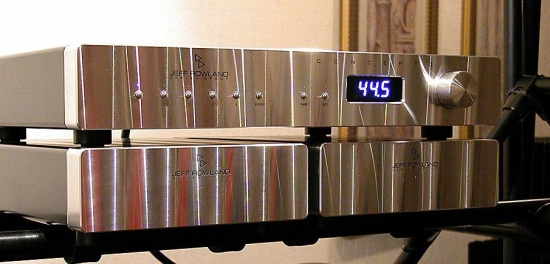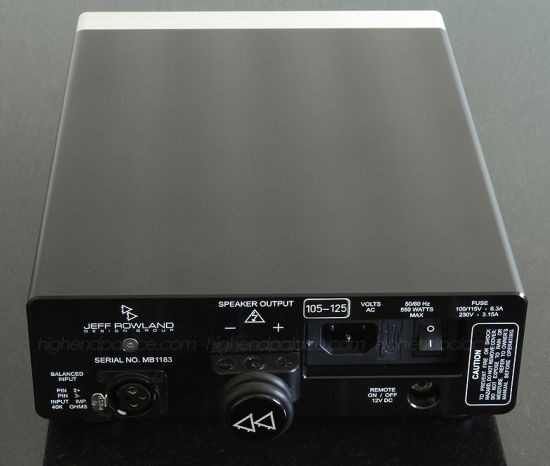 Model 201 Inside Pics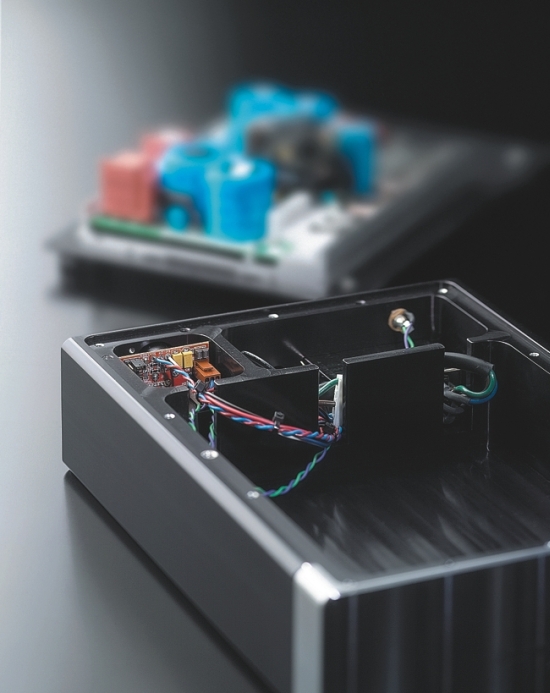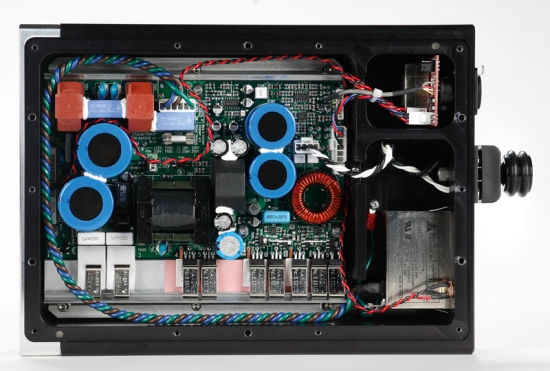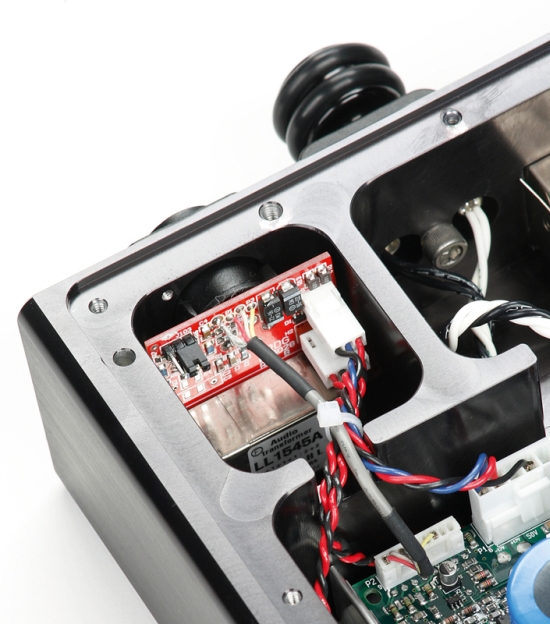 Model 201 Gain Settings
Below descriptions indicate model 201, but they also apply to model 501.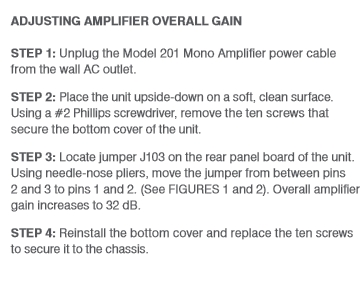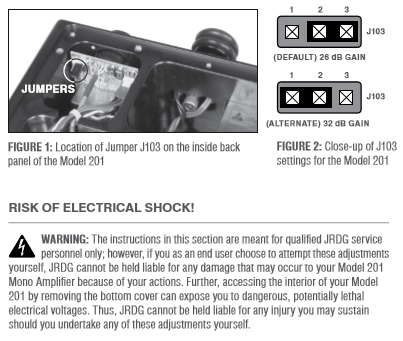 Model 201 Features
XLR input connector for balanced system configurations. Same gain and input impedance characteristics are ensured whether XLR or RCA adapted inputs are used.
Transformer coupled input provides universal compatibility with other components and eliminates ground loop noise and EMI.
High efficiency ICEpower® power conversion technology generates high output power with very little heat, promotes long component life and permits a relatively small physical size.
Multistage AC line filtering in power supply reduces AC line noise pollution throughout amplifier signal circuitry.
CE approved speaker output terminals require no tools for secure, low resistance connections.
Fully-balanced topology implemented in both input and output circuitry.
Proprietary switch-mode power supply technology ensures consistent performance under all operating and AC line conditions.
Low power consumption permits constant power-up operation to eliminate warm-up time.
Selectable overall gain of 26 or 32 dB.
Ultra-low resonance, structurally rigid chassis, precision-machined from a solid block of aircraft grade 6061-T6 aluminum.
Remote ON/OFF input jack allows amplifier standby operation from a remote source for inclusion into home theater (A/V) systems.
Model 201 Specifications
Output Power Continuous RMS
@ 8 ohms – 250 watts
@ 4 ohms – 500 watts
Frequency Response
5 Hz – 70kHz, 3dB
Peak Output Current
> 35 amps
Dynamic Range
117 dba
Load Impedance Range
2 ohms – 16 ohms
THD + Noise
0.1W-500W/4 ohm
<.05%, typically .006 @ 1kHz
CCIF Intermod. Dist.,
19/20kHz <.002%
Damping Factor
@ 1 kHz 1000
Overall Gain
Selectable Internal Jumper,
26 or 32 dB
Input Impedance
40k Ohms
Common Mode Rejection Ratio
>90dB, 20 Hz 20 kHz
Absolute Phase
Non-inverting, Pin 2 Positive
Inputs
1 x Balanced XLR (Unbalanced operation requires an optional XLR to RCA adapter)
Outputs
1 Pair CE-Approved Binding Posts
Power Consumption
Idle – 9 watts
Maximum – 650 watts
Amplifier Weight
13 lbs/6 kg.
Amplifier Dimensions
2.6″ x 8.4″ x 11.5″
More Jeff Rowland
Jeff Rowland Company Special Main Page
Jeff Rowland Company Special Power Amplifiers
Class AB vs Class D – Model 525 compared to Model 201, Model 10 and Model 6
Trends TA-10.2, Wadia 151, Jeff Rowland 102 and OEM ICE Power module compared
Also Read
"Digital" Switching Class D or Class T Amplifiers