HFA Audio Setup History 16 – Main System – Jan 2015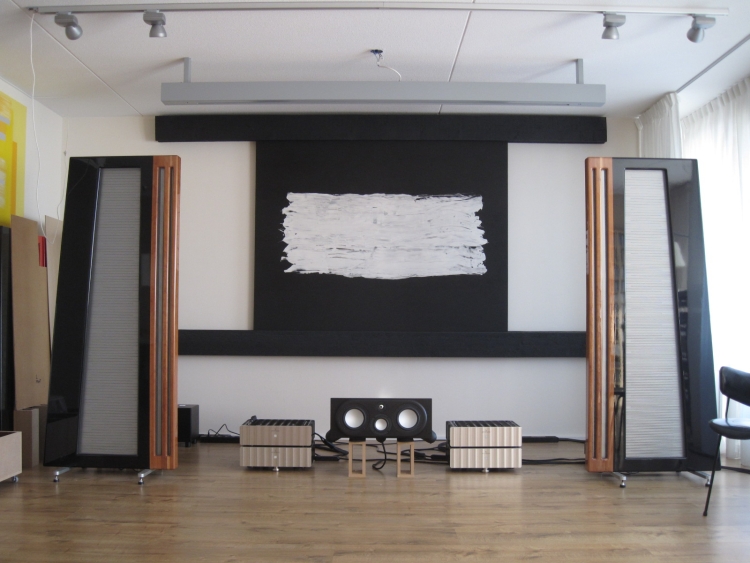 Speakers on the other side of the room
After a quick experiment, it was evident that I have had the speakers on the wrong side of the room for years! The wrong side for optimal sound, that is. The long wall looked nice and spacious behind the system and I always thought that more air would be better for dipole speakers. Apparently there is a limit to this. Also my room always had some annoying bass cancellations that necessitated the use of subwoofers. In the new position, with the speakers at the smaller end of the room, the bass has improved so much that I no longer use the subs. What's more: all other aspects of the sound finally "clicked" into position, and the sound is now so good that it is scary.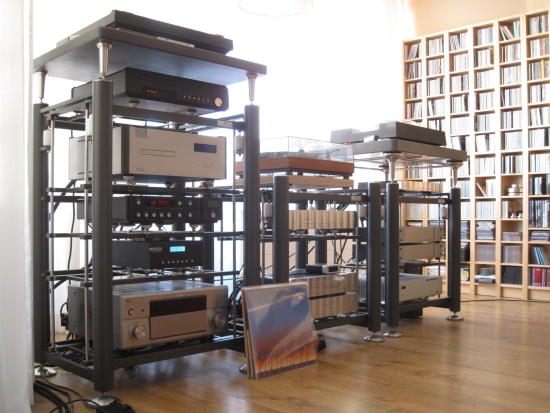 In this setup, I have separated the sources and preamp from the power amps, by means of a very long Transparent Reference XL XLR interlink.
All the sources are in 3 Artesania Exoteryc Audio Racks.
Left rack top to bottom:
Pioneer PL-L1000 tangential turntable
dCS P8 SACD player
Wadia 781i SACD player
Mark Levinson no.390S CD player
Musical Fidelity M1 Vinl phono preamp
Yamaha DSP-Z7 surround amp
Middle rack top to bottom:
Thorens TD160MKII turntable
Jeff Rowland Cadence phono preamp
Jeff Rowland Coherence II preamp
Right rack top to bottom:
Yamaha PX-2 tangential turntable
Jeff Rowland Aeris USB DAC
Pass Xono phono preamp
AudioAanZee Ultra Flow Music Server
Pioneer PL-L1000 tangential turntable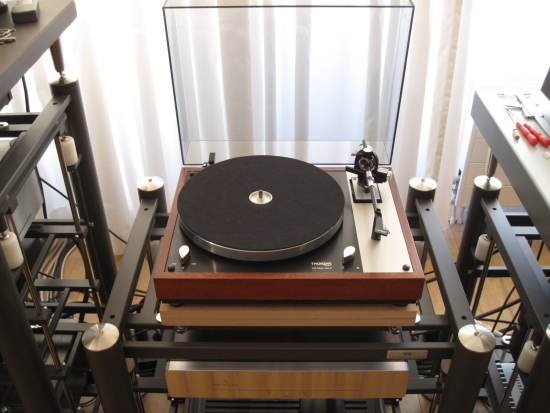 Thorens TD160MKII turntable
Yamaha PX-2 tangential turntable
Rear side of the racks, showing what seems to be a huge cable mess, and the two extensionblocks with different main cables, to cater to every component's needs. The nice thing about the rack's placement is that there is plenty of room for my endless cable swapping sessions!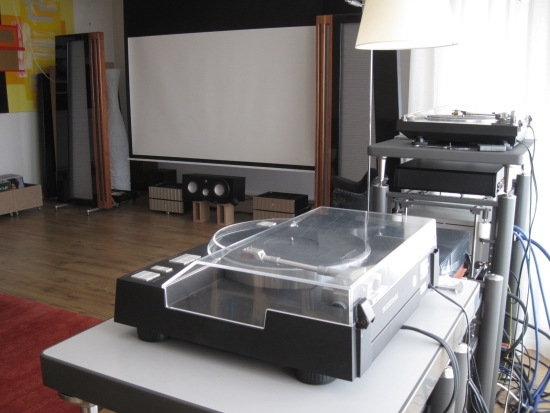 View over the back of the system with the projection screen down – the formerly separate cinema system now integrated into the listening room. It's not perfect, but it works quite well. I don't actually normally like combining video and audio but had no choice because I wanted to re-use the previous cinema room to house the secondary audio system.
Revel C-30 center speaker nicely between the Jeff Rowland model 6 / BPS 6 stacks. The speaker is very neutral and uncolored, but, of course, it is no match for the main speakers. I would really like to have a magnetostatic center speaker to match the main speakers, but that's a difficult story.
It was refreshing to look at the speakers without all the equipment in between. But… it wouldn't last. Of course! How boring would this section be if I was ever finished!
Continue to the next chapter in the HFA Audio History
Overview of all HFA Audio Setups: