Indoor/Outdoor wireless streaming audio powered speaker
Review sample kindly supplied by Sherwood America
Retail price approx 99 euro
Operation
The EXM-50 is a very versatile product: it is in essence a portable (battery- or adapter-) powered stereo speaker with built-in control functionality for various sources. It connects with external devices in every important way: analog via a jack-jack cable, via Bluetooth or directly from USB stick. Oh, and it's spray-water-proof. That means you can't go swimming with it but otherwise you should be fine. Control is via the buttons on top of the unit (input selection and volume, mainly), supplied IR remote or iPod/iPhone app. While the IR remote does the job just fine, and it even controls track selection for every source, there is no visual feedback. But no matter, as the free app is by far the preferred method for control: not only does it work like a remote for every function that the EXM-50 has on offer, it also doubles as music player for USB sources as well as the library currently on the iPhone/iPod (and Android device I presume). Search for EXM-50 in the App Store, install, enable Bluetooth, select the EXM-50, start the app and off you go. There's also a free app for Android but as I have no Android devices I couldn't test this.
The app looks very slick and works intuitively. It lets you control all the functions that the EXM-50 has to offer: from track selection (including scrubbing/searching) via complete FM radio tuner control to a 7-band equalizer with user presets. Via the app you can quickly select between 4 sources: Music Library, USB host, FM tuner and AUX in.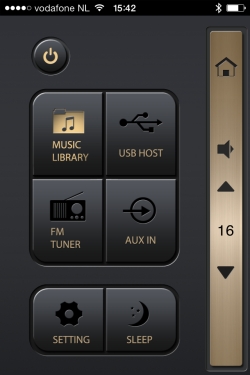 Music Library
This is the most convenient way to use the EXM-50. The app automatically finds and loads all music that's on the i-device and works precisely as you would expect it to. As far as I could find out, it plays all formats that Apple supports. There's cover art and complete listings by artist, album and song, just like you would expect when using an ipod. There's even playlist functionality.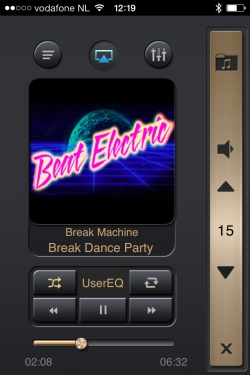 USB host
USB also works as you would expect: just put some music files in the root of a stick (or in a folder in a folder in a folder, as you wish), navigate to it and play. The thing is: I could only get the EXM-50 to play mp3 this way. No WAV, no AIFF, no FLAC. It does play WMA according to the manual. But who cares. When you're using an iPhone or Ipod to control the EXM-50, you more than likely already have a huge music library in your hands anyway. btw the image below doesn't show cover art but that's probably due to my incomplete tagging.
FM Radio
The radio works conveniently too: there are six presets and mono/stereo selection. Selectivity wasn't great – but then again I never have had good reception in concrete buildings with any FM radio. The stations that I did receive came through quite clearly. It should work better outside.
AUX in
This feature is very handy if you want to connect an older device. It works just fine and the same EQ functionality and all that is available but naturally there are no options for controlling the source. The resultant sound is good but it was interesting to note that it lagged behind the Bluetooth sound. The latter sound much more airy and open, and has better S/N ratio. But how important is it to have low levels of background hiss when you're out and about with the EXM-50? Right, not that important. But if you have the choice, go with Bluetooth.
Sound
The EXM-50 can play surprisingly loud. There's hardly any distortion even when playing on the maximum level except when playing tracks with excessively deep bass lines. Given its size I was expecting a "plactic" colouration but there's hardly any. In fact, there's a refreshing lack of colouration and the sound is pretty natural. Overall sound balance is of course dependent on the surface that the unit stands on. I found that it sounds best hanging in free air, or on top of a small pedestal. Treble is open and extended but not harsh. There's a small bump at around 4khz but that can be easily tamed with the built-in EQ. Naturally the unit doesn't go very low but that's expected with something of this size. There is however some cabinet resonance with a few tracks I played very loudly but that might be exemplary and doesn't need to be so for every EXM-50.
Nags
When switching on, the EXM-50 defaults to FM radio. While a sane choice (in the absence of better sources) this reminds me of car stereos that insist to return to radio after a CD has finished. For me this is only annoying and I would prefer the unit to either remain silent or offer me the choice what input it defaults to. No FLAC playback from USB stick is a bit sour. When using batteries and playing really loud, the EXM-50 stops playing and drops the Bluetooth connection. Batteries used were new alkaline types. I assume that the unit will consume too much power when playing really loud, which in turn saps energy away from the Bluetooth circuitry. Finally, there's the occasional cabinet resonance with some deep-bass tracks when played really loudly. Small nags I'd say.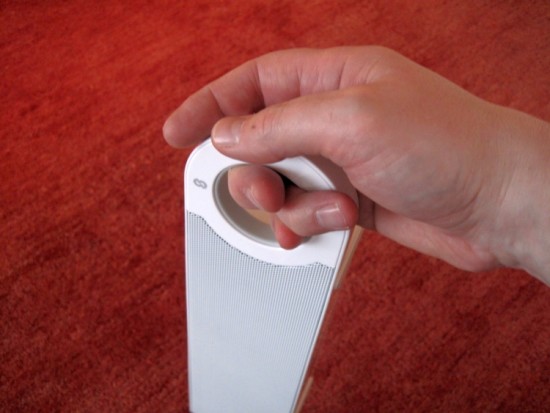 Conclusion
The EXM-50 is a very well-thought out device that works precisely as you would expect it to. The EXM-50 plays cleanly and plenty loudly and does so with low colouration. The free iPod/iPhone app however is what really gives the EXM-50 the edge. Said app is designed beatifully and works intuitively and pleasantly.
---
EXM-50 on KBS World Ideas Korea: