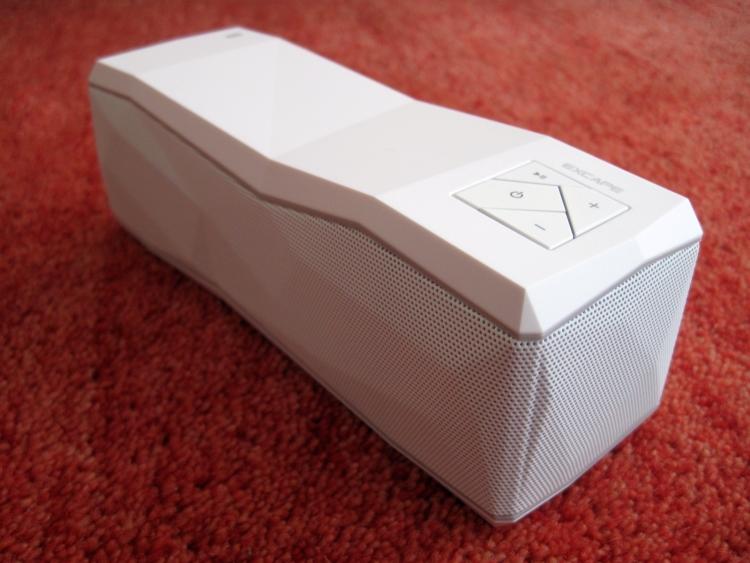 Indoor/Outdoor wireless streaming audio powered speaker
Review sample kindly supplied by Sherwood America
Retail price approx 60 euro
Functionality
As the latest addition to Sherwood's Excape range of products, the EXM-30 could to some extent be regarded as a smaller EXM-50, except that it still offers remarkable big sound in spite of its much smaller enclosure, is even simpler to operate and even includes a USB-rechargeable battery. No charger needed: just connect the unit to any suitable UBS port for charging using the supplied cable.
Operation couldn't be simpler, due to built-in automated voice messages. For example, when you switch it on and don't have a paired Bluetooth phone yet, the EXM-30 will just tell you so. Wait a little longer and it will come with more suggestions, talking you through the connection process.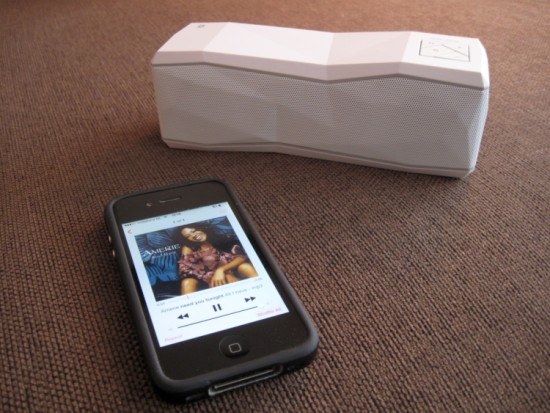 The EXM-30 defaults to Bluetooth audio input but also offers an analog minijack input, to connect non-Bluetooth devices. Unlike the EXM-50, the EXM-30 doesn't require the user to use the Sherwood app but instead works natively with any Bluetooth phone. Just activate Bluetooth on the phone so that it starts searching. As long as the Sherwood is switched on, the phone will find the device and connection is only one tip of the finger away.
Once connected, the EXM-30 remembers this particular phone so that you won't have to pair it again. The EXM-30 can automatically do this for two different phones and when a third one or a new one needs to be paired, this can simply be done at the press of a button.
There are buttons on the EXM-30 for previous/next, volume up/down, play/pause and power. But you need never use these buttons as operation via a phone (in my case an iPhone) is much easier. What's more: when the Bluetooth connection is shut down on the phone side, the EXM-30 will enter power off after 30 minutes.
The Bluetooth connection is very stable and doesn't drop easily. In fact, I couldn't get it to drop at all but when moving the phone far enough away from the EXM-30, sound would start dropping out, but as soon as I would move closer, the music resumed. There was never a need to re-pair the devices. The range with my iPhone 4S is around 5 meters, which should be more than plenty.
Sound Quality
Sound quality is actually very good. It really is surprising how much power can be squeezed from this tiny 18x6x6cm enclosure. They must have done something clever with soundprocessing because I could even hear the lowest bass notes with clear distinction. Of course there is no true deep bass like when using a subwoofer or a very large enclosure with big drivers, but the sound sure gives the impression of being pretty extended.
From memory I'd even say that it sounds almost as full as the bigger EXM-50. Speaking of which: the latter would cut out when playing too loudly, but the EXM-30 has no such problem: it can play at its loudest without any problems, or any distortion for that matter. Again, there must be some processing going on, otherwise I can't understand how they can get this amount of power out of this tiny box so cleanly.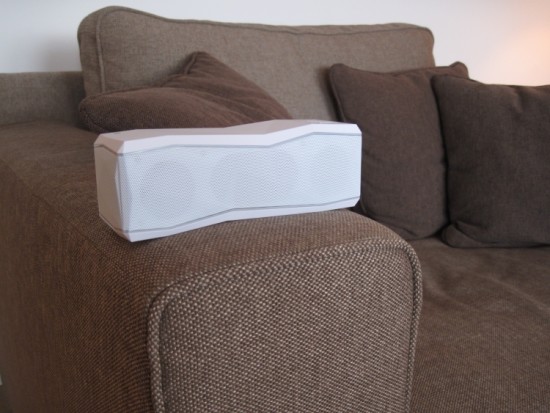 Just like the EXM-50, or any speaker basically, the EXM-30 sounds best when set up as freely as possible. For example, when set on a table, it can sound coloured, but when picked up in the hand, or when set up at the edge of a sofa armrest, the EXM-30 sounds surprisingly uncoloured.
As a final test, I set the EXM-30 up in my small TV room and was again surprised at its room-filling abilities. Granted, this small room has a tendency to add bass and overall sound pressure, but hey, the EXM-30 is still doing the honors!
Yes, that's the EXM-30 there, on top of the surround amp. And it really is providing a room-filling sound.
Conclusion
The EXM-30 offers super-easy setup, fool-proof connection and surprisingly good sound. And that from a tiny enclosure that looks like a piece of sculpted art. The bigger EXM-50 may be more versatile, but I think the EXM-30 really hits the sweet spot.