Jay's Audio CDT-2Mk2 and DAC-2 Signature – part 2
Music Server input
Switching from the CD transport via I2S on HDMI to the Antipodes CX+EX combo via USB, the sound becomes even tauter and more impactful with undiminished PRaT and remaining full-bodied and sonorous. This strong rhythmic aspect is present with the DAC-2 Signature no matter which input is used. In a direct comparison with the CD transport, the latter consistently sounds sweeter and more relaxed and considerably more fluid than the server. The sound via USB is little drier and less free-flowing and, perhaps less immediately pleasing than the CD transport's presentation. Of course, a digital format does not differentiate between frequencies. So, the free-flowing fluidity that is so very pleasant in the treble and midrange is also present in the bass and there, it is arguably less welcome. Indeed, the transport's bass is slightly rounded compared to the USB input. It seems fair to say that the server's delivery is probably more accurate. This is particularly evident in the bass, which with the DAC-2 and modern R&B is as tight and explosive as I've ever heard it. The CX+EX combo has been my favorite server for a long time, precisely for its full-bodied and solid delivery and the Jay's DAC certainly plays to this server's strengths. When playing CDs, however, the sound washes over you more easily and you tend to forget about the technical aspects more quickly. Somehow, it remains easier to become emotionally involved with CD than with ripped music played from a server.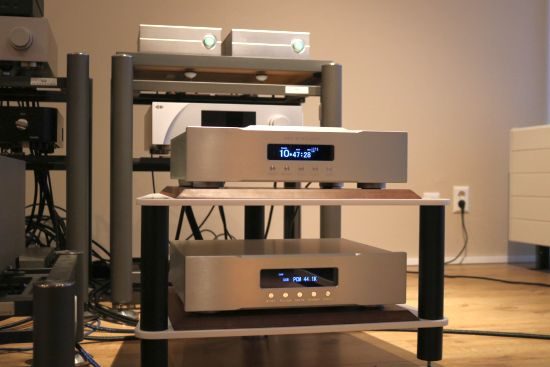 I used the Final Touch Audio Callisto USB cable for the most fluid and free-flowing sound with the Antipodes server and the I2S HDMI cable between CD transport and DAC meaning that the CD transport should hold the best cards for sounding the tightest. That it still sounds more fluid, I think has everything to do with the CDM-4 mechanism. All the other players with this mechanism that I used in the past had a similarly fluid presentation. However, the Jay's Audio transport clearly deviates from all those classic spinners by retaining the fluidity but also sounding consistently more upbeat and direct to make for a very well-balanced delivery. It seems very likely that this has everything to do with the CDT2-Mk2's elaborate power supply and its very accurate clock.
I should mention that I have also heard CD transports that are just as tight as the Antipodes or even tighter but without exception, these transports are much more expensive than the Jay's. Invariably, these use linear mechanisms and in these cases, the overall feeling is also of a drier and more technical sound, much closer to the typical Music Server Sound. Are these mechanisms more accurate or do they lose some "musicality" in the process? I have my suspicions but, regardless, I think that the CDT2-Mk2's allure is precisely that it sounds so fluid. Ultimately, this very much remains a personal matter – it all depends on the user's aim.
Whether fed from a CD transport or a music server, the DAC-2 Signature provides the kind of super-enjoyable sound that I have not heard before in this price class. Of course, there will always be differences between CD transports and Music Servers but I find that's part of the charm. Personally, I never feel like I must choose. I enjoy all formats for different reasons and simply use any format that I fancy at any given time, be it LP, CD, or a file on the Music Server.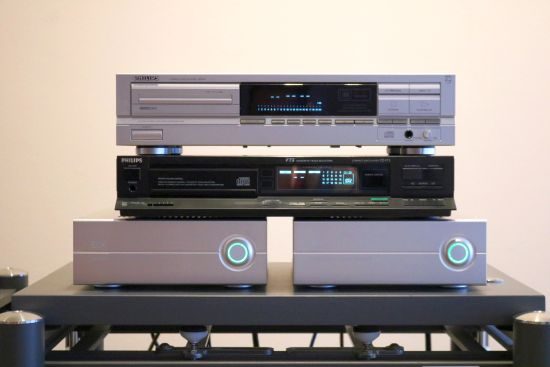 CDM4 = CDM4?
In a direct comparison using a Belden RG59 coax cable with two classic Philips players that use the same CDM-4 mechanism, the Jay's Audio player's superiority was evident. The CD473 sounded plasticky, washed-out and even a little edgy and the CD614, always one of my favorite low-cost players, was indeed better than the 473 but still comparatively synthetic in timbre and, just like the other player, lacking focus and incisiveness. In order to make sure the players were judged on equal grounds I placed the CD614 on the same type Artesania Modular rack as the Jay's Audio CDT2-MK2 was on and, believe it or not, this did help it develop a tonally fuller sound. But the player still sounded comparatively washed-out and rough yet not as propulsive and incisive. Alas, all the attention in the world cannot make a CD614 the equal of the Jay's Audio transport. Not by a long shot.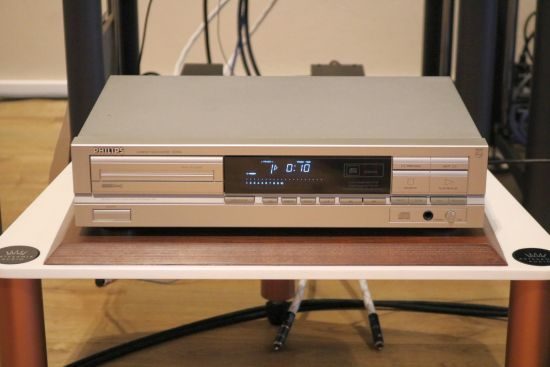 Digital = Digital? Fuhgettaboutit! If there wasn't a trace of family-resemblance, I would be tempted to pronounce the differences between these two CDM-4-equipped players night and day. But it really is no contest and I think anyone could hear it. No golden ears required. Yes, the difference is that large. Now, one could argue that my trusty CD614 surely must have worn-out capacitors but this unit was completely recapped only a couple of years back, making it very unlikely that it is in any way off-spec. Nope, I think this clearly shows that the Jay's Audio transport is really excellent.
DAC Comparisons
The sound of a D-A converter is a sum of its parts as well as the implementation. So, it could be a coincidence, but I have found that AKM-equipped DACs always sound impactful and upbeat, and indeed, the Jay's Audio DAC is no exception. Visually, it bears some resemblance to the Esoteric D-07 DAC and from aural memory (which is hugely non-trustworthy, I know), I'd say that it bears some resemblance as well, particularly in terms of its bold and upbeat presentation. A more current DAC that has a similar presentation is the Bryston BDA-3 but I'd have to hear all these DACs side by side to know the precise differences. The biggest difference, of course, is in the price tag.
Using the Antipodes EX and compared directly with the Aqua Formula xHD (at this stage still with the v1 output board), the Aqua has a very different presentation than the Jay's Audio DAC-2 Signature. Although the Jay's Audio DAC was set to the NOS filter setting, the Aqua employs discrete R2R arrays and an actual NOS topology but I honestly can't say that literally everything with the Aqua was better. I mentioned resolution of detail and indeed, the Jay's Audio DAC does not paint quite as precisely or as subtly as the Aqua DAC. But instead, it has a significantly more energetic and more solid delivery which is absolutely entertaining, especially with the Kromas. Importantly, the Jay's Audio DAC sounds every bit as natural as the Aqua and timbrally just as convincing. Putting it in as little words as I can, the Jay's Audio DAC-2 Signature is best described as "full-bodied and taut", whereas the Aqua Formula xHD's key descriptors would be "transparent and refined". Indeed, the Aqua has noticeably higher resolution and it digs deeper into the mix, similar to going from an elliptical stylus to a fine line stylus with a good record player. In audiophile terms, the Aqua is better. Of course, at almost 14K, it is also in a very different price category. And also, one could still argue over which one sounds better or better provokes emotion. What's for sure is that I find the Jay's to be hugely involving and an absolute joy to listen to.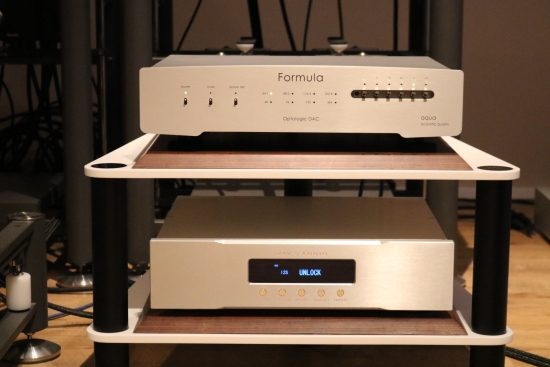 At this point in the review, I moved from the Kroma Carmens to the Martin Logan ESL15A's, and again with the complete Jay's Audio CD + DAC combo, only to find that, once again, I am blown away by how great the Jay's components sound! Audio buddy MP came by and he commented on the fact that he had not heard any Martin Logans sound this convincingly natural yet. He's a Jadis/Sonus Faber guy and he places a particularly heavy emphasis on tonality. I should also mention that, so far, he had only heard smaller or older Logans with very different equipment at my place but still, it's telling that he felt this way when the Jay's Audio components were playing. The Logans have some character of their own but they are also very clean and transparent and any synthetical coloration in the source is immediately heard. Not so in this case, though. The Jay's units really do sound as neutral and natural as I already thought they did with the Kromas.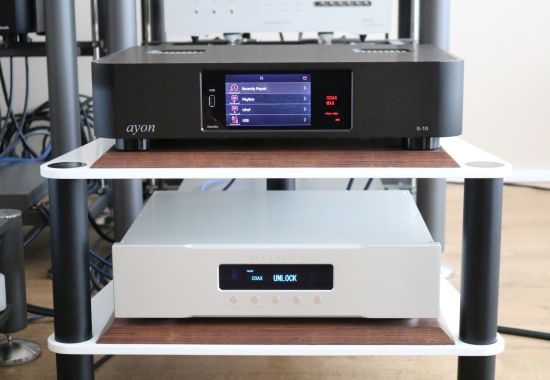 At this time, I also had the Ayon S10-MkII DAC for review. Being a tube-design, one could easily assume that it would sound very different from the Jay's Audio DAC-2 but imagine my surprise when they two DACs turned out to have more similarities than differences! In terms of bass drive, tonality, harmonic richness, and resolution, the two DACs are very close. Where they differ primarily is in terms of perceived soundstage depth and the feeling of being engulfed by the sound, which the Ayon does indeed do better. This is one of the aspects in which tube products often excel. I should mention that Ayon products, in general, are particularly fast and tight for tube products but you can also say that the Jay's Audio DAC-2 Signature is remarkably sonorous and richly textured for a transistor design. The decision between the two was also related to what kind of music was played. With rhythm-driven music, I preferred the Jay's Audio for its tighter and more articulate bass and with smoother music such as soul, I preferred the Ayon for its deeper sound and longer lingering decays. Which of the two should be regarded as being better? Honestly, I could not make that decision. First, we are talking about tube versus transistor and second, they are very similar and choosing between the remaining differences is very much a matter of personal preference. That's something for every person to decide for himself or herself. All I can add at this point is that the Ayon costs three times as much.
Preliminary conclusion
Both the CD transport and the DAC have much impressed me. Although different presentations can make for certain preferences, meaningfully better transports or DACs can really only be had for amounts nearing the 10K. Both Jay's components perform at a level for which competing European or American products charge double to triple. Even if certain aspects of their performance can be bettered if enough extra money is spent, the bottom line for me is that these components make music with such involvement and enthusiasm that they immediately instill the desire to play more music, not think about technical matters. I like them so much that I added them to my system and made them my references in the affordable high-end class where they'll provide stiff competition for any competitors to come.
At this point, I concluded the original review but since the Jay's components have taken permanent residence in my system I have carried out some more transport comparisons. You can read all about it in part 3 of this review.
FAQ
How to switch the CD transport to standby?

Although there is a button on the remote control, there is no standby option.

How to dim/switch off the CD transport's display?

Although there is a button on the remote control, there is no display dim option.

Will a custom remote control be issued for the DAC?

Jay's Audio will not be making a custom remote control for the DAC2-Signature because it is believed that most people do not need a remote control for DAC and adding one will unnecessarily raise the cost.