ROON – part 4 – 3rd party equipment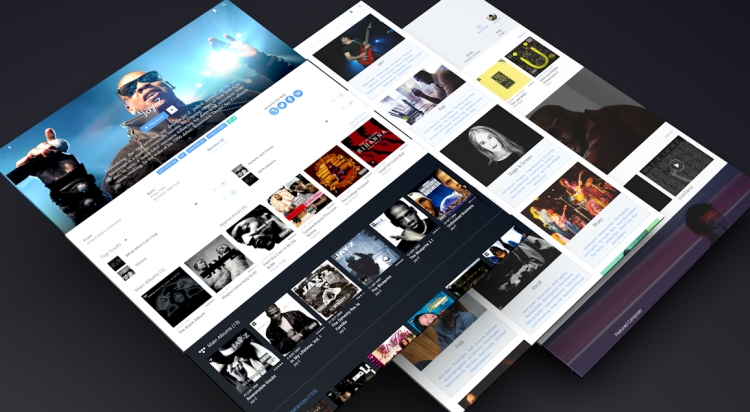 Roon – the new standard in Music Server, Browser and Player software
Part 4 – Roon and 3rd party equipment
As I wrote in part 3, lots has happened on the Roon front since this review was published. Roon is becoming compatible with more and more endpoints, both software and hardware-based. There is a wide range of Roon-ready manufacturers already and I can only assume that the list will keep growing. Also Roon now works on iPad. The app looks a lot like the main application and works exactly the same, with the same functionality. Please see the Roon website and forum for more details on functionality.
Although it is mentioned on the Roon website that software implementations like Squeezelite are not supported, so far for me they do actually work just fine. This means that you can stream from Roon to any Squeezebox-labelled device as well as to devices that can run software emulations such as the Raspberry Pi and BeagleBone Black.
This section will be open-ended, describing my experiences with 3rd party devices as they become available.
Streaming in general
To my ears any streaming method always sounds a bit thinner, less rich and colourful, less enveloping than a direct connection such as USB or SP/DIF from a dedicated Music Server. With USB or S/PDIF, when using a PC or Mac with an audiophile software player the sound will also usually be more accurate and vivid than when streaming. I have accepted this as a fact of life, but it seems that Meridian, Roon and Devialet have found a way to squeeze the maximum out of their protocols.
In the streaming category Roon is definitely among the best I have encountered. If you want the comfort and affordability of streaming from any normal PC or Mac, then this can indeed sound mighty fine, but it won't be state of the art. If you want Roon convenience as well as state of the art sound, I think the best bet is to wait for Roon to become available on dedicated Music Servers.
Do note that the location of the audio files also matters for the sound. Locally stored music sounds different from music played from a NAS, the latter attaining more of the "streaming" quality of a thinner sound. So, even when streaming from a PC to a Devialet, the sound will be better with the music playing locally on the PC than with it playing from a library on a NAS.
Roon to Devialet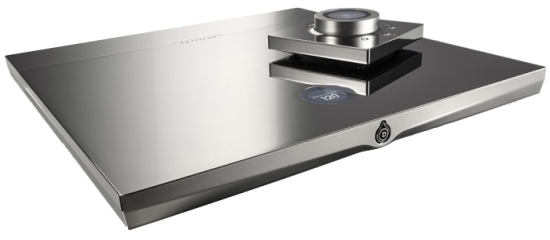 Roon works well into Devialet products using Devialet's own Air protocol. Once the Devialet software is installed, you can select a Devialet (in my case a Devialet 120) as an endpoint in Roon the same way as is done for local playback. Reliability of the connection is dependent on the Air connection itself, which is better with wired than wireless. Some people have experienced drop outs and white noise but with Ethernet my connection is super stable and with wireless I have only experienced drop outs, never any white noise.
Devialet claims to offer bit accurate playback over their protocol and Roon in turn always select the best playback solution available, so this should be a very high quality playback method and indeed it is.
Roon via Airplay does have something of a jRiver sound to it, meaning that in the absolute sense it is slightly relaxed and forgiving in nature due to transients being slightly rounded, but of very high quality nonetheless.
jRiver Media Center 18 to Devialet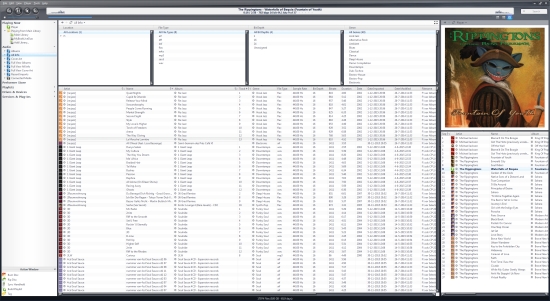 Compared to Roon, jRiver MC18 on the same PC using Wasapi and the same Devialet Air protocol sounds a little tighter and cleaner. It's subtle but definitely an audible feeling of more speed and attack, especially in the lower registers. Midrange and treble, as well as ambience and soundstaging, are comparable. However there are tighter sounding programs around, such as Foobar for Windows (albeit too tight for my taste actually) and PureMusic, Audirvana and Amarra for Mac.
AudioAanZee Reference Flow Music Server to Devialet
The Reference Flow is the best sounding solution so far for Devialet in my secondary system. The sound playing local files on the Music Server via USB has more body and substance, as well as more impressive dynamics and more natural timbre.
Roon to Aurender N10
At this time (Jan 2016), the Aurender N10 only permits the use of Airplay (not to confuse with Devialet's Air), and so far I am not very enthusiastic about this protocol. It's probably also because with the Aurender Airplay runs over ethernet instead of a more direct connection, but I keep getting stuttering and drop outs, and when the sounds plays stably, it doesn't sound very good, with what seems to be bandwidth limiting resulting in a sound that reminds of very low bitrate mp3.
Roon naturally can't fix the limitations of Airplay, but they have developed their RoonReady protocol which should yield much better results if only Aurender would choose to implement it. But even as it is, it's already very nice to be able to create a second zone this way. The Aurender itself sounds simply fantastic when playing its internal files, so I can only dream of it hosting Roon. At this time (Jan 2016) no formal decision has been made by Aurender to implement it or not.
Roon to BeagleBone Black by EC Designs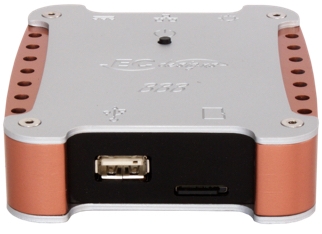 The BeagleBoneBlack by EC Designs is a BeagleBone Black mini computer in a custom housing, running custom code. Mine runs Squeezelite with some EC refinements. As such it is compatible with Roon's Squeezebox implementation. The BBB is extremely stable and does not introduce delays such as Devialet's Air protocol does.
Streaming to the BBB works very well and sounds very good, but at the moment of testing this initially (Jan 2016), just as when streaming to the Devialet from Roon, I did note a slightly rounded and soft quality to the sound. Not very detrimental, but there.
What's so great about the Roon team is that they never seem to stop improving their product. As I would later learn, their transport protocols have improved to the point where they can be considered to be among the best achievable. Read on below!
Update 21-5-2016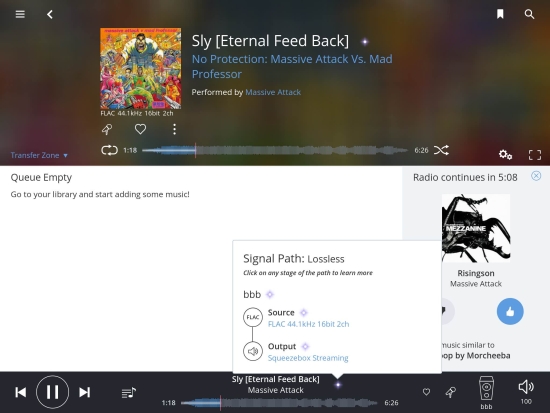 Meanwhile Roon have implemented changes in the underlying protocols, and when listening to Roon streaming to the EC Designs Beaglebone Black (with USB converted to Toslink using an EC Designs XTOS) into a Wadia 521 DAC, I have a strong feeling that the sound is now indeed more articulate and more transparent.
To properly assess this, I connected the BBB directly to the Meridian 818 using an AudioQuest Diamond USB cable, and compare the sound between Roon streaming to the BBB running Squeezelite versus Roon streaming directly to the 818 using proprietary Roon/Meridian protocol. I must admit to being unsure whether or not RAAT is in any way used for the SqueezeLite transport but I do know that it is not in use for transport to the 818, instead another proprietary high quality transport is used. In any event, either method shows up as being Lossless.
Already during the first track during the comparison my hunch is confirmed: streaming to the BBB Squeezelite endpoint does indeed sound much better than before, and it can now be considered to be more or less in the same league as when streaming directly to a Meridian 818v3.
The most important thing to note is that the aforementioned transient softness is now nowhere to be found! In fact, the BBB sounds slightly more articulate and forward than when streaming directly to the 818. The latter is likely the more natural portrayal but we're now in "cable differences" territory, and either device can likely be easily tuned to one's personal preference using the appropriate cable. Very impressive for sucha super low cost endpoint indeed.
Roon and Apple TV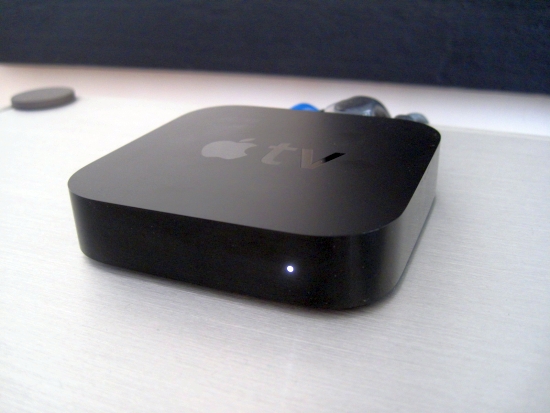 Speaking of low cost endpoints, the Apple TV also seems to offer a lot of value for money. It looks sleek, operates smoothly and offers what I think many regard as an industry standard Airport zone. A third generation Apple TV was borrowed from a friend to assess the audio quality when used with Roon. Selection from within Roon is effortless, and the connection is indicated as being of "High Quality". Note that when streaming to a Meridian 818 or the Beaglebone Black, the indication was "Lossless".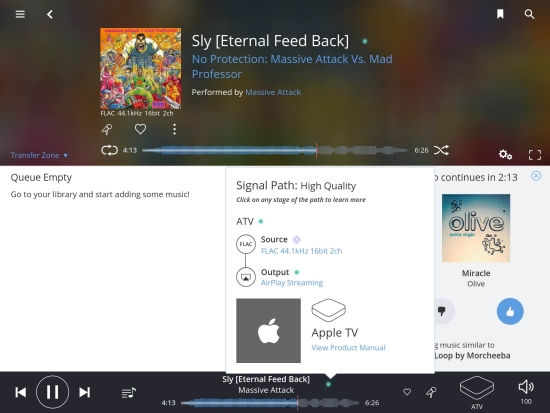 The Apple TV is connected to a Wadia 521 DAC via an optical TOSlink cable. Not the best standard to use, but earlier experience with the standard in the context of EC Designs DAC and BeagleBoneBlack seem to indicate that the cable interface itself need not stand in the way of high quality sound. In any event, this is the best way to connect an Apple TV, outside of HDMI on a home cinema receiver perhaps.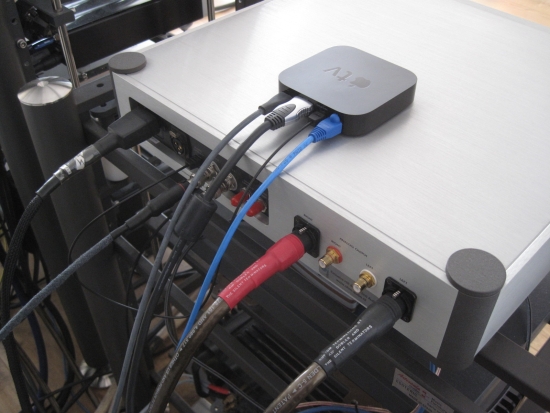 Apple TV offers the benefit of showing Artwork and other track info on a connected TV or computer monitor.
Alas, to put it mildly, sound quality with the Apple TV is not of audiophile quality. Sound using Airplay in generic is decidedly more soft and rounded, and less dynamic, than any of the other methods tried, and the ATV is no exception.
Continue Reading – Roon and Meridian