HDMI Cables Compared (Dutch language)
HDMI KABELS OP DE PROEF – EEN UITGEBREID REVIEW
Het lijkt wel net zo'n strijd als met analoog vs digitaal; er zijn twee kampen. De mensen die beweren dat er waarneembaar verschil zit tussen HDMI kabels en de mensen die al dan niet op basis van technologische gronden beweren dat er geen verschil mag zijn.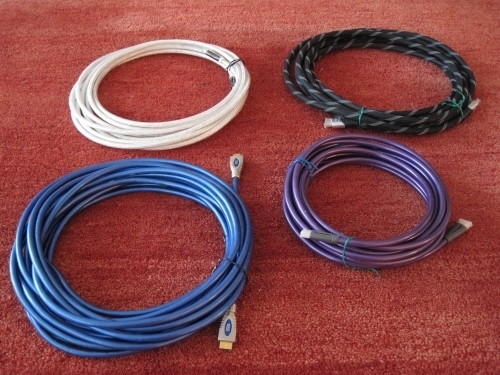 Ik heb de proef op de som genomen en 3 high end kabels aangeschaft, samen met een merkloos produkt. U mag er daarom vanuit gaan dat dit een objectieve vergelijking is. Ik heb er immers geen belang bij om een kabel van een bepaald merk beter te vinden dan een ander. Daarnaast geef ik ook liefst zo weinig mogelijk geld uit dus als de goedkoopste kabel goed is, dan is dat alleen maar beter!
DE KANDIDATEN

No-name HDMI cable (25 euro)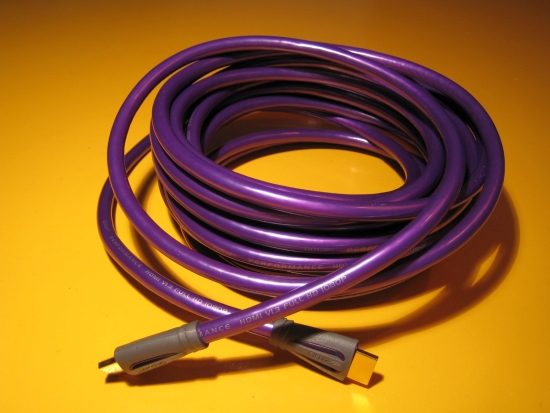 QED HDMI-P (150 euro)
QED HDMI-SR (Silver Reference) (300 euro)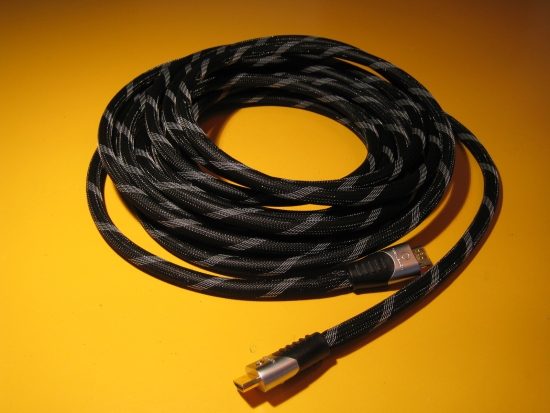 Oehlbach Real Matrix HDMI MKII (219 euro)
VERSCHIL
In deze test is een ding meteen duidelijk geworden: ze maken wel degelijk verschil. Ook al is dat volgens veel mensen niet mogelijk.
Een kleine uitleg is misschien op zijn plaats om de ergste sceptici iets te geven om over na te denken. De data die over HDMI kabels loopt is niet te verwarren met de data die over internetverbindingen loopt. In het geval van internetverkeer is er een systeem ingebouwd dat fouten corrigeert en indien nodig de data nog een keer opvraagt. Bij HDMI is dat niet mogelijk omdat er dan teveel vertraging zou ontstaan. HDMI is een continue stroom data, net als bij cd. En bij CD zijn de meeste mensen het er toch wel over eens dat kabels wel degelijk invloed hebben en dat aan het einde van een kabel een 1 niet per se een 1 is en een nul niet per se een nul.
TEST-OMSTANDIGHEDEN:
-Blu Ray speler: Panasonic DMP BD35
-LCD scherm: Samsung LE40 A786
-Blu Ray schijven: Get Smart, Cars
GEBRUIKTE HDMI KABELS:
-Oehlbach Real Matrix HDMI MKII 7,5m (219 euro)
-QED HDMI-P 7m (150 euro)
-QED HDMI-SR 7m (300 euro)
-No Name brand standaardkabel 10m (25 euro)
-Vivanco HDMI interconnect 3m (leenkabel, 20 euro)
Er werd uitsluitend gelet op de beeldkwaliteit. De speler speelde software af in zijn native resolutie: 1080P
Toegegeven, de kabels zijn wat aan de lange kant. Ze zitten op het randje van wat beschouwd wordt als toelaatbaar voor 1080P. In mijn situatie moet dat echter wel gezien de plaats van de speler t.o.v. het scherm. Gedurende de test werd de speler echter dicht bij het scherm geplaatst en lagen de kabels vrij van andere kabels waardoor de kans op interferentie kleiner zou moeten zijn.
HET VERGELIJKEN BEGINT:
Als eerste werd de QED HDMI-P kabel gebruikt. Het tijdschrift What Hifi heeft deze kabel herhaaldelijk uitgeroepen tot winnaar, en niet onterecht. Zoals zij al schrijven, is deze kabel inderdaad erg gestoken, contrastrijk en levendig. Er valt niks op aan te merken. Maar de echte omvang van zijn eigenschappen wordt pas duidelijk bij het vergelijken met de andere kabels.
Als tweede kabel wordt de Oehlbach aangesloten. Onmiddelijk valt op dat hij minder gestoken is, maar daarvoor in de plaats veel natuurlijker. De QED laat geschreven ballpen-tekst eruit zien alsof het in het papier gegraveerd is terwijl de Oehlbach duidelijk laat zien dat de tekst met een blauwe ballpen is geschreven. De kleuren lijken echter, er zit meer diepte in het beeld en het voelt "analoger". De Oehlbach is zeker niet wazig, maar het beeld vloeit beter, het heeft alle scherpte die nodig is maar presenteert het op een natuurlijke manier. De HDMI-P is bij het terugsteken toch wel wat plat en kunstmatig en doet aan als een typische Sony Trinitron TV die is ingesteld om te imponeren, met de scherpteinstelling op maximaal. De Oehlbach doet meer aan als een typische Philips of Panasonic.
Als derde kabel wordt de duurdere referentiekabel van QED aangesloten. Deze kabel is nog een stuk duurder dan de Oehlbach dus we verwachten ook een sprong in kwaliteit. Gek genoeg valt dat enorm mee. Hij is niet meer zo overdreven scherp gestoken als de HDMI-P en het beeld doet natuurlijker aan, maar hij heeft niet de dieptewerking van de Oehlbach, en ook niet diens mooie rijke kleurverzadiging. Voor de prijs biedt hij te weinig extra boven de veel betaalbaardere HDMI-P.
Als laatste wordt de goedkope no-name kabel aangesloten. Deze kabel is 10 meter ipv 7 en 7,5 dus iets in het nadeel maar dezelfde langte was helaas niet verkrijgbaar. Grappig genoeg is er op zich niks op deze kabel aan te merken. Hij is scherp, en vertoont geen artefacten. Hij doet gewoon zijn werk. En dat zelfs aan 10 meter. Maar na hersteld te zijn van de verbazing is wel degelijk te zien dat de andere kabels verbetering brengen. Ook de QED's zijn levendiger en zelfs de P versie doet ondanks de bijna artificieel hoge mate van scherpte natuurlijker en echter aan.
CONCLUSIE LANGE KABELS:
De lange kabels hebben tijdens deze tests totaal geen bij-effecten, terwijl dit vaak beweerd wordt. Genoemd worden meer ruis en trapezevorming. Dit hebben we niet kunnen bevestigen. Zelfs de no-name kabel van 10 meter had absoluut niet meer ruis of bewegingsonscherpte dan de andere lange dure kabels. Dat was met de Blu Ray "Cars" heel goed te controleren omdat in dat bronmateriaal door zijn aard (animatie, geen film) totaal geen ruis in aanwezig was.
VERGELIJK MET EEN KORTE KABEL:
Uiteindelijk werd een kortere lengte (3m) Vivanco HDMI kabel geprobeerd om te testen of kortere kabels inderdaad beter zijn dan lange kabels. Aanvankelijk dachten we dat het een enerzijds/anderzijds kwestie zou worden maar dat pakte anders uit. Waar de dure lange kabels zich onderscheidden in scherpte danwel natuurlijkheid en diepte, blijkt de Vivanco op alle vlakken beter te zijn. Hij is duidelijk beter qua gestokenheid en levendigheid, zonder door te slaan in extreme scherpte zoals de QED HDMI-P. De andere kabels waren ook al ruisvrij dus daarop viel geen terrein te winnen.
CONCLUSIE
Nu de korte kabel toch echt de testwinnaar is moeten we concluderen dat bij HDMI de lengte wel degelijk uitmaakt. Er zijn zondermeer goed waar te nemen verschillen. Deze staan echter niet echt in verhouding tot de prijs en zijn voor de gemiddelde consument wellicht te klein. De verschillen zijn namelijk ten dele weer te compenseren met de menu instellingen van de TV. Daarnaast zijn de verschillen niet van het irritante soort, er was bijvoorbeeld geen toename van ruis of rafeligheid te zien.
Voor videofielen is er echter genoeg verschil tussen een goedkope en een duurdere kabel. In ieder geval in lengten van 7,5 meter.
NAWOORD:
De bovenstaande vergelijkingen werden gedaan aan de hand van videomateriaal, afgespeeld op Blu ray. Naar verluid worden de verschillen tussen kabels belangrijker wanneer er een gameconsole is aangesloten omdat bepaalde spelletjes grotere hoeveelheden data over de HDMI kabel sturen. Dit hebben we echter niet onderzocht. Daarnaast kan het zijn dat de omstandigheden van deze test gunstig waren. Dat wil zeggen: er zijn situaties denkbaar waarin veel storing opgepikt kan worden, en dan is een betere kabel ongetwijfeld meer in het voordeel dan een goedkope no-name kabel. Tevens schijnt er verschil te zijn in de gebruikte receivers in de produkten. Deze kunnen meer of minder tolerant zijn voor kabelinvloeden. Maar ook dan geldt: houd de kabel kort, dan is er zo weinig mogelijk kans op storingsgevoeligheid.
Read Also
HDMI and DVI info
Info article about HDMI cables and the influence of cable length
Ricable Supreme AI Active HDMI cable