Zesto Leto 1.5 preamp, Andros Deluxe phono, and Eros 300 mono power amps – part 3
Cables
I have a feeling that the Zesto system works with a wide range of cables but what worked very well in my case between the phono stage and the preamp are the Vermouth Reference XLR cables and the Cardas Clear XLR cables, where I have a slight preference for the more sonorous and more powerful sounding Vermouths. Between the preamp and power amps I found that the cleanest and least filtered cables worked best – the CH Precision Balanced Link XLR cables. In the field of cinch cables, I found that the AudioQuest Water also worked very well either between phono and preamp or DAC and preamp. For power cables, I used Belden 19364 with Bals schukos and Oyaide C-004 IECs.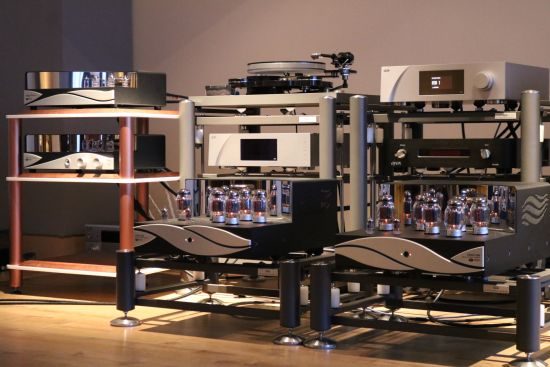 Equipment Support
With power amplifiers this large, it is tempting to place them directly on the floor. Many people do and many also believe that power amplifiers, certainly ones as large and heavy as these, should not be sensitive to how they are placed. Alas, that is a misconception. In my experience, pretty much any audio component is sensitive to its placement and that includes heavy power amplifiers. Indeed, when placing them on the Artesania Aire floor platforms that have been upgraded with Carbon Fiber arms, the Eros 300 amps become faster and much more articulate in the bass and better differentiated overall, as well as more dynamic while retaining their inherent refined and stress-free delivery. While these racks are relatively costly, especially with the Carbon Fiber arms, their influence is so monumental that they should be a serious consideration. Naturally, the Artesania racks are not the only options and I'm sure that there are other racks or platforms that may work very well. The message is to experiment with this if you want to extract the best from these amplifiers. I should add that the Kroma's are quite smooth and full-sounding themselves and so the balance might work out differently when pairing the Eros 300's with cooler-sounding speakers.
While I find that the Zesto phono stage and preamp are a little bit more expressive and the power amps a little bit smoother, the combination works like magic. Nevertheless, the source components also clearly relayed the differences between the surfaces that they were placed on. Especially with the Kroma's, they both sounded great on the Artesania Exoteryc racks with Carbon Fiber arms. But with the utterly transparent Martin Logans, they sound even better on the Artesania Organic Line Modular rack.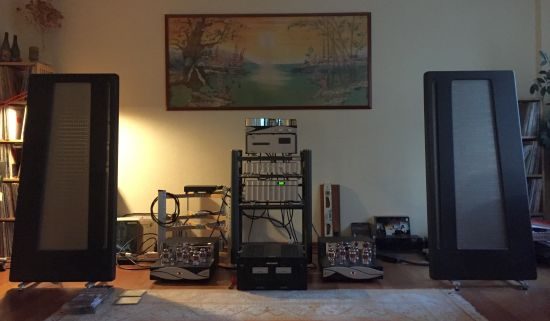 Apogee Duetta Signature loudspeakers
Finally, I also used the Eros 300 power amplifiers and Leto 1.5 preamp in JW's system to see how they would drive the Apogee Acoustics Duetta Signature magnetostatics. These are pretty inefficient speakers but with a relatively flat impedance curve – unlike the Scintillas. This is why they have proven to work very well with a pretty wide range of tube amplifiers. But so far, the available power has always been limited and while the bass impact has at times been impressive, the tightness and articulation were never better than with big Class AB solid-state amplifiers such as those from AVM, Analog Domain, CH Precision, and, perhaps the most bad-ass in terms of bass so far, Soulution.
Restored Apogee Duetta Signatures with Soulution 711 in a previous setup
Of course, the 300's are no lightweight amplifiers – with six KT-88's per channel in Class-A, I had no doubt that they would have no issues driving the Duettas properly. But what I did not expect was how utterly sublimely the combination would pan out to be. While, with the Kroma's, the 300's could be regarded as lush and seductive but also a little soft and dynamically not hugely expressive, with the Apogees there is not a trace of softness or restraint. I have owned many Duettas, both original and restored, and have heard them in various setups but, without exaggeration, this is the best that I have heard these speakers sound so far.
The Zesto Leto 1.5 and Eros 300 produce a mighty big and lifelike sound with these magnetostatics. Positive and sunny, energetic, forcefully dynamic, sonorous and full-bodied, with room-filling soundstaging and a super-lyrical quality – the emotion is truly leaping off the foils like never before. In addition, the Eros 300's bass is absolutely stunning. It's not a transistor-like bass – no one will be tricked into thinking that the CH Precision A1.5 or a Soulution 711 is playing. As with pretty much all-tube power amplifiers, the bass isn't of the super-dry and super-articulate kind. But it is incredibly powerful and well-defined and well-paced, super-convincing and absolutely authoritative. The Ayon Spirit III has also been used in this setup and while that amp is a bit of an exception with its almost transistor-like bass, the Zesto 300's make music on a much grander scale and are more natural and organic. And even if the Ayon is more direct, the Zesto's sound more convincingly live, more like the real thing.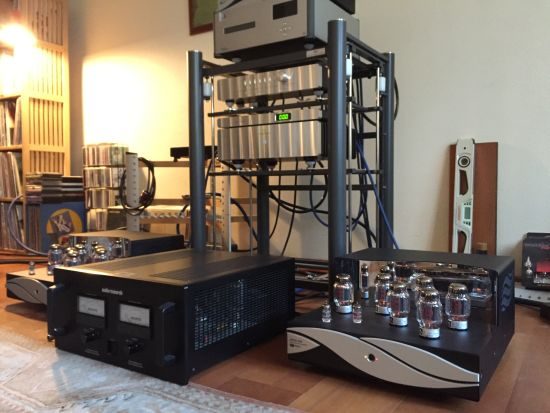 I should also mention the Audio Research Reference 75 SE with which these speakers were driven previously. Like the Ayon, this amp is much tighter and more articulate than the average tube amplifier and for a while, this amp was found to be almost perfect with the Duettas. However, a romance with the Line Magnetic LM-150IA already started a parting of ways with its much more organic sound even if it is ultimately underperforming on a purely audiophile level. Compared to the Ref 75 SE, the Eros 300's are smoother and creamier, in tonality closer to the Line Magnetic than the ARC but on the audiophile-level of the latter yet so much more involving and convincing. The Zesto pairing's textures and overall timbre are absolutely out of this world. Where the Audio Research amp's tonality seems to be tilted toward the upper midrange, the Zesto's might appear as being darker but, on balance, and after listening to a couple of tracks, I actually think that the Zesto's balance is actually spot-on and much more natural.
All of this talk about individual aspects is meaningless if everything does not combine into an involving performance but the Zesto system has certainly got that covered. It has the kind of delivery that is never edgy but always communicative, making you want to play record after record. Listening fatigue? Syntax Error. Does not compute. With the Zesto's there is a sense of realism, of utter involvement and acoustic believability that I have not heard the Apogees reproduce with any other amplifier, be that tube or transistor. I am convinced and so is JW – he actually purchased a pair of Zesto Eros 300's and he will also add a Leto 1.5 when funds allow.
Conclusion
Smooth and seductive, organic, big and powerful, and utterly realistic – the Zesto system does it all. The Eros 300's need some care in the speaker pairing but when it matches they provide the most involving and lifelike performance that I have heard so far. The Zesto components augment each other perfectly and the Andros Deluxe phono stage and especially the Leto 1.5 preamp are universally applicable and perform superbly. If the Eros 300's are a bit too dear and your speakers not too demanding, consider the Bia 120 stereo amplifier to make for a system that, while not exactly cheap, costs a lot less than many competitors while offering a spectacularly musical performance. Whoops, I used that word again!

Above: a montage that Pierre made after reading my comments about Francois' Jerom-like appearance that I find so hilarious I could not resist the urge to share it:-)
Suske en Wiske, made by studio-vandersteen, distributed by Standaard Uitgeverij
Manufacturer: zestoaudio.com
Distributor for the Benelux: Colab