Zesto Leto 1.5 preamp, Andros Deluxe phono, and Eros 300 mono power amps – part 2
The idle power draw (when switched on but not playing music) is 348 watts per amp and while that seems high compared to a class D amplifier, consider that many class AB amps that seem very efficient employ a very high bias current, which makes then draw considerably more power when idling than one might assume – 250 Watts is no exception. The sextet of KT88's puts out a generous amount of heat but it's certainly not excessive. For example, I found that the Line Magnetic LM-805 or LM-845's or the Viva Verona XL and the Vaic Reference 520's, all SET amps, were all much hotter. Or perhaps it seemed that way because with the Eros 300's the heat is divided over six tubes per side rather than a single pair. Either way, you won't burn off the skin of your finger when briefly touching on of the KT88's and while the Eros 300 pair can certainly increase the room temperature, the amps never felt as if they were uncomfortably hot.
The following is stated in the manual regarding tube-rolling:
"The unit is designed to work safely with any KT88. It will also work with KT120's, but with auto-bias it will not provide more power, just sound different. The Class A design provides plenty of power. Warning! 6550, KT90's, KT100's tubes will NOT work in this unit."
I left this well alone and only used the amps with the supplied JJ KT88's. In fact, earlier experience with this brand and type using the Ayon Scorpio amplifier indicates that the JJ's are indeed excellent tubes and I would personally not be motivated to experiment with this. Francois explained that the tubes are chosen for their wide availability and longevity. Different, and subjectively perhaps better, sound can be had by rolling the tubes but this is not recommended or supported. Finally, the amplifiers are well-protected and will switch off automatically in case of a short circuit or anything else that might be damaging to the amp.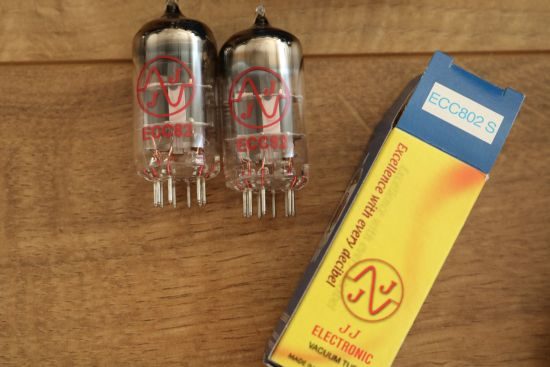 Francois did deliver ECC802S alternatives (pictured above) for the standard gold pin ECC82 (12AU7) gain stage tubes. Early on in my assessments, I did give these a try on the power amps. These alternatives offer a slightly brighter balance with a more explicit treble which might make for a better fit in some systems but as they do not come across to me as any more airy or refined than the standard tubes, I did not feel that they improved the overall presentation in my system and so I stuck with the default tubes.
Zesto Leto 1.5 and Andros Deluxe on Artesania "Organic Line" Modular Rack
Listening
Digital listening was done using the Antipodes CX+EX combo, feeding the CH Precision C1 DAC via a Final Touch Audio Callisto USB cable. For analog listening, I used the Origin Live Calypso mk4 turntable with Multi-layer Platter and Illustrious arm (review forthcoming) and Aidas Rainbow MC cartridge, normally feeding the CH Precision P1 phono stage via an Origin Live Silver Hybrid cable. For further cross-referencing, I also used the Ayon Stealth preamplifier and Ayon Spirit III integrated amplifier as well as the CH Precision A1.5 power amplifier. The loudspeakers that I used predominantly are the Kroma Audio Carmens with Jorma Trinity speaker cables. Additionally, Martin Logan ESL15A electrostatics were used to further assess the performance of the Zesto Leto 1.5 preamp and Andros Deluxe phono stage. Finally, because the Kroma's are pretty easy to drive and I wanted to see what the Eros 300 boys are really capable of, I also listened to them using Apogee Duetta Signature magnetostatic loudspeakers.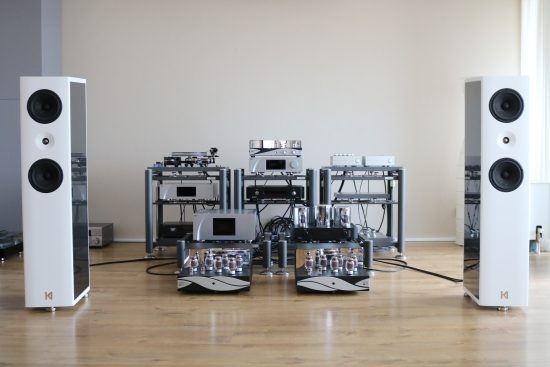 Kroma Audio Carmen loudspeakers
Rather than first assessing the Zesto components individually as I tend to do normally, I elected to start with the complete Zesto system. I'm starting with the digital front end consisting of the Antipodes CX+EX server and CH Precision C1 DAC and will involve the Origin Live turntable with the Andros Deluxe phono stage later. It is not a rule set in stone, but in my experience, systems comprised of same-brand components often work together well. But, sometimes, what you get can be too much of a good thing, for example, a sound that is too warm or too clean. In these cases, the particular house sound may not be what matches best with a particular pair of speakers, a given room, or a certain taste. As it would turn out, the Zesto components do indeed work together synergistically and, as I was very happy to find, they do not really have a house sound.
The Zesto system is transparent and even-handed and although I can't say that any character is being superimposed onto the music, I think it is fair to describe the system delivery as big and powerful yet relaxed and smooth and totally free-flowing with an utter lack of edge, hardness, or any kind of electronic signature. Often with tube systems, the magic is in the midrange and while there is certainly midrange magic with the Zesto system, constraining the delivery to only the midrange would be short-selling the system. The Zesto delivery is one of togetherness, of music as a whole with no single area outshining another. Interestingly, if you dissect the sound into bass, midrange, and treble performance, or detail retrieval, soundstaging and imaging, the system excels in each territory. But there is an overwhelming sense of the music simply shining through, making it very easy to just relax into the performance and letting the music wash over you.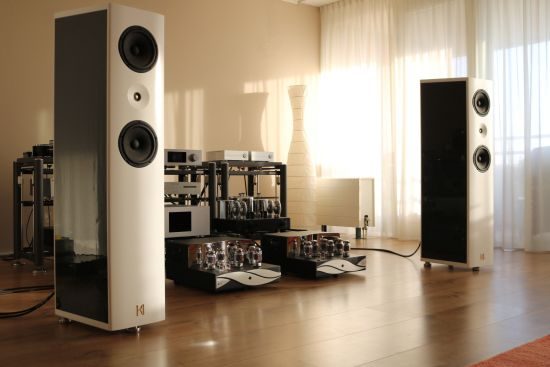 With the Kroma's, the Zesto Eros 300 power amplifiers clearly have more than enough power reserve. There is just never a feeling that they need to flex their muscles. This is not to say that they sound non-muscular, quite the contrary, actually. It's just that the music flows so effortlessly and so fluidly that it absolutely does not sound like there are huge multi-tube amps at work. Amplifiers with multiple output devices (be that transistors or tubes) can often also have an unwanted side effect and typical multi-transistor amplifiers can make the music sound strident or rough, or both, while typical multi-tube amps can add blur or fatness, or indeed both. With the Eros 300, however, I heard none of these effects. It's not just a Push-Pull design, of course, it is also Class-A. In this case, this means that all 6 tubes amplify the entire signal in Class-A with 3 of them in positive phase and 3 of them in negative phase. I suspect that the Class-A aspect has a large effect both on the perceived continuous flow as well as the solidity and authority of the bass. The bass really is something else and although it seems logical to attribute that only to the Eros 300 amplifiers, I found that the Leto 1.5 preamplifier absolutely also adds its share.
I've heard very powerful bass from a tube amp with an Audio Research VT-200 with 8 pairs of 6550 tubes but, while hugely entertaining, this amp's bass was of the big, beefy, and fat kind – it lacked definition and speed. On the other end of the scale, the Ayon Spirit III is unique for its super-tight and very solid sound. The Zesto system's bass is solid, authoritative, and well-defined but without ever becoming dry or square. I guess you could say that it falls somewhere between the extra-tight Ayon and the overly lush VT-200. In terms of dynamic impact, with the Kroma's at least, the Zesto system seems to be a little restrained, when compared to the Ayon Spirit III or the CH Precision C1 + A1.5 system and compared to these amps, the Zesto's tonality is also very slightly dark. Importantly, though, there is never the sense of there being an imaginary ceiling cutting off the treble at some point. More likely it is gently rolled off, in line with many other tube amplifiers. The treble itself is well-refined and airy and, above all, very well-integrated – it never sticks out. It is simply fully integrated with the rest of the frequency spectrum and that's what I find is most important.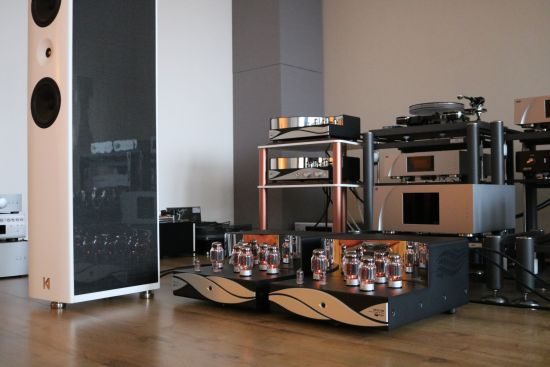 Individual Assessments
Although the manual states that it is not recommended to drive the Eros 300's directly from a DAC or to use passive volume control, I figured that the CH Precision C1 is no ordinary DAC and has no passive volume control either, and so, I removed the Leto 1.5 preamp and connected the amps directly. From earlier experience, lots of it with Wadia DACs and CD players, I know that this can improve the bass solidity and dynamic impact but at the cost of some finer nuance and treble fluidity. From more recent experience with the Ayon Spirit III amplifier, however, I know that feeding its power amp section directly from the CH C1 DAC offers absolutely no improvements over using it as an integrated amplifier with the same DAC. Very much the same thing happened with the Zesto system when feeding the Eros 300's directly from the C1 DAC. Yes, the bass was a little bit more solid but at the expense of pretty much everything else. The soundstage collapsed, the fluidity decreased, the treble became darker, and most of all, the musicality diminished significantly. Clearly, the Zesto Leto 1.5 preamplifier has a large stake in the matter.
I also experimented with both output transformer taps. The Kroma's are 8-ohm speakers but depending on the circumstances, and with some brands, sometimes the 4-ohm output can result in a more engaging sound. Well, not here. While the 4-ohm outputs did result in a subjectively subtler delivery that had a little bit more treble air, this came along with a softening in the bass and a reduction of the dynamic impact meaning that the 8-ohm outputs were absolutely preferred for these speakers.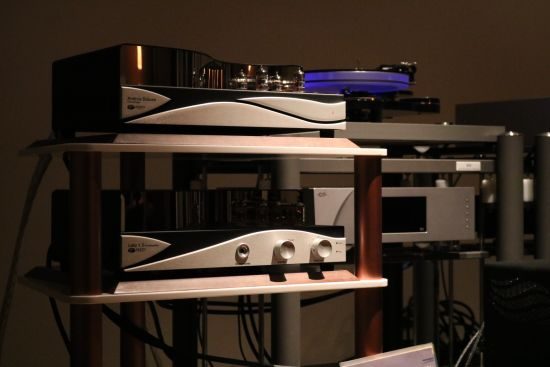 Leto 1.5
Just how great the Leto 1.5 preamp is, becomes clear when comparing it with the Ayon Stealth preamp. The latter has always been a champion in terms of bass power and tonal fullness and while the Leto 1.5 doesn't improve on the Ayon in these areas, it is considerably more detailed and transparent as well as more airy and refined. More impressively still, the Leto 1.5 is not only more agile and articulate, which might indicate a move toward a more rigid or technical sound, but it also injects the music with a more lyrical quality. The Ayon's earthy sound may still rule when it comes to rocking out loud but otherwise, the Zesto trails ahead. While the Ayon remains the most solid-sounding preamp, the Zesto is also not extremely far off in that field and if not as solid and full-bodied, the Leto 1.5 is very dynamic. It also has another great quality which is its ability to provide a clear focus while also filling the room with its huge soundstage. Pacing-wise, I wouldn't say there is much between the two, both sounding foot-tappingly fast. Ultimately, much of a component's success hinges on the match with other components. Since the Eros 300's are quite sonorous and earthy themselves, the agile and open-sounding Leto 1.5 works super-synergistically with them. Perhaps the Leto 1.5's best quality is that it is very much a chameleon. It always transparently relays whatever the source is feeding it. And while some other very transparent preamps may become cool or uninteresting in the process, the Leto 1.5 actually makes the musical message come across more vividly.
Andros Deluxe
In operation, the Andros Deluxe is a delight: its controls are easily accessible and produce no clicks or pops and it's very easy to find the right loading value using the big rotary knobs. For the ViRa Aidas Rainbow cartridge in the Origin Live Illustrious arm, I settled on 300 ohms.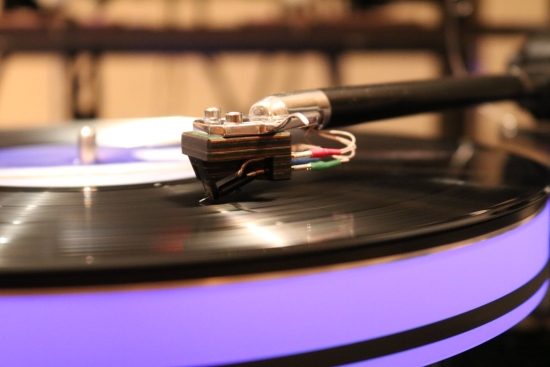 ViRa Aidas Rainbow cartridge on the Origin Live Illustrious arm
The phono stage is every bit as revealing as the Leto 1.5 preamp and just as refined, fluid, and airy, but fuller and with a subtle dose of creaminess. It has a well-paced and transparent but slightly rounded delivery that is very easy to relax into. The slight softness is not something that really stands out, though – during my initial listening it actually seemed to be a chameleon, just like the Leto 1.5 preamp, seemingly adding no character of its own. However, in a direct comparison with other phono stages that I have at hand, such as the entry-level Schiit Madi, the mid-range SW1X LPU-1, or the very high-end CH Precision P1, the Zesto does have a noticeably rounder and smoother presentation. It's nothing to be worried about too much, though, unless one is after the tightest and most articulate delivery, which, in many cases will come along with a reduction of the musical flow. And that is something that the Andros Deluxe does magnificently. Musicality – I use that word entirely too much. In itself the word is meaningless but it is something that immediately springs to mind when listening to LP's with the Zesto system. There is absolutely no masking of fine detail – you really do hear everything, yet the music always sounds effortless. Especially when paired with the Zesto preamp, the combined presentation is utterly free from hardness, electronic influences or other kinds of artifice.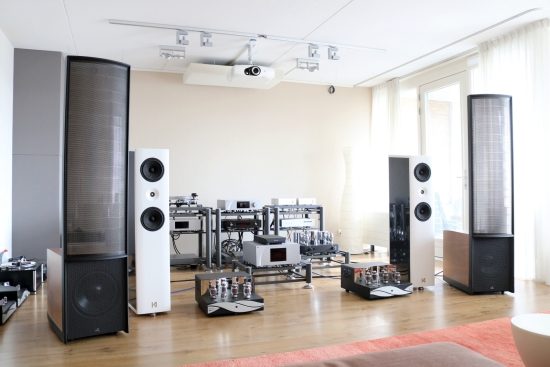 Martin Logan ESL15A loudspeakers
As an alternative to the Kroma's, I also put the Martin Logan ESL 15A's to use. As it panned out, I did not get around to trying the Eros 300's with these speakers but from earlier experience, I know that not many tube amplifiers will work well with these electrostatics. Due to their inherently very low impedance (4 Ohms nominal but only 0.5 Ohms at 20kHz), all the tube amps that I tried sounded woolly and dulled in the treble to some extent. The tube amplifiers that worked best were the double set of PrimaLuna DiaLogue Premium HP switched to mono, although even these did not sound as open and articulate as pretty much any transistor amp. The HP's use 8 EL34's per channel, and while the output impedance will be the ultimate deciding factor, this does seem to indicate that multi-tube amplifiers may do a better job than single pair designs. And if that is indeed the case, then the Zesto's might have performed well indeed.
In any event, using the CH Precision A1.5 power amplifier, I did try the Leto 1.5 preamp and Andros Deluxe phono stage with these speakers and that worked absolutely delightfully. Especially the preamp, that already ranked high on my scale, impressed me even further with these speakers – highly focused and fully transparent to the source yet fluid and highly engaging, it really is a reference-class design. Not that the phono staged was underperforming, far from it – the pair always made music in an effortless, even-handed, and engaging manner, even more so than it did with the Kroma Audio Carmens. It was only when comparing with the CH P1 phono stage that it was confirmed that even more dynamic impact was possible along with even more credible texture and timbre. But at what cost! Nevertheless, the Andros Deluxe is extremely well-balanced and really the only aspect of its performance that I would like to have seen differently is that it is a little bit too smooth. But that will also be a matter of taste and, importantly, system-matching. For instance, the Origin Live turntable sounds full-bodied and quite rich, more so than the average turntable, so that is definitely a factor. I suspect that many folks will absolutely love the slightly euphonic sound of the Andros Deluxe, especially as that also makes it more of a musical omnivore.
Like the CH P1 phono stage, the CH A1.5 power amplifier is admittedly very costly and, I suspect, also not a likely pairing with the Zesto's. The only other power amp that I currently have at hand is the humble NuPrime ST10 but imagine my surprise as it turned out to work absolutely brilliantly! This very affordable class-D amplifier drives the Logans without breaking a sweat but this combination also retains the Zesto pairing's tube richness and offers extremely solid bass, a full and sonorous timbre and incredible dynamics. Interestingly, the NuPrime's solidity and dynamics filled in very nicely for the more relaxed nature of the Zesto Andros Deluxe phono stage, the pair effectively performing to each other's strengths.
Of course, the NuPrime does not possess all of the CH's attributes nor does it fully relay all of the Zesto component's transparency and refinement but the performance is absolutely highly involving. The main message to take away from this is perhaps that Class-D amps should not be dismissed on the grounds of them not being "musical". Trust me: they absolutely can be. Especially with a front end as great as the Zesto.