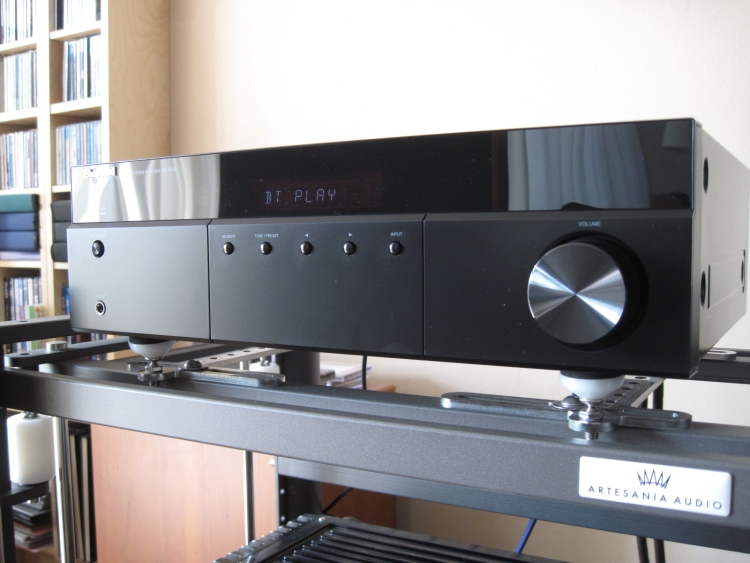 Stereo 100w receiver with Bluetooth v3 playback capability
A simple yet good sounding and effective solution that caters to most people's wishes, at an affordable price.
Review sample kindly supplied by Sherwood America
Retail price approximately 459 euro
Introduction
If you need or want surround, there are plenty alternatives, but if you are looking for solid 2-channel playback, none of them are as straightforward as the RX-4508, and none of them will likely sound as good at the same price.
The RX-4508 offers 2 regular analog inputs (for CD players and such), an MM phono input and AM/FM antenna input for the built in RDS tuner. There's no digital input, which I think is an omission that should really have been there. Then again, perhaps having Bluetooth is already enough. For the sound quality at least, as I will explain below, there is no need for a proper digital input.
The Sherwood is built using only dicrete electronics. A peek inside reveals that there are no IC's anywhere: only good solid engineering using a big linear power transformer, a smaller standby transformer, transistors, resistors and capacitors, just the way I like it. The power amp stage uses what appear to be Sanken bipolar transistors, which is a very good thing. The digital parts btw are nicely separated from the analog section by means of a large heatsink that spans the entire unit's width.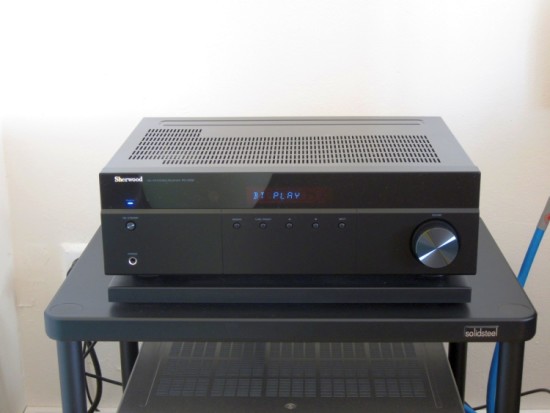 Bluetooth
The Bluetooth implementation is v3, including A2DP and AVRCP/aptX. Operation using Bluetooth couldn't be simpler: switch to the Bluetooth input using either the front panel button or remote control, enable Bluetooth on your playback device if you haven't already, choose Sherwood RX-4508 and Bob's your proverbial uncle. Once connected the signal is super-stable and during my testing not once produced a hickup.
During playback you can select tracks on the playback device, via IR remote control and even via the RX4508's front panel buttons. The display will state "next track" and the unit behaves just as if it were a CD player.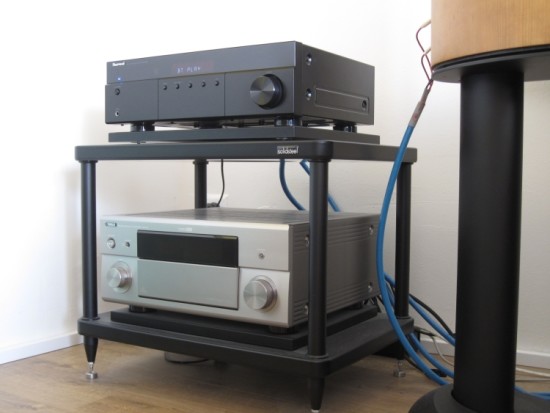 First I listened via Bluetooth to my iPhone, with the RX4508 connected to my main system using one of its two line level outputs. Soundquality was surprisingly good, with a full sound and no noise or hiss whatsoever. Naturally it's not entirely a match for a Wadia 171i but of course one also wouldn't expect it to be, nor could it be, as the 171i provides a digital output that can be connected to a high end DAC, while the RX4508 only provides an analog output. Considering that, the result is actually pretty impressive.
The rear panel speaker connectors take direct wire but also bananas, one only needs to remove the CE-enforce plastic covers.
Now it was time to assess the amp for what it is: an integrated amplifier. I set it up in my surround environment, connected to the B&W N805 speakers which are normally driven as rear speakers by the Yamaha DSP-Z7.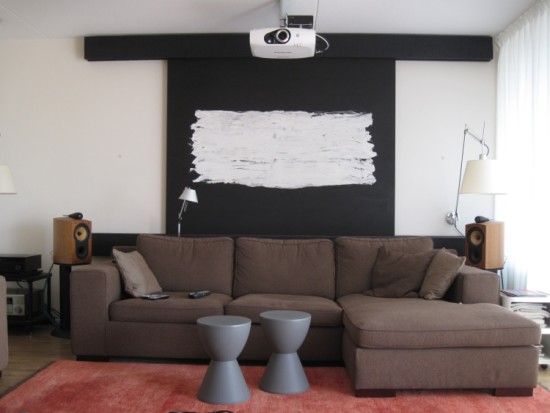 Driving the N805's directly using Bluetooth, the RX4508 sounds reassuringly stable and has a transparent, clean sound with lots of power and no agression. It's not a "beefy" kind of sound, but also not a threadbare "class D" kind of sound. Articulation and detail retrieval is very good, perhaps even better than with the Yamaha Z7. The 100 watts on tap really do deliver, as evident when driving the 805's to very high levels. The 805's may not be the most difficult speakers on the planet, but they're not exactly easy to drive either. The RX4508 in any event has no problem at all driving them.
The 805/RX4508 combination sounds very natural and convincing, with no evident feeling of artifice as I do have with similar priced surround amps such as those from Denon. When I still owned the Denon AVR2802 I remember listening to music with it connected to the same pair of 805's and it sounded a lot weaker. Compared directly to the Yamaha Z7 however, I miss some bass solidity and fulness of colour, but considering the price difference that's comparing apples and oranges.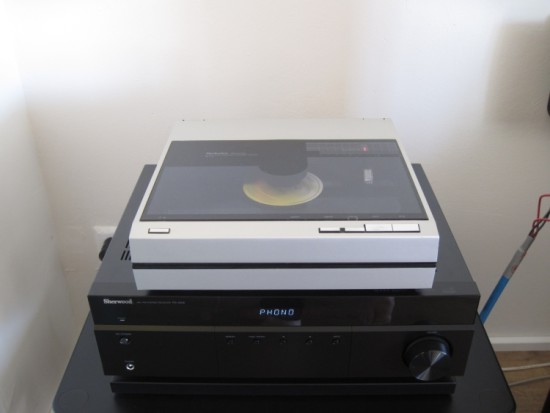 Just for fun, I connected a Technics SL10 to the RX4508's MM input. The resultant sound, just like the amp's overall character, is clear and open. It really works well enough but the MM preamp does not provide as much fullness in the bass and overall colour as I'm used to from this particular record playing in my main setup. In that regard, I preferred the Bluetooth input.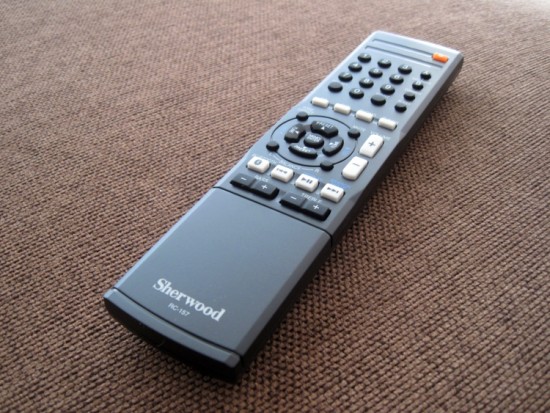 The RX4508's IR remote control has every button one could wish for, even direct input selection, Bluetooth track selection and tone control. The latter's implementation I liked less, with the center frequencies seemingly chosen too much toward the midrange. The result when adding bass is too much boomyness, and when adding treble, the midrange comes up too much. So better leave those controls alone.
The remote itself works exceedingly well: even when pointing away from the amp, toward my windows (that are covered with curtains), the amp on the other side of thre room still reacts perfectly.
Conclusion
Considering its price point, the RX4508's is a surprisingly good amp. Nothing in its operation or sound gives hints at its affordable price tag. The only aspect that does, is the cover, which is made from thin metal sheet. I wouldn't place heavy components on top, but otherwise, the build is excellent at the price point. Importantly, sound quality is above par for this price point, easily better than similarly priced surround amps, with more than enough power on tap for even power hungry speakers and operation is intuitive and flawless. If you have limited funds, don't need a classic digital input and place high importance on Bluetooth, then this could be the ideal stereo music playback hub.