Electrocompaniet AW180 and AW600 Nemo – part 3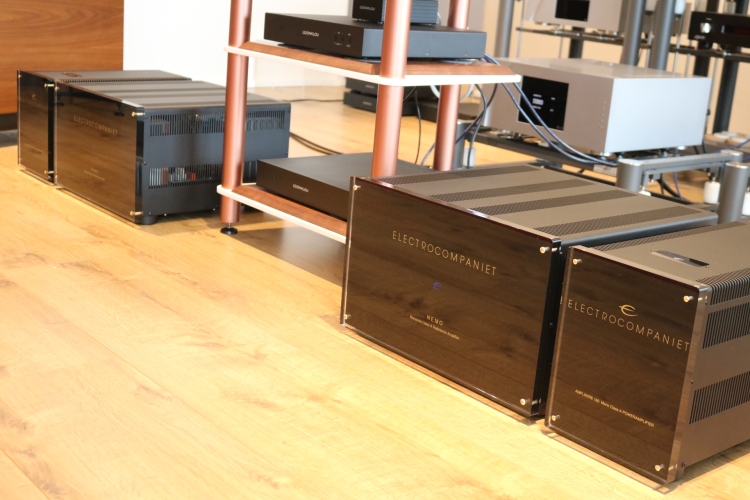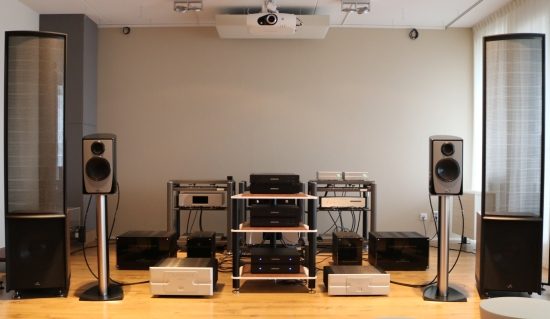 Martin Logan ESL15A
As the Logans are normally connected to the CH Precision A1.5 and this combination majors on resolution and refinement which were also some of the areas that matter most to me with this system, it took me some time to appreciate the very different presentation after switching to the Electrocompaniet AW180's connected via the Lejonklou preamp.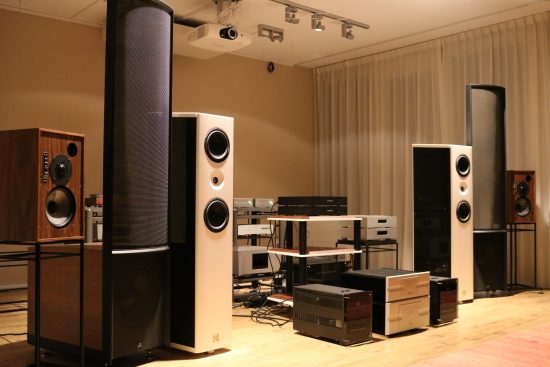 Bigger and more voluptuous but with less precise bass, darker in the treble and more sonorous overall, the delivery worked wonderfully with some tracks and not so great with others. With fast music such as Jamiroquai's Butterfly or Depeche Mode's The Dead of Night, all the subtleties that are buried deep into the mix, do not really stand out enough. But play something more relaxed such as Bebel Gilberto's Somewhere Else and the appeal of the Electrocompaniets is immediately clear. With such music, they provide me with an instant emotional connection, even more so than with the CH A1.5. They also create a very wide soundstage with subjectively better-differentiated vocals. It's not that the imaging has improved or the delineation is sharper, but still, vocals seem to come across somehow more vividly. The midrange is quite strong but also has a certain clarity to it that cannot simply be described as forward or loud or edgy. Classical music also fares very well with these amps as they lend a very convincingly natural "wooden" timbre to violins while creating a large and very believable impression of the acoustical venue.
Moving on to the AW600 Nemos works out precisely as in earlier comparisons: also with the Logans, these amps take what the AW180's do and improve the sound across the board. The sound is now tighter, more confident, and more communicative. While I feel that the balance is still a little overly dark and voluptuous, I should indicate that the A1.5 is not exactly voluptuous itself, requiring a certain setting on the speakers' woofer sections that no longer is ideal for the fuller sounding Electrocompaniets. All that was needed is a slight decrease of the bass level on the Logan's woofer sections.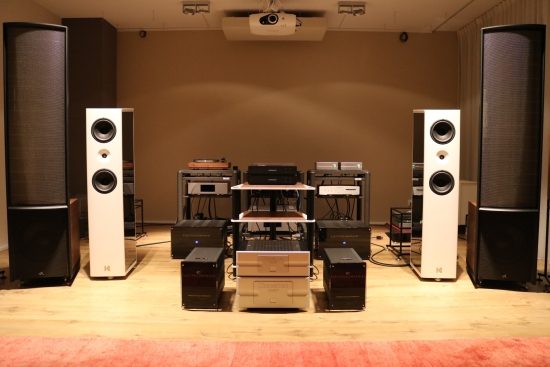 With the bass level well-balanced, the sound is positively energetic and highly enjoyable. Depeche Mode now has the necessary grunchy feel and the other more crowded-sounding tracks now also sound more clear-cut. After listening some more, I succumbed to the idea that the Electrocompaniets are not meant as laboratory precision instruments but rather for simply enjoying music. And that is precisely what they encourage, to not worry about details. What also happens is that due to their darker balance, less focus is drawn to the foils or their inherent character. In that sense, these amps are something of a perfect antidote if one wants to some extent "normalize" Martin Logans' generally very open delivery. Of course, with the ESL15A's we are talking speakers with absolutely massive active bass sections. These particular models don't need any help in the bass department and they also don't have such an exposed upper midrange as some of the smaller models can have in some circumstances. But I can definitely imagine that the Electrocompaniet amps would work wonders with smaller and/or passive Martin Logans.
DAC-direct
After I found that adding a preamp helped the Electrocompaniet amps sound more engaging when partnered with very transparent en articulate ancillaries, I left it in place for the majority of the remaining listening. The Lejonklou preamp's smoothness proved to mate extremely well with the tight and articulate A1.5 and especially when using the very accurate Paradigm speakers. But with the much fuller and darker sounding Electrocompaniets, could it be that the Lejonklou's gentle character is no longer ideal when using speakers that have a full and rich character, such as the Kroma's or the Grahams?
Taking the plunge with the Kroma's and with the C1 driving the AW600 Nemos directly using CH Precision Balanced Link XLR cables, the sound is definitely drier and more direct but still slightly warm, only now it's a dry warmth rather than a wet warmth. At first, I was not so sure if I actually liked this more direct and less dreamy sound. But after playing more tracks, especially some fast-paced and dynamic pieces, and cranking up the volume, I knew that I did! The Electrocompaniet amps certainly like to play a little (or a lot!) louder, thereby enhancing the dynamics as well as the perceived resolution. Depeche Mode is now precisely as edgy as it needs to be but also explosively powerful in the bass and the differentiation of instruments is now very good. Meanwhile, the sound did become less dreamy which affects other kinds of music such as slow R&B or soul with sultry vocals.
So, should a preamp be used with the Electrocompaniet amps? Well, that is something that depends on the combination that is made and also is entirely a personal matter. As I found out, a preamp can help make the sound more involving but this just is not a hard rule. The proof of the pudding will be in the eating.
The matter of control
Both the AW180's and the AW600 Nemos have an iron grip over loudspeakers. The thing is that this is not always required and perhaps not ideal for all speakers.
Indeed, the first pair of speakers that I tried, the very highly refined Paradigm Persona B's, are an example of speakers that don't pair so well with the Electrocompaniets, especially when used without a preamp. But even then, the feeling is of a portion of the playfulness and expressiveness having been squeezed out of the performance. The Kroma Audio Carmens's certainly loved the extra grip. These speakers' inherently voluptuous bass and lower midrange are nicely kept in balance while the already great communicative powers of the speakers are even further enhanced by the Electrocompaniet treatment, making for an engaging delivery. The Martin Logans don't necessarily need so much control but as I found out with the Electrocompaniets as well as other very powerful and controlled amps, they certainly don't mind it. The Graham LS5/9f's sounded utterly fantastic with the Electrocompaniets and I suspect this is because these speakers sound very relaxed and free-flowing themselves, making the Electrocompaniet's ass-kicking work like a charm. I also suspect that these amplifiers like to flex their muscles a little and they seem not to be made to be only idling along. To confirm this suspicion, I had wanted to try the amps with the Magico Q5's which are known to be a pain in the butt in terms of getting their bass to be well-controlled but alas, this could not be organized in time.
The matter of resolution
As I wrote earlier, I have a tendency to get stuck on matters such as tightness, articulation, and resolution. These things can translate to very accurate bass and a retina-like portrayal of all the subtle sounds that make up the musical performance. For the largest part of my audio journey I have used ribbon tweeters, planar magnetostatic loudspeakers and electrostatic loudspeakers and these products excel in the aforementioned areas which explains my focus on these aspects. With such speakers, the natural tendency is to find partnering equipment that also has superb resolution and I found this in Jeff Rowland previously and currently in CH Precision. While the Electrocompaniets do not have a retina-like resolution I should note that precious few other amplifiers do. The Brystons don't and neither does the Soulution 711, to name an extreme example. So, this is very much a relative matter, especially so because music is more than just resolution. While I love an articulate and highly resolved delivery I also care a lot about a believable timbre and a lifelike, energetic and impactful sound, and all this, the Electrocompaniets deliver in abundance.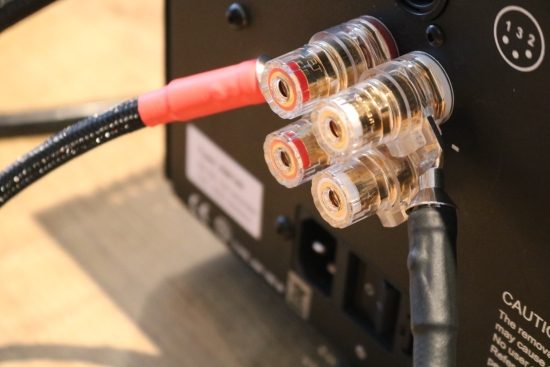 Above: the AW180's have the speaker connectors positioned in a strange fashion: right next to and on top of each other, making turning them very hard. As can be seen below, the AW600 Nemo's do not have this problem.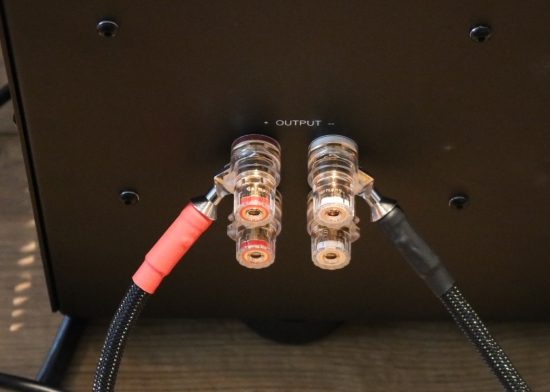 Conclusion
Having tested the AW180's and AW600 Nemos simultaneously and with various loudspeakers has given me a very good handle on their respective performance. Both models provide a ballsy, sonorous and slightly dark sound with a very natural timbre. These amplifiers' immense power reserves make that they won't run out of breath easily but their iron grip also means that the sound can become too controlled when partnered with other electronics and speakers that are tight-sounding themselves. I have the distinct feeling that these Norwegian heavyweights are happiest driving power-hungry speakers although they also worked fabulously well with the very relaxed but relatively easy to drive Graham Audio LS5/9f's.
The AW180's are really great and actually very similar in character to the AW600 Nemos. Like their bigger brothers, they have no trouble driving any loudspeaker that I connected to earth-shattering volume levels and they remain stable under all circumstances. However, if the budget does not stretch as much as is required for the Nemos, I wholeheartedly suggest not listening to them because they will spoil a person. Even if more expensive or more powerful models need not always be universally better than their lower-end stablemates, the Nemos simply outperform the AW180's in literally all the technical aspects as well as lyricism and emotional involvement.
Manufacturer's website: Electrocompaniet
Distributor for the Benelux: Colab