CH Precision A1.5 part 2/3
Miracles do exist!
The sound
The A1 was already state of the art in my book, so I was a bit skeptical of the claimed improvements, but the difference is immediately clear and it's really not subtle! The A1.5 has increased power while not only retaining all the other aspects of its sound that are so precious to me but it actually further improved on each and every one of them!
Ok, so get this: the A1.5 has a more authoritative sound with a fuller, more solid bass that also has more impact but at the same time is even more precise and articulate than that of the A1. Further, it has a richer, more full-bodied midrange that is also more transparent and even more communicative. Finally, its treble is even more fluid and refined while fully retaining its already superb air and resolution. Add to this the overwhelming sense of a more free-flowing, more lyrical presentation that is actually more organic and natural and one has to wonder if miracles do in fact exist.
Probably because both brands come from Switzerland, the natural inclination is to compare CH Precision with Soulution, even if the two brands don't share any similarities in design. Or maybe it's because they both strive for precision. Be that as it may, some time ago I've had a Soulution 711 in my system very briefly, courtesy of audio buddy Niels. So, any comparisons at this time can only be done rather globally and from memory. But since I have compared the 711 directly to the A1's and also have compared the 711 to various other amps using Apogees and the Wilsons only months ago, I think I have a reasonably good handle on its sound, relative to the A1, and by extension, to the A1.5. As I already detailed in the C1 + A1 review, these two amps really sound quite different, with unique, and largely mutually exclusive, virtues. Without going into this too deeply, the main aspects of the 711 that stood out for me were its immense bass solidity, its rich midrange, and its 3D soundstaging but the A1 at that time countered with higher resolution and a more fluid, more refined sound.
Coming from a long history with Martin Logan, Magnepan, and Apogee speakers with Jeff Rowland amplification, I guess I will forever remain a sucker for low-level resolution and refinement, even if solidity, neutrality, speed, and dynamics have become ever more important to me in the last few years. That's why I think so highly of CH Precision: the brand combines all the sonic aspects that I find important, into a single amp.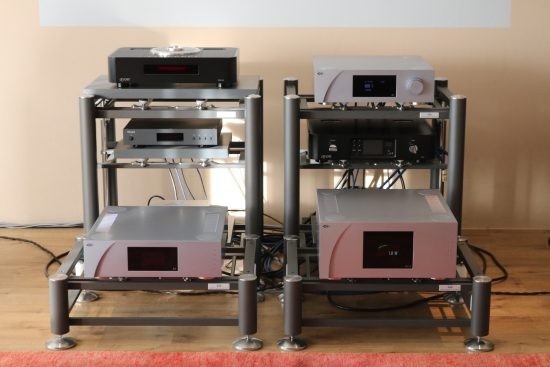 Because the A1.5 is more solid and sonorous in the bass, richer and more organic in the midrange and also has a more enveloping soundstage than the A1 did, one could deduct that the amp has gained more of what made the 711 so endearing to me while becoming even better at the things that it already did so well. It's like having two cakes, and eating both! Despite having moved closer to each other, however, I think they still remain different amps that cater to different tastes but only a direct comparison would provide any definitive answers. What's unequivocally true for me, in any event, is that the upgrade from A1 to A1.5 has turned an amp that I already loved into an absolute champion, and it is absolutely a keeper!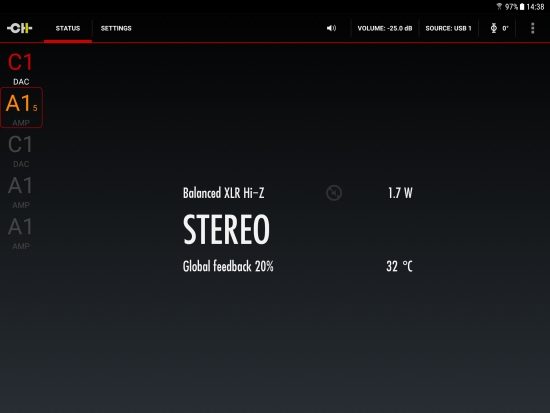 Above: the Status tab, only one of the many possible display settings via the CH Control App.
Matters of Feedback
I mentioned the new 10% feedback setting. The A1 goes from 0% straight to the 20% mark and indeed I found myself wandering between these two settings a lot, with the Wilsons as well as the Kroma Audio Carmens. 0% gave a beautifully fluid and free-flowing presentation but at the expense of bass tightness and articulation. Vice versa, the 20% setting made for excellent bass but reduced the fluidity in the midrange and treble. With the new A1.5 and the Wilsons, at 20% global feedback, the sound is fluid and free-flowing, yet at the same time tight and super-articulate and it becomes even more lyrical and the soundstage even more enveloping at a setting of 10%, which is the setting that I prefer with these speakers.
And the A1? Even at a setting of 0%, it does not reach the same level of free-flowing fluidity as the A1.5 (at any of its settings) and just the same, even at a setting of 40 or higher, the A1 cannot reach the same level of bass control and explosive dynamics as the A1 even at its lowest setting. Go figure.
Conclusion
CH precision has not only succeeded in boosting the power of an existing already superb amp design while leaving all its delicate attributes intact but actually significantly improved its performance across the board. Importantly, the improvements are not only of a technical nature but also result in a more musically engaging delivery. the A1.5 is nothing short of a giant killer amp.
Yup: miracles do exist! Even at 3 minutes into the listening session, I already knew that there was no way back! Owners of the A1 should not hesitate to contact their dealers for specifics about the upgrade. I promise: you will be astounded, or your money back! Well, actually, I cannot really make that promise on behalf of CH, but I can promise that you will not be sorry!
Continue Reading (for the more technically-inclined)