Audio GD Master 2H Mono Power Amplifiers – Part 3/3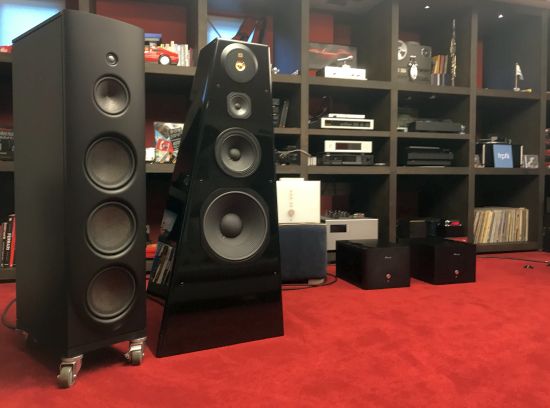 Niels setup – JBL 250ti Jubilee
While 250/500/1000 Watts is a good indicator of an amplifier's stability and power, there's nothing quite like an actual test. My own speakers are not very efficient but neither are they extremely hard to drive. That's why I decided to haul the mono monsters to audio buddy Niels' place to try them with a pair of Magico Q5's. Niels is in the fortunate position to own more than a single pair of speakers and he likes to swap them around. Right now, he has the JBL 250ti Jubilee set up instead of the Magicos. So, it made sense to first try the Master 2H's with these speakers.
After having listened to the JBLs using a Zanden 6000 integrated tube amp with newly placed tubes (which admittedly need some running in) both using the 6000 as a power amp along with the Spectral DMC-30SV preamp and straight from the Zanden 5000 Signature DAC using the 6000 as an integrated amplifier, the Audio GD amplifiers again sound remarkably good. Even though they were switched on only moments ago, the sound is immediately free-flowing and lyrical but also superbly tight, articulate, open and dynamic. We simply could not find fault with these amps' delivery. I have heard many amps in this setup, and so far, have always preferred the Soulution 711 but in some ways, I think I now preferred the Audio GD's. While the 711 has richer and deeper textures and even more solid bass, the treble is its weaker area and it is here where the Master 2H's sound more fluid and organic. I almost don't dare write it but, especially when coming from the Zanden, the Audio GD's were remarkably non-transistor-y. It's not that we were tricked into hearing the Zanden or any tube amp for that matter but that the Audio GD's consistently seem to have no sound of their own and just mold themselves to the music.
Niels setup – Magico Q5
Since the JBLs have been set up meticulously and Niels has not yet found a reliable method to record their precise precision, what with their angled and curved cabinets, we decided to leave them where they were and place the Magicos side by side. With close to 180 KGs per speaker, this was remarkably easy to do thanks to the castor wheels that Niels fitted prior to moving them out of the way to install the JBL's.
Switching from the JBLs to the Q5's positioned on the outside, the imaging and focus were severely hampered so we moved them to in between the JBLs. Considering that this was still far from the perfect position, that was really not bad at all. Since I already knew from my own tests how good the M2Hs are in terms of imaging, this test in Niels' system was mostly just to see how well the Audio GD amps would drive these speakers.
With a nominal impedance of 4 ohms the Q5's may not seem all that difficult until you realize that they have minimum values of 2.8 ohms at 40kHz, 2.75 ohms at 56Hz and 3 ohms at 200Hz, along with the kind of phase changes that bring most amplifiers to their knees, and that includes the 711 if pushed hard enough.
Well, not the M2H's! They drove the Q5's with full confidence while sounding utterly neutral, linear, even-handed and highly refined while doing so. And, again, there was not the slightest hint of grain of smear. If there is any edginess in an amplifier, the Q5's will let you know about it, but just as with the JBLs, we simply could not identify a single area where we could fault the amplifiers. Grinningly, I asked Niels if he could locate his torture tracks, the ones that make even his mighty Soulution 711 run out of steam eventually when played loudly enough. I handed him the remote control and prepared for the worst, only for the music to become louder and louder and louder until the woofers were hammering my chest and I started fearing for getting hearing damage. Not that there was ever any edginess or hardness, the treble simply remaind pure and clean. No matter what we played or how loudly we playes, these amplifiers simply did not cave in. But after 1 or 2 minutes I asked Niels to turn it down because it was just too much for me. At that point, I felt like I had been in a roller coaster thrill ride and needed some time to catch my breath.
Conclusion
The Master 1 preamp majors on neutrality, dynamic expression and transparency with a natural, uncolored tonality which makes it an excellent tool to judge other components with. From using and reviewing extremely high-end components I am used to high levels of transparency but to hear a 1400-euro preamp perform on a level so close to the best I have heard is truly impressive. Because it so craftily combines analysis and neutrality with musicality and emotional involvement the Master 1 is one of my all-time favorite preamps. I won't say that it equals the absolute best I have heard at any cost and in every aspect but it is easily the most neutral and most engaging preamp I've heard in the sub-10.000-euro category. And even beyond that, it equals or even outperforms some contenders in certain aspects.
Like the Master 1, the Master 2H mono amplifiers amplify the whole truth and nothing but the truth. Also, like the Master 1, they combine their truthfulness with a very high level of refinement, fluidity and finesse to make for a performance that is not only spectacularly neutral but also highly natural, rhythmically infectious and hugely involving. That these amps also manage to drive the difficult to drive Magico Q5's with a combination of iron fist-like grip and organic fluidity and no hardness ever, no matter how loud you play, is nothing short of amazing. At 4100 euros, the Master 2H's must be the absolute best transistor amps that this amount of money can buy. Moreover, they are the best amps I've heard below the arm-and-leg price category of CH Precision, Analog Domain and Soulution.
I have to confess to liking the Audio GD system so much that I continue listening to it, even long after completing my assessments. This indicates just how very well-designed the Audio GD components are. I absolutely love the CH components for many reasons but if I am being totally honest, I think I could also live with the Audio GD system very happily. Their no-frills, highly neutral yet unbridledly enthusiastic and expressive sound simply never bores.
Audio-GD Reseller (including service and repair) for Europe: Magna Hifi
Manufacturer: Audio GD
Read Also:
Audio GD R8 DAC, Master 1 preamp, Master 3 power amp, and Magna Hifi ACSS cables