Akiko Audio GEM1 Gold and E-Tuning Gold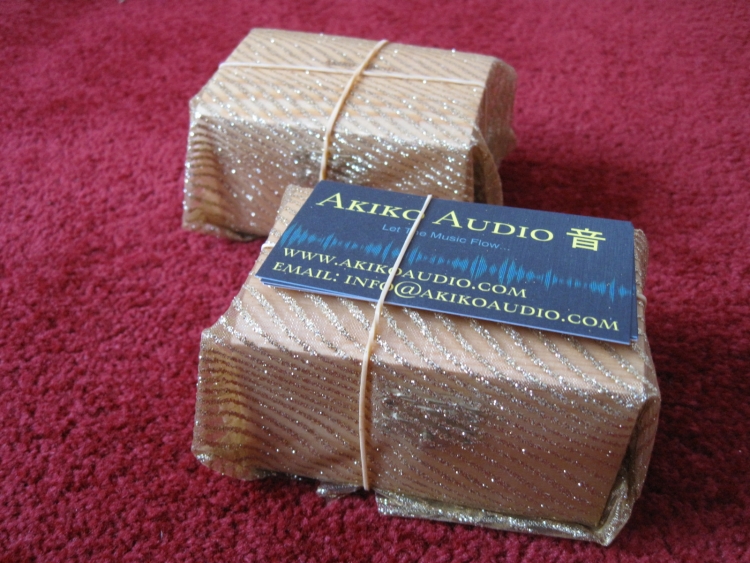 How about some nice controversial tweaks?
Gemstones and gold: not only are they a girl's best friend: starting now they're also a man's best friend!
Akiko Audio is a new company that makes very special audiophile tweaks using carefully ear-selected gemstones and 22 carat gold for the "Gold" versions of the products.
Review samples kindly supplied by manufacturer Akiko Audio

Akiko Audio
Akiko Audio's products are all based on more or less the same idea: to use gemstones to reduce interference that is picked up by cables. The product line includes speaker cable "boxes", Power cable "wraps" and equipment bases. The products are filled with a mixture of gemstones, minerals and 22 carat gold, depending on the version and application. The GEM 1 Gold contains 7 specially selected gemstones and 22 carat gold. The E-Tuning Gold contains a mix of gemstones, minerals and 22 carat gold.
The Akiko website provides some sane explanation for the audible effects, and I loosely translate: "It is scientifically proven that certain gemstones are capable of absorbing environmental electrical energy, Turmaline (Toermalijn) for example has piëzo-elektrical properties, meaning that it vibrates when an electrical signal is applied, in turn absorbing electrical energy."
For testing these tweaks I made sure to take them to another room before listening. So when I talk about listening to the system without them, the tweaks are in another room down the hall. And when listening to one tweak, the other is also in the other room. This is important because some tweaks, maybe these too, can already have an audible effect only by being somewhere in the listening room. All listening sessions were done in a well-warmed up system, and I always double checked my listening impressions by repeating the test.
GEM 1 Gold
Whether or not you are a believer, it is easy to believe your ears after you've applied these products. The GEM 1 Gold is a "treasure chest" with gemstone filling in both the bottom and the lid. If you shake the box, it rattles, like Spanish castanets. The miniature chest has hinges and a lock and the inlays are in a different wood and colour. It all looks very cool in a kind of mystical way. The handwork is neat and the dimensions are precisely right: even the cable inlets are big enough for my thick Transparent Reference XL speaker cables.
Listening started with the intriguing little boxes called GEM1 Gold. I applied them first into my main system. Their contribution is somewhat similar to Reference Tweaks' Miracle Wraps, but stronger. Also, unlike the Miracle Wraps, the GEM boxes don't need any time to imprint their signature onto the sound. Right after application, from the onset, their contribution was clear: a certain luxuriousness that is very seductive: an overall harmonic ripening with fuller bass and sweeter midrange and as an added bonus a widening and deepening of soundstage. With some music I found that the music became a little less precise in the bass and less forceful/projected in the midrange. Piano for example is both harmonically richer and less percussive at the same time when the GEMs are applied. But with other tracks and on other occasions I found the music boring after removing the GEMs. It would sound empty and lacking emotionality. This also depended on the temperature in the listening room because the last couple of days were very warm, and whether it was me, or the system itself, it all did sound a bit too smooth at times. And adding the GEMs, in these cases, sometimes made for a sound that was altogether too mellow. But on more normal days (again, me, or the system) I found the GEMs to be a splendid addition, adding a welcome harmonic richness to my otherwise sometimes slightly thin sounding Magnepans.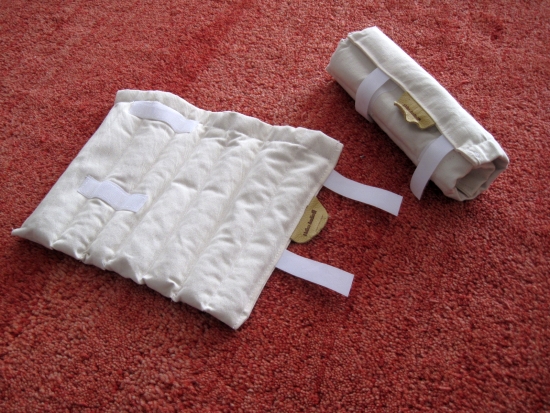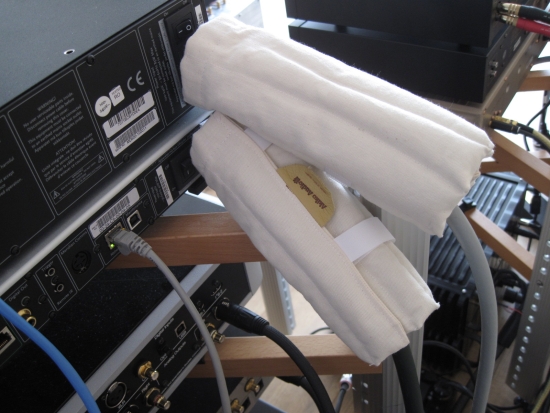 E-Tuning Gold
I applied two pieces of E-Tuning Gold AC wraps at the same time, for maximum effect, and maximum effect is what I got! My source for this review is a Meridian Sooloos combo of MD600 hard disk "transport" and MS600 zone player, the DAC, so to say. I played a track that I knew well, which is a bit lean and dry, but very lively. While the GEM1 Golds did sound reminiscent of the Reference Tweaks Miracle Wraps, the E-Tuning wraps sound different. After the E-Tuning Gold wraps were applied, the sound was definitely sweeter and less dry, but I also found it to be less foot-tapping. Midrange was a bit recessed, and dynamics seemed less forceful, and this effect was stronger than with the GEM1's. Also the harmonic ripening and soundstage stretching that took place using the GEM 1's was less obvious with the wraps. Just to make sure, I removed the wraps, re-applied the GEM's and cued the same track. Sure enough: dynamics were more obvious and the music had better PRAT. It seems that the wraps cause some dynamic restraint. At this stage I have to mention that I am very sensitive to AC tweaks and in fact rarely like AC filtering. This might be caused by the fact that I have many components and as a result many power cables, but the fact of the matter is that my setup doesn't respond very well to AC filtering. Although the E-Tuning Gold wraps are electronically passive, they do appear to apply some sort of filtering to the signal. Now whether I am actually listening to distortion while claiming to love it I cannot reject nor agree on. All I can do is use my ears, and jubjectively, in my carefully balanced system, I preferred the sound without the wraps for its more articulate character.
The wraps work exactly as advertised, which is to take away sharpness and add more warmth to the sound, but in my system they achieve this at the expense of some liveliness and subtle dynamic articulation.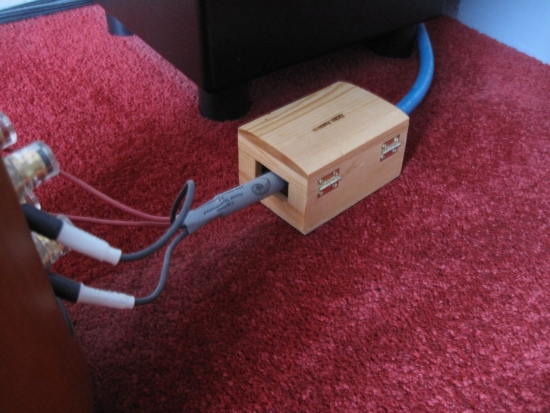 GEM1 Gold applied in the Cinema System
Then, for good measure, I decided to also test the GEM 1 Gold's in my more modest cinema system. I figured that they might be too much of a good thing because the cinema system is setup in a tiny room and as a result has big, big bass and severe coloration and thickening in the lower midrange. I feared for slower bass and loss of transparency. How wrong I was! There was no slowing down in the bass and no loss of transparency, well maybe a smidgeon, but in return there was a gloriously wide soundstage (in my 3×3 meter room!), more depth, richer harmonics and an overall feeling of listening to a much more expensive amplifier. I use a Yamaha DSP-Z7 which is not bad, definitely not for cinema purposes, but it is far from a highend music amp. And indeed after removing the GEMs I have the feeling of listening to exactly that: a home cinema amp. Dynamic, powerful, neutral, but boring and lacking organic richness.
Maybe the GEMs form a better match with the Cardas Quadlink 5C cables than they do with the filtered Transparent cables, maybe they work better here because the main system is already carefully balanced… I don't know the exact reason, but the result in the cinema room is so fantastic that I really don't want to remove them from the system.
Conclusion
In spite of what sceptics might say: there's no denying that these tweaks really do work. The effect isn't even subtle: it is easy to hear and mostly entirely positive. The GEM1's add soundstage width and depth, harmonics and luxuriousness while taking away only little in terms of absolute transparency. I found that their contribution can either be a good thing or not such a good thing, depending on the overall soundbalance of the system. In a well-tweaked, warm sounding system their addition can be a little too much of a good thing. In my main system they worked mostly well, adding a very welcome luxurious organicness but sometimes I missed some articulation in the bass, as if the added harmonic richness also clouded PRAT slightly. For whatever reason, the GEM1's worked absolutely splendidly in my more modest cinema system. So well in fact, that I don't want to give them back. The E-Tuning Gold wraps do exactly as advertised: to take away sharpness and add warmth. But in my system their contribution was simply too big. Conversely, they're probably just what the doctor ordered in systems that suffer from dryness or an overly clinical character.