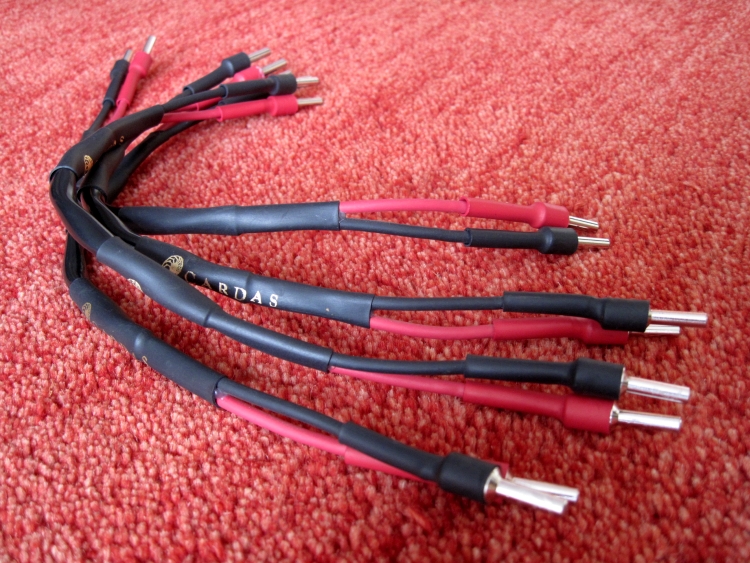 These jumpers do a lot for the sound
I'm sure that anyone would agree that they can make an audible difference but you probably wouldn't say that these short cables would do an awful lot, right? Well, they do. They really transform the sound. And mostly for the better. But I'm not entirely happy yet. Read on!
Early results
Comprised from Golden Reference cable, these jumpers should sound a lot different from the standard OFC wire I use between filter box and speaker. Normally the filter boxes are attached straight to the speaker by means of solid metal connectors. Many people disconnect them to place them separate from the speaker. But what cable will you then use? As it turns out, the Cardas jumpers have much better bass, both fuller and more tuneful as well as better articulated, very nice. The mid frequencies are another area in which Cardas usually excels and they do so here too: more liveliness and an overall more acoustical feel.
Overall, I feel that these jumpers provide a highly interesting upgrade and also provide very good value for money. Cardas cables don't usually come this cheap!
There is however a remaining area in which I prefer the old OFC wires: the treble which is more shut in and less airy now.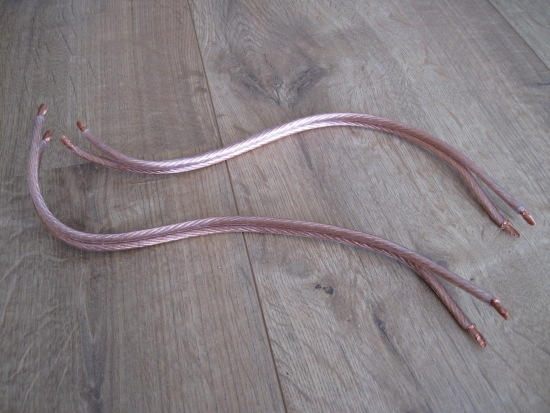 After some running in
After some more time has passed, I have conducted experiments with combining my old OFC wires for treble and Cardas jumper on the bass, but this was not a real success. Although treble retains the airy and relaxed feel that I like from the fine OFC litze strands, the combining of two different conductors results in a disconnect between the two frequency bands, and I returned to using both Cardas jumpers.
Although the treble has relaxed somewhat after more running in, somehow the tightness in the bass is still mirrored in the treble. While accuracy should be what an audiophile is after, the Magnepans sounded more gentle when the OFC cables were in place and even if their resolution then was probably lower, I find it hard to part with that friendly sound.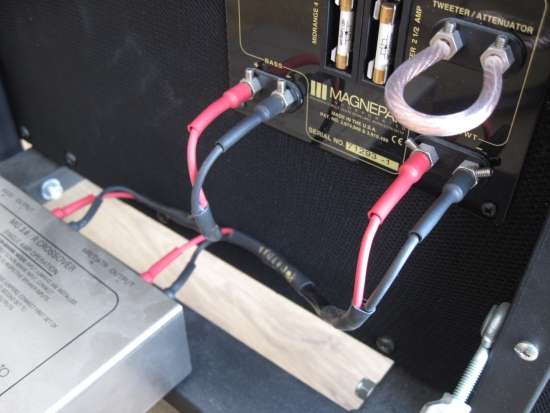 Conclusion
As often happens in audio, there is something of a tradeoff. In applying any tweak, I've become accustomed to having to apply a countermeasure elsewhere in the system in order to regain the overall balance and these jumpers are no different. Be it their connectors, their plating or the conductors themselves, these jumpers provide a major improvement in control and articulation. By subtly changing things elsewhere I managed to get everything balanced again and even if I am still fond of the mellow airiness of my old cables, after I heard how good the bass can be, there is no turning back to the simple OFC cables.
Read Also
Magnepan 3.6R Extensive Review
Upgrading Magnepan Crossovers