Underlay materials and their acoustic properties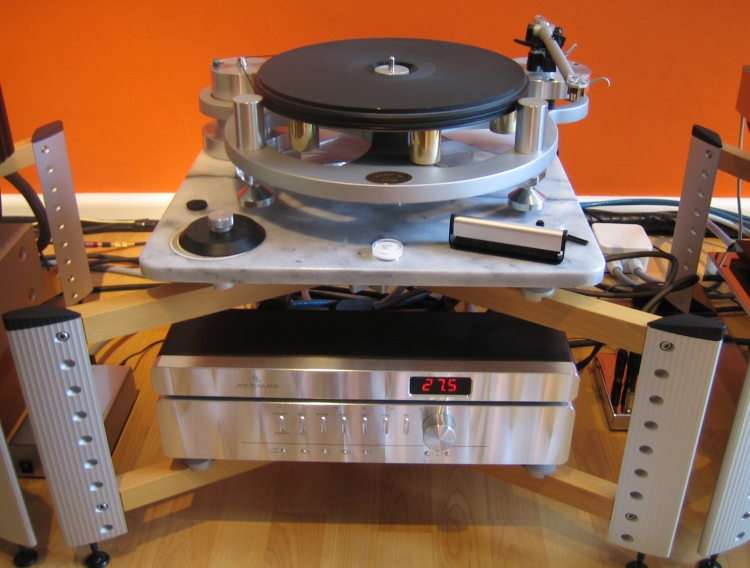 Every piece of equipment can be placed on numerous kinds of underlay materials. All materials have their own acoustic properties
This is a phenomenon that is often being brushed aside. However, its relevance can easily be judged by yourself; use your ears without any preconceived ideas!
Try this simple experiment: first, place and play a piece of audio equipment on a wooden plank, then place it on a pillow and listen carefully; there should be significant differences in acoustic properties. The pillow should make the sound less "attacky", more fluid but also less lively. When you notice the difference these simple actions can make, you will know that some underlay materials can make a little, and others can make a world of difference.
Glass and Marble
Glass is a material that is commonly put down as "evil", but often unfairly so. Think of this: glass is made out of sand, which is rock. Marble, on the other hand, is often seen as a very capable material for audio purposes. But actually, glass and marble are not that different in their properties. Both are rock. Acoustically, they share a number of parameters. Both materials are pretty heavy and solid. When you hit a piece of either material like a gong, you will hear a high-pitched tone. This signifies its frequency of resonance. Both glass and marble add extra "presence" in the "high middle areas". This can be a little bit too much if your audio system is well-balanced acoustically, but many mediocre set-ups can actually benefit from the more "open" sound!
MDF
MDF, Medium Density Fiberboard, is a material that is multi functional and is used widely. This is partly because of its processing properties and because it is structurally dense and heavy. Unfortunately, MDF tends to make the sound darker and bass-heavy and more often than not you loose some tightness and definition. Use a board of MDF as a gong, and you will hear a quite low resonance, completely different from the glass or marble gong. However the frequency of resonance sounds, is often an indication of its effect on the sound.
Chipboard (spaanplaat)
This is a cheaper version of MDF, courser grained and containing more glue. It does not have to be a no-no, though. It can have a positive effect on your sound through its flexibility and relative pliability. It requires careful application though! If you have an audio cabinet with chipboard planks, try using coasters under different positions underneath your equipment; place them wide apart for a tighter sound and closer together for a more relaxed, more loose sound.
Real wood
Real wood is available in many different kinds, and often better than MDF or multi-plywood because of its natural damping. Real wood does not sound dark like MDF, but also not too clear like glass or marble can. However, too much of it can have quite an impact on your sound by pushing its own personality as it were. High-density wood is stiff and solid; this translates into a fast and tight bass and a good focus.
Steel and aluminium
Depending on its thickness, steel and aluminium make excellent constructive materials. When it is too thin though, it can ring like glass. A steel or aluminium construction combined with wooden planks often makes for a solid set-up that has only minimal effect on your sound. Consider Finite Elemente and the Spider Rack. They employ a minimalist approach to use a minimal amount of material to have a minimal effect on your sound.
Conclusion
Try and be broad-minded when looking for materials to underlay your audio set-up. There is no such thing as right or wrong! All situations and set-ups are different, as is everyone's personal taste. It is always a good idea to try out several materials. Do not limit yourself to what is currently in fashion; just try everything out and use your ears!
Also read
Artesania Turntable Platforms and Dampers
Artesania Exoteryc Racks
Finite Elemente Spider and Pagode
Finite Elemente Spider and SolidTech Rack Of Silence
Solid Tech Radius Racks and various Footers
Stillpoints 
Mad Scientist Blackpods