Computer Audio part 2 – File Formats
Computer audio files exist in many forms which differ in quality, but it also matters which application is used to create them and play them back with. Sounds incredible? Read on!
For the sake of keeping this article readable, I'll cut some corners here and there. Nevertheless, I believe that my conclusions are valid and should be taken serious, although their relevance is also related to the quality of the playback equipment, as well as the audiophile sensitivity of the listener.
File Formats
Most well-known are of course wav/aiff and mp3. Apart from these there are compressed lossless formats such as flac. Wav and aiff are essentially the same format, only the headers differ, the data is identical. Both are uncompressed and reperesent more or less cd quality. mp3 is usually compressed to one fifth of the original file but can still sound surprisingly good, as long as the encoding and decoding is done carefully and this is the clincher. A lot of ripper programs of the past have been notoriously bad at encoding, even when selecting high bitrates. For example the program called Audiocatalyst was used a lot when mp3 became popular. The program is very user-friendly but has very bad mp3 encoding. Because of the popularity of the program at that time, I think a lot of mp3's you download now are less good than they can be.
Fortunately, lately the encoders get better and better. For example iTunes uses the encoder from Fraunhofer, who is the developer of many matters mpeg, mp3 included. FLAC is also compressed but in a smart fashion. Rather than throwing away data, it seeks to compress all the data in a way that the file can be fully restored upon playback, a bit like Zipping of a file works.
Playback (decoding)
Playback of a file can also be done well, or not so well at all. This co-depends on the decoder included in the chosen playback application. Not only the decoding of mp3's can be done well or not so well: the same goes for FLAC and WAV/AIFF. FLAC sounds very good but not entirely equal to wav/aiff. In all my tests, wav/aiff are tighter and sharper on the transients whereas flac tends to be more rounded. Actually flac sounds somewhat more fluid than wav/aiff and for that reason, on lesser systems, can even sound subjectively better than wav.
So the application matters?
Indeed. I know how strange this sounds because on the surface most playback applications seem to use standard Windows methods for audio playback, but it must be noted that secretly the signal passes through many more cozy places and conversion stages than you might think. All apps sound different. Even between winamp 2 and winamp 5 there is a large difference, big enough to be heard over computer speakers! Luckily this difference is explainable. The old winamp 2 could easily be made to clip when you played with the EQ too much. the newer winamp 5 never overloads. This indicates a compressor stage present somewhere in the loop. You can actually switch off the so called clipping prevention but that doesn't help enough. Presumably the software is still "in circuit" even when switched off and the data still gets rounded off. This is comparable to the situation where windows always has the kernel-mixer in place to convert any samplerate to the same mixed output. This makes for bad sound but also for a volume reduction. Apparently you can only reach 99.9% of the level, which should be fine you think. But it isn't. Luckily the kmixer can be bypassed using appropriate audiocards and the right settings. But that's another story.
The bitrate isn't the most important aspect of mp3, rather, the encoding process itself is. Even a 96kbits/s file can sound pretty decent if it is made with a program that uses high quality encoding software while a 320kbits/s file, made in a mediocre programme can sound really bad. The widespreak 128k can soud pretty decent and have proven to be good enough for most people. Audiophiles of course demand higher bitates, preferably the highest possible: 320k. And since hard drives are getting larger and cheaper, there's no reason not to use the highest possible quality and that's wav. But if you're stuck to mp3, all is not lost. Even at 320kbs there is still a substantial difference with wav, but not in the sense of a different sound of in the shape of sizzling, phasey highs. These well known artefacts definitely don't have to be there, as long as a quality decoder is used. If you have a good hifi system you can hear the differences easily. The largest differences between good mp3 and wav are: less spaciousness (3D), less focus and less detail. Also the transients are often a little rounded off, making the sound subjectively slower and less dynamic.
The following programs have excellent mp3 encoders:
Easy mp3 encoder
Itunes
FastEnc (Fraunhofer)
And there are many other programs in which Fraunhofer or Lame encoders are used.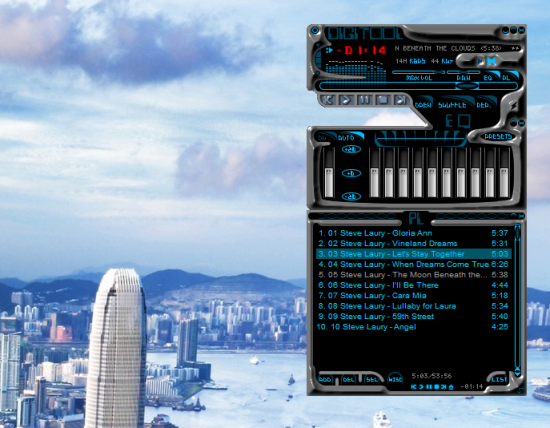 Above: Windows 2.91 using the funky "Digitool" skin, further modified by myself.
Playback applications compared
Playback with high resolution 192k flac file "misery" (free download at HD tracks), and playback of various selfmade, ripped and downloaded wav's and mp3's.
Please note that the short observations right below were made with default settings for all apps. It turned out later that you can get significantly better performance from iTunes and Winamp 5 by using the correct settings. More info and new comparisons are down below.
iTunes (version 8.1)
General: On mac very good; on Windows XP less features, bad processing and playback only up to 44khz.
mp3: In comparison to winamp 2 sharp, phasey and restrained.
WAV: Better than mp3 but still flat and rounded.
FLAC: Doesn't play FLAC
winamp 2 (version 2.91)
General: Nice balance between focus, control, tightness, fluidness and absence of digititis.
mp3: excellent decoding.
WAV: Also very good: fast, open, detailed, dynamic. Only mildly rounded.
FLAC: Does not play flac
Winamp 5 (current version)
General: Nice interface, plays everything, does everything. Sounds fluid and supple but is restrained and dynamically compressed.
mp3, WAV, FLAC: All formats tend to sound relaxed with slightly loose bass, like Mediamonkey but more dynamically restrained. Sounds flatter and therefore less exiting.
Foobar 2000 (version 0.9.5.3) 
General: Minimalistic, accurate, somewhat technical approach.
mp3, WAV, FLAC: All formats sound very accurate but I miss a bit of musicality. Compared to Winamp 2 mostly fullness in the bass and fluidity/spaciousness are missing. Compared to Mediamonkey and Media Jukebox the last two aspects are most obvious.
jRiver Media Jukebox (version 12.0.39.0)
General: Plays all formats, works well, sounds very well balanced.
mp3, WAV: Lighter on its feet, softer and has less attack in the bass than winamp 2 but is more fluid. More body in the bass than with Media Monkey.
FLAC: Fuller in the bass than the other apps.
Media Monkey (version 3.0.5.1187)
General: Not as slick to use as Media Jukebox but its fluid and airy sounds makes it worth using.
mp3: A lot like Media Jukebox but a bit airier and agile. Most fluid of all apps.
WAV: Sounds even more like Media Jukebox than with mp3. More lively and airy than mp3.
FLAC: Thin in the bass but also most agile, fluid and airy.
Conclusions and more info
The programs I like best for sound:
Winamp 2
Winamp 2 has been my favourite player for the longest time, with iTunes behind it since I found out about the Quicktime settings that it relies on. Winamp 2 comes very close to playback in a dedicated WAV editor in which the file was made. Too bad that this app cannot play FLAC, although there may be plugins for this.
Winamp has many settings. Of much importance is the one where you choose your preferred soundcard but also very important is the waveout setting. You should avoid Windows soundmapper but can choose between Directsound and Wave out. Unlike in iTunes, Directsound sounds much softer and is altogether undynamic and uninspiring. In addition, Winamp 2 sounds liveliest if you avoid upsampling and/or filtering of any kind.
Mediamonkey and Media Jukebox / Media Center
The choice between these comes down to taste. Mediamonkey plays almost to the same standard as winamp 2 but is on the one hand softer in the bass, with less attack and on the other hand it is softer in the high frequency, which is actually not such a bad thing because this makes it more friendly to bad recordings.
Media Jukebox is a well-balanced sounding application that has a very nice interface and plays everything to a high standard. Much depends on the audio output method but when used with the best settings, Media Center sounds a lot like Winamp 2. Like Winamp, it has a slight smootness overall and a certain thickness in the bass that I actually like, but people who prefer Foobar will not like.
Getting the most from Winamp 5
I didn't like Winamp 5 before, due to its dynamic compression. Shame, because otherwise it's very well-behaved, having smoother highs than winamp 2. But it is way too rounded off and lacks dynamics and expressiveness. Please note: this observation was done with standard settings.
*** Update august 2010: I installed the latest version (5.58) and found no difference in sound quality. But after some more digging, I managed to find some settings that make a profound difference for the sound quality. If you set them as I will explain below, Winamp 5 will sound more similar to iTunes on Windows (again, with proper settings), which makes it an app that I can recommend after all.
1.) plugins – output – select your soundcard or device directly, don't use windows soundmapper, disable volume control.
2.) plugins – input – nullsoft module decoder – enable FIR interpolation (HQ) instead of Interpolation
3.) General prefs – Playback – disable 24bit playback
4.) General prefs – Playback – disable dither
5.) General prefs – Playback – eq tab – disable limiter
With these settings winamp 5 has finally lost its "compressed" quality. The feeling that the music was playing with the hand brake on is now all but gone. Everything sounds much faster and more dynamic while maintaining the smoother character Winamp 5 has over winamp 2, which may be drier but is also still more exciting to listen to. Winamp 5 now sounds mature and is an excellent choice if you like some smoothing of your music. Winamp 5 is the fullest sounding playback app of the bunch.
Getting the most from iTunes on Windows
This one really is easily the worst program of the bunch. No doubt this has to do with conversion and compatibility with windows XP. On the Mac iTunes is actually excellent. But please note: this is with default settings.
* Update august 2010: Actually, iTunes for Windows turns out to rely on the settings made in Quicktime player. In there you can specify the bitrate and samplerate and make iTunes capable of playing high res files. If you specify 92kz and 24 bits iTunes will upsample (or downsample) all material to that bitrate. Upsampling does a nice job at adding a hint of air and more ease, at the expense of a bit of tightness. Very much a matter of taste. While you're at it, in QT settings you can also change the output from Directsound to safe mode (WaveOut only). Officially Directsound should be better but in this case "safe mode" sounds much fuller and livelier. You cannot however, choose a specific soundcard and therefore cannot bypass Windows' kmixer, unless you use a third party program and do some programming. I use the program "Virtual Cable" to make a direct connection between iTunes and my preferred soundcard. This bypasses all Windows-related mixing and conversion but doesn't bypass iTunes' filters, amongst which is the bitrate and samplerate setting done in Quicktime. But when used like this, all of a sudden, soundwise, iTunes comes in right next to my still slightly preferred Winamp 2! Done this way, iTunes has a nice relaxed feel, with excellent fluid highs and full, round bass. It doesn't have all the tightness and rhythm of Winamp 2 but iot becomes a matter of taste now, not so much a matter of absolute quality anymore. I am really glad that I found out about this because iTunes is operationally very pleasing to use.
On a side note: in Windows 7, iTunes has more or less the same features. Or lack thereof. In other words: in Windows 7 you still cannot choose your preferred soundcard in the QT settings.
Foobar
This program takes a special place. I personally don't like it but this is personal because this player is actually very accurate and also has options for upsampling and kernel streaming. For me its sound is a bit too controlled and too dry. Much like a digital sounding cd player. But there may be people out there that have less open and detailed playback systems that may tend to the dark of sluggish and on those systems Foobar may even be preferred.
Final Thoughts
I want to stress that the results published here are valid in my system. Surely their relative differences will still be evident on other systems but please keep in mind that everything is system-dependent. No doubt my system has weaknesses that certain apps compensate for, and in another system the situation may be reversed. The main thing to take away from this however is there are indeed large differences to be heard amongst the various audio playback applications and that it is important to experiment, in order to obtain the best possible combination.
After the large audible differences that I found using the various playback applications and adjusting their settings, and realising their relative validity depending on the rest of the system, I decided to undertake more comparative tests. This time utilising both Mac and PC as well as all currently popular playback applications and a handful of add-ons for these applications. Also I will not only use the EMU 1212M soundcard but also some USB solutions like M2Tech's HiFace EVo, the Arcam rDAC and the very special Ayre QB-9 USB DAC. Using these components, I will repeat many of the tests done above to hopefully provide a clearer, more comparative overview. The result is spread across various arcticles on this site, starting with the next installment in this Computer Audio series.
Next
Computer Audio part 3 – External Audio Interfaces
PC Specs
ASUS P5W DH Deluxe
Intel Pentium dual core 6600 2,40 ghz
2GB Ram
Samsung serial-ATA interne hard drives
EMU 1212M interne PCI soundcard
Windows XP SP3
All applications were routed straight to the EMU card in the settings, not through Windows kernel-mixer. An exception to this was iTunes in which there were no such settigs to be made.
Digital connection to the Audiomeca Enkianthus mkII DA converter was via 4 meters Belden RG59