HDMI Cable Differences and the influence of cable length
Are high-end HDMI cables better than standard no-name brands?
I decided to just try this out for myself and purchased three different high-end HDMI cables and 1 no-name brand to see what differences there are, if any.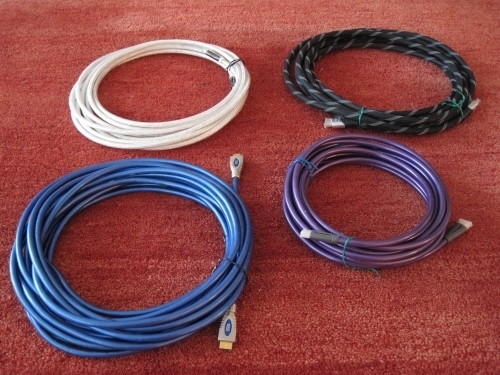 Most people say it is nonsense but from my experience with hearing distinct differences among digital audio cables, I figured that for digital video this might also be the case, even if the perceived knowledge is that this should not matter.
I have no vested interest in proclaiming anything and I don't want the expensive cables to be better. After all: why would you want to spend more money if it isn't necessary? This test will show as objectively as I can whether or not expensive cables are worth the investment.
The following is condensed info on this matter. For the complete review and more background information, read the HDMI-cables-review (Dutch language).
So do HDMI cables make a difference?
To put it bluntly: Yes. They do make a difference. I know that technically there shouldn't be a difference and I don't exactly know why there should be. But there is a difference and it's not all that difficult to see.
From what I know about the HDMI format there is something that at least should give skeptics something to think about. The data that runs over the cable is not to be confused with data that runs over internet connections. In the case of internet data, there are systems built in that check for errors and can correct them. If needed, the data could even simply be sent again. In the case of video signals over HDMI, this is not possible, simply because it would result in massive delays. HDMI, therefore, is a continuous data stream, much like is the case with CD. With CD people also tend to think that a one is a one and a zero is a zero. And while that's certainly true, what's also true is that timing is much more important, so WHEN is the one a one and WHEN the zero a zero. The digital data is actually sent as an analog signal and so, just like with analog cables, the signals are responsive to external and internal influences. However, the commonly perceived wisdom is that this should not matter since, well, ones and zeros. The reality is that noise that is picked up by cables can have an influence on the device at the receiving end. And there might be other mechanisms at work that have not yet been identified.
But I digress. The test was done with 3 expensive high-end brand cables of 7 meters, a cheap no-name brand cable of 10 meters and a cheap but short 3 meter Vivanco HDMI cable. In short: the results differ greatly depending on the length.
Read the extensive review here (Dutch language only)
Condensed Test Results
Long cables over 7m
You can notice differences in the following areas: black level, contrast, colors and depth (as opposed to flat). But these differences are in the realm of what you can mostly also achieve by tinkering with the settings on your TV. What's important to note is that the cheap 10-meter no-name cable was just as sharp, noise-free and contrasty as the most expensive Oehlbach cable I have. It just had a different presentation colorwise and so it appeared less natural to me. But whether that's worth the outlay? That's a very personal matter.
Short cables of 1-3 meters
According to lots of people, HDMI cables don't matter as long as they're short. Whether or not that is entirely true I cannot say as my tests are not extensive enough to make a bold claim about that. I had a cheap Vivanco HDMI cable of 3 meters for comparison to all other cables. What I can say is that the cheap Vivanco cable absolutely did beat the other expensive cables and that's probably indeed just because it's shorter. The Vivanco 3-meter cable was simply the most dynamic, most contrasty, most sharply detailed cable of all.
Conclusion
Hardcore Videophiles could very well invest in one of the better cables but most other people will probably be content with whatever cable is available. Especially the cables are under two meters in length. Cables of 7 meters and longer, however, do tend to make more difference. It's still absolutely not day and night but it might be worth it for some people. Personally, I try to avoid long lengths and where possible I use no-name cables.
Read Also
HDMI and DVI info
Extensive review of various brands of HDMI cables in various lengths (in Dutch)
Ricable Supreme AI Active HDMI cable