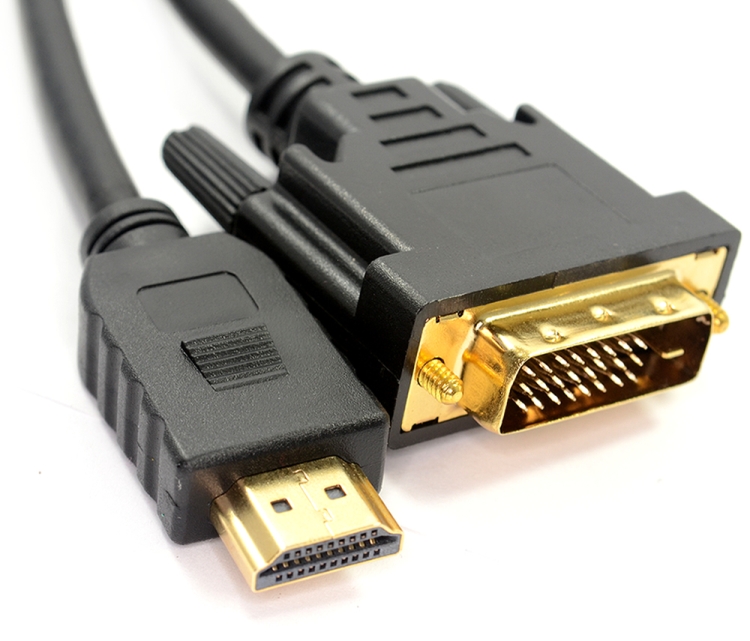 What is HDMI
HDMI stands for High Definition Multi Media Interface. This means that this technology is capable of handling various media digitally without compression. It can transport enormous amounts of data: 14.9 Gigabit per second. For what is currently the highest quality of High Definition Audio Video, 1080P, this is more than enough capacity even in 1920×120 resolution at 60 Hz. It is however not sufficient for Ultra High Definition standards.
HDMI is the first widely accepted universal digital standard for video for the consumer market. Previously, and apart from DVI, consumer video signals were always analogue. Other than its predecessor DVI, HDMI supports up to eight digital audio signals without compression.
There are two types of HDMI cables but only the nineteen-threaded type A is intended for home-use.
Type B is for professional use; it can pass a double amount of signals which makes it possible to use a higher video resolution.
Type C is a smaller connector for mobile equipment.
Cable version is another issue; they run from 1.0 till 1.3. In all versions the cable is basically the same, as is the connector. The tests that the cables are subjected to get more strict. Nevertheless, a cable that is tested to comply with HDMI 1.1 could in theory still be good enough to comply with HDMI 1.2. It just hasn't been tested tot do so and therefore compatibility isn't guaranteed. Going up from version 1.0, the cables can differ in the amount of copper used in the cable, or in the way the cable is screened. Also, and this is for some installations a very important factor: the higher the version the more compatibility with the latest audio standards is guaranteed. As far as audio running over the HDMI cable is concerned. You can still always get the audio out of the player in the usual way from the coaxial digital outputs of the DVD/Blu Ray player if your HDMI cable or home cinema receiver isn't compatible.
HDMI and Audio
Blu-ray Disc has a high quality of audio but needs an HDMI connection for the best results. Most players are able to handle the decoding internally but this rarely yields the best results. The latest high-resolution audio formats are in fact improved versions of previous formats. Dolby Digital Plus, Dolby TrueHD and DTS-HD Master Audio have bit rates higher than the trusted S/PDIF's capacity. That is where HDMI comes into play. HDMI 1.3 can transport Dolby Digital Plus, TrueHD and DTS-HD bitstreams in their native formats. You will need an AV amplifier with proper decoders, however.
In case your AV amplifier does not have the proper decoders, a Blu-ray player can decode the various formats into PCM, in eight separate channels or in a stereo down-mix. Multi-channel LPCM can
be transported by HDMI as long as the amplifier supports multi-channel audio over HDMI and supports HDCP. Some amplifiers are capable of handling unmixed, clean HDMI audio only. These amplifiers are marked "HDMI pass through."
Lastly, there are amplifiers without an HDMI input. You will have to use the SPDIF output on the player instead. On many Blu-ray discs you will find several audio formats, like AC3. Some players are even capable of decoding the HD audio formats into a format that can be handled by the amplifier, such as regular PCM.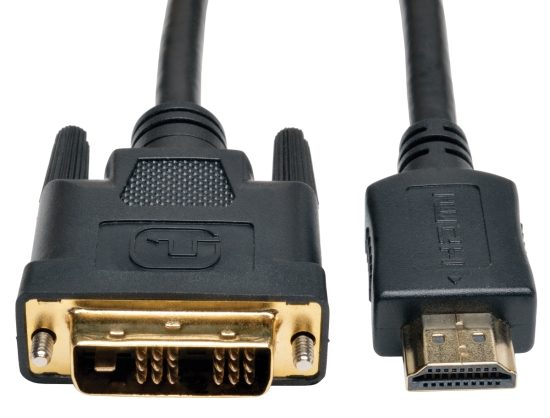 Left: DVI, right: HDMI
What is DVI
DVI means Digital Video Interface. Basically, DVI is electrically identical to HDMI, exept that it does not support audio. It should be noticed that DVI-A (analogue) is not compatible with HDMI. DVI-I and DVI-A do support analogue VGA signals.
There are three DVI standards: DVI-I supports both digital and analogue signals, DVI-D only supports digital signals and DVI-A only supports analogue signals. They all have similar looking connectors but the number of pins may differ, as is shown in the diagram. Like HDMI, DVI has a regular version (single link) and a high-resolution version (dual link.) Dual link is mainly for professional use, single link is for home users. Single link supports resolutions of up to 1915 x 1436 (in 4:3 ratio) and up to 2098 x 1311 (in wide screen) so single link will take you a long way.
DVI and Audio
DVI does not support audio. You will need to connect a separate cable for that. There are however PC video cards available that support modern audio formats at its DVI output, but they require either a special cable or an adaptor cable to connect to a HDMI cable.
What about cable length?
HDMI and DVI are identical in this respect. Cheap cables are fine for lengths of up to 5 meters, but can be sensitive to noise pickup for lengths exceeding that (although not necessarily.) The quality of the component's receiver plays a role, as well as the environment the cable is in and the kind of (radio frequency) interference that is present. Better and more expensive cables, built with more solid copper en multiple screens can work in lengths of up to 15 meters. With the help of a repeater (an electronic signal amplifier) this can be extended to 30 meters. There are even cat5 extenders making it to 50 meters and then there are optical converters making it to 100 meters. These are industrial solutions however, and very expensive indeed.
Also see
Info article about the influence of cable length
Extensive review of various brands of HDMI cables in various lengths (in Dutch)
Compatibility
HDMI and DVI are electronically fully compatible as far as it concerns DVI-I and DVI-D. As DVI-A is analog, it is not compatible; HDMI is strictly digital. All HDMI and DVI cables run both ways. A DVI output on a PC video card can be connected with an HDMI on a television set without problems. There is one snag, however. It is a standard called HDCP (High bandwidth Digital Content Protection.) This standard, that is embedded in most DVD and Blu-ray players and in television sets, is made to prohibit consumers from copying content in high quality. This means that a protected Blu-ray film can only be played on an HDCP TV, which decrypts the encrypted signal. For this reason, some DVD's will not play on a PC monitor. On the other hand, it is usually no problem to connect a PC with DVI to a TV with HDMI, even if the TV has HDCP and the PC has not. Only if protected content is played on the PC you can have difficulties playing it after all.
CEC (Consumer Electronics Control) is a standard that makes it possible for instance for a TV to choose the proper HDMI input automatically the moment the DVD player starts playing. Or even switch on the TV from stanby when you turn on the player. It is comparable with the automatic input switching with the old-fashioned SCART cables. The compatibility between all the different brands is still not 100 percent but often it works just fine.
For CEC to work, but also for the handshake-process (getting to know each other) there are two pins in the connector reserved for this. You will need to set both the TV and player to use CEC once. After that CEC will perform its magic.
Cable direction issues
HDMI and DVI cables run both ways. The direction of the cables is not important. A HDMI to DVI adaptor cable also works as a DVI to HDMI cable. If the connector fits, any signal traffic is possible.
Adaptor cables
There are several adaptors and adaptor cables on the market. DVI to HDMI, for example, to connect a PC to a TV. This usually works fine, but some TV's have difficulties if the video card output is not configured properly. A TV has to detect the presence of a cable, and has to know what hardware is connected. For this, the connector has two specific pins. You may configure this with drivers of your video card. So keeping your video card drivers up-to-date is always a good idea!
Read Also
Info article about HDMI cables and the influence of cable length
Extensive review of various brands of HDMI cables in various lengths (in Dutch)
Ricable Supreme AI Active HDMI cable